Madrasah Ghaziuddin/ Delhi College/ Anglo Arabic College: A Historical Review
Outside the medieval era Ajmeri Gate in Old Delhi, an old school building stands proud. Few know that the present Anglo-Arabic Senior Secondary school is an exceptional school being an off-shoot of the original Madrasah with a checkered past having a long history of being the oldest running educational institution in Delhi.
The old building is a mute witness to the vicissitudes of events that took place in the Indian capital. Established sometime in late 17th Century AD and reorganized in 1792, it is the oldest existing educational institution in Delhi and one of its robust off-shoot Zakir Husain Delhi College is a constituent college of the University of Delhi today.
A religious madrasa surviving the most volatile part of history in the capital for three hundred years and evolving into a center of modern education is indeed a remarkable chapter of our history. The institution indeed has nurtured generations who have made mark in their respective fields and all walks of life.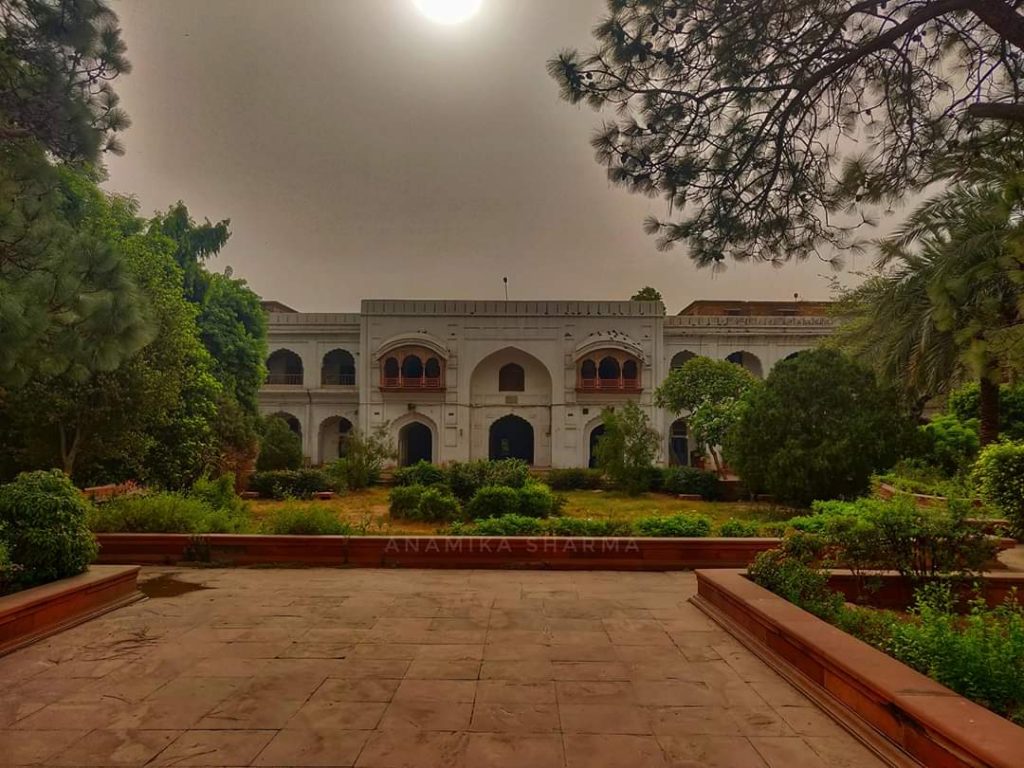 Timeline
| | |
| --- | --- |
| 1700-1752 | Madrasah Ghaziuddin , founded by Mir Muhammad Panah, Ghaziuddin III firoz Jung. |
| 1792 | The Madrasa was reorganized |
| 1825 | The British renamed it DELHI COLLEGE with the introduction of new subjects |
| 1845 | Shifted to Kashmiri Gate at the venue of Library of Dara Shikoh |
| 1857 | Delhi College was attacked, Principal Taylor, Mr. Roberts, the Headmaster and Mr. Stuart, the Second Master, were killed, and after British recapture Maulvi Imam Baksh Sahbai, a teacher of Persian, was shot dead on charge of mutiny. |
| Closed | Closed down from 1857-64 |
| 1927 | Became Anglo Arabic College in 1927. |
| 1840 | Mirza Ghalib came to seek employment as a lecturer in Persian but returned. |
| Founders Studied | The founders of Madrasa Deoband and Ramjas college studied here. |
| Three principals | Mr. Boutrous, Mr. Sprenger and Mr. JH Taylor were the principals who built the reputation and were instrumental in taking college to the heights . |
Establishment
According to my research it was Ghaziuddin Khan III Mir Muhammad Panah, an influential courtier and Mir Bakhshi , founded a Madrasa sometime between 1700-1752 outside Ajmeri Gate, Shahjahanabad (Delhi) at the very place which his great -grandfather Ghaziuddin Khan I , Mir Shihabuddin Ghaziuddin chose for his tomb where he was buried in 1710 while he was serving as a governor of Gujarat;
The school seems to have started initially as small seminary Madrasa Ghazi-ud-din, a purely religious school where only Quran & Arabic was taught however since the founders family shifted their base to Hyderabad Deccan and the political instability had weakened the Mughal empire during the late 18th century , it seems for a few years the Madrasa was closed to be reopened in 1790s (or 1792) with the support of the nobility of Delhi. A report of 1824 tells that only nine students was enrolled in Arabic Classes with only one teacher who salary was paid Nawab Amir Khan of Tonk.
This was the state of affairs when the East Indian Company took control of affairs of the Capital in 1825, it found a grand structure lying unused to its potential. The same year it was renamed as Delhi College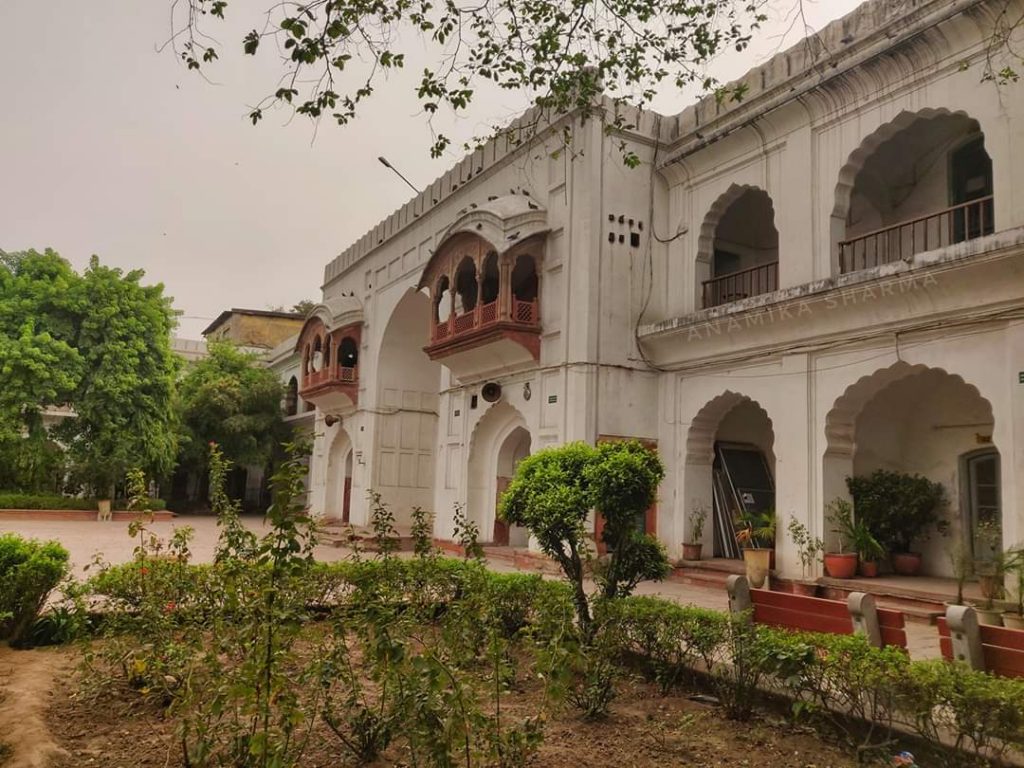 When the college was founded ?
There is a lot of confusion as to when the Madrasa was actually established and also who was the founder ?
In the following pages, we shall address both these questions . People have claimed different years as 1692, 1702, 1792 , 1710 as the year of inception of this Madrasa but barely anyone could provide a historical evidence to this effect.
The stone erected outside the old building says 1692 was the year when it was established but it is baseless since there is no documentary proof to this effect.
In contrast, the British sources mention that the Madrasa was built in 1792 by Ghaziuddin Khan II, the son of Ghaziuddin Khan I.Maulvi Abdul Haq too copied and seconded the opinion that the Madrasa started in 1792.
The Delhi College web-page claims the beginning in 1702 and reorganization in 1792.
It appears that their basis was an a report of 1838 wherein it was mentioned to be 45th year of the school and hence they deduced it (1838-45 =1792 ) This is again not a very sound evidence and cannot be accepted for want of sound historical proof.
All this confusion is created because of the title Ghaziuddin which was conferred on members of the a family for four generations ?   Gr. Grand father, Grand
Father, Father and son all were titled Ghaziuddin and the chroniclers could not
identify who the founder Ghaziuddin was ?
Sir Syed confirms in Aasarus Sanadid that Ghaziuddin I built his tomb during his life time but the year is not exactly known.
The slab outside the mosque gives the year of erection of this mosque as 1727 but in that case it might not have been built by the founder of Madrasa himself as claimed in the slab since Ghaziuddin I expired in 1710. Hence this information is also not only wrong but misleading.
If we take the year 1727 to be correct then the mosque must have been built by his son Nawab Mir Qamaruddin , the Asaf Jah I.
This indicates that the buildings in the complex did not came up in one go , it was built over the years by the same family 
After a close analysis of various records we can conclude that first the tomb was completed then came up a mosque and thereafter a madrasa was founded.
Tomb belongs to Ghaziuddin I
Mosque must have been erected by Ghaziuddin II , if 1727 is true.
Madrasa was built by Ghaziuddin III as mentioned in the Malfuzat of Maulana Fakhruddin.  
As you shall see my discussion in the following paragraphs that the founder ofb this college was Mir Muhammad Panah , Ghaziuddin Khan III who actively lived between 1709-1752.
To have a clear understanding , please have a look at the table below.
| | | |
| --- | --- | --- |
| Name | Title | Life -Death |
| Mir Shihabuddin | Nawab Mir Ghaziuddin I Khan Bahadur Firoz Jung, Sipah Salar | 1649-1710 |
| Mir Qamaruddin Khan | Nawab Mir Ghaziuddin II Khan Bahadur Fateh Jung, Nizam ul Mulk , Asaf Jah I | 1671-1748 |
| Mir Mohammad Panah  | Nawab Mir Ghaziuddin III Khan Bahadur Firoz Jung , Nizam ul Mulk , Asaf Jah II | 1698-1752 |
| Mir Shihabuddin II | Nawab Mir Ghaziuddin IV Khan Bahadur Firoz Jung , Imad ul Mulk , NIzam ul Mulk -Asaf Jah III – Pseudonym Nizam | 1736-1800 |
See – Shajrah e Asafiyah

 
There is an old Malufzat of Maulana Fakhruddin Dehlavi (1717-1784) titled "Manaqib i Fakhriyah" compiled by Ghaziuddin Khan Nizam , & it was translated by Nazar Ali Dard Kakorvi. This Ghaziuddin Khan mentions that Nizam ul mulk was his Grand-father and we know that Mir Qamaruddin Khan was first Asaf Jah with the title of Nizam ul Mulk. He mentioned that Hazrat Maulana Fakhruddin Dehalvi came to Delhi in 1160 Hijra (approx 1750-51) and after staying at Katra Phulail, he visited and stayed at the Madrasa which was founded by his father as he cited " Ahqar ke walid ka banaya hua madrasa hai ". This citation also clarified that Madrasa was built before 1751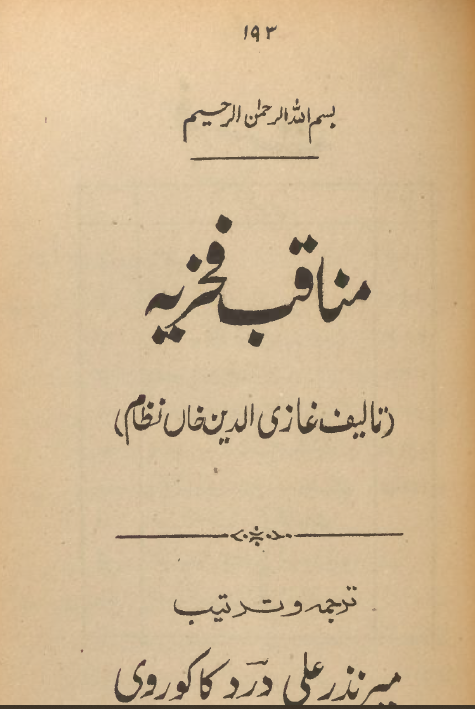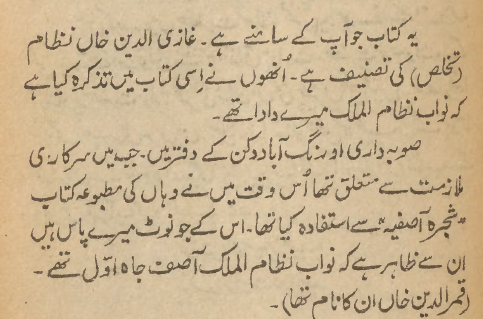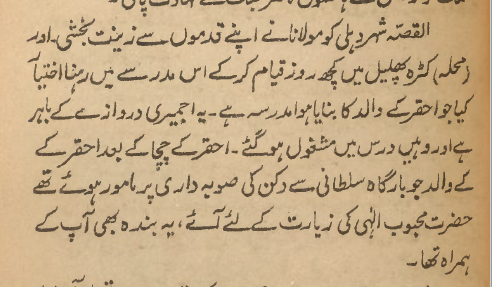 Now the compiler of this text was Ghaziuddin Khan Mir Shihabuddin (1736-1800) who was the grand son of first Asaf Jah Nizam ul Mulk Qamaruddin Khan , and the compiler of this malfuzat was more popularly known as Ghaziuddin Khan Nizam (Pseudonym was Nizam ). He quoted that his father founded this Madrasa, ahqar ke walid ka banwaya hua madrasa hai , it becomes clear, it was founded by Ghaziuddin III Mir Muhammad Panah (1698-1752). Now since Mir Muhammad Panah , Ghaziuddin Khan III , the founder of the Madrasa lived between 1698-1752 , the Madrasa must have been founded between 1720-1752 and not in 1792 as mentioned in British sources.
The confusion created by the title Ghaziuddin has somewhat confused Margrit Pernau also as she in her book ' The Delhi College ' did not mention that name of Ghaziuddin Khan II whom she finds as the founder of the Madrasa. If you look at the table above wherein I have mentioned the four generations with the titile Ghaziuddin Khan , it appears that Ghaziuddin II would be Mir Qamaruddin , but since the Compiler of Malfuzat is Mir Shihabuddin Ghaziuddin IV who is the grandson of Mir Qamaruddin then Mir Muhammad Panah comes out as the founder , she also alludes to the fact that Ghaziuddin I chose this site for his grave due to its proximity to the burial place of Shaikh Wajiuddin, she presumed Shaikh Wajih to be Shah Waliullah's grand father but that is apparently wrong. Shaikh Wajihuddin , the grand father of Shah Waliullah is not buried in Delhi , he died fighting somewhere in Central India.
I must add here Maulana Fakhruddin too started teaching here, & due to this it became famous as Madrasa Maulana Fakhar and we find in the biographies of Khwaja Noor Muhammad Maharvi, the Khalifa of Maulana Fakhruddin , that he too visited and was admitted in this Madrasa when he came to study under Maulana Fakhruddin Chishti Dehalvi.
Khwaja sheikh Abid Siddiqi (Father of Ghaziuddin Khan I firoz Jung )
 Shaikh Abid Siddiqui (died 1687) Qilich Khan Bahadur of Samarqand , a descendent of Shaikh Shihabuddin Suharwardi of Baghdad, who entered the service of Mughal Emperors in 1641 . He was born at Liabad, near Samarkand & was appointed to an Imperial mansab of 1,000 zaat by Emperor Shah Jahan, upgraded to 3,000 zat and 500 sawar 1657, promoted to Sadar-i-Qul (Supt of Endowments) 1661-1667 and 1681-1685, Subadar of Ajmer 1667-1672, and Multan 1672-1676, Amir-i-Haj 1676-1680, granted the titles of Azim Khan 1657, and Qilich Khan Bahadur 1680. He died three days after the siege of Golconda on 7th February 1687.
Mir Shaikh Shihabuddin Siddiqui Ghaziuddin Khan I Firoz Jang Bahadur Sipah Salar
Nawab Qilich Khan Bahadur's son Mir Shaikh Shihabuddin Siddiqui titled as Ghaziuddin Khan Firoz Jang  (born at Samarqand–1649-1710 ), is buried inside the complex and was the person supposed to the founder of Madrasa and Masjid at Delhi. He was a Sipah Salar & Subahdar was conferred the titles of Khan Bahadur in 1685, and Firuz Jang  in 1686 by Aurangzeb . Served as a Subadar of Berar 1707, and Gujarat 1707-1710. He lost his eye-sight during the Maratha war but another reports suggested, he was treacherously blinded by the emperor in Delhi in connivance with the Royal Physician but he continued his military commands. He died in Ahemdabad in 1710. His mortal remains were brought to Delhi and was buried in a place which he chose for himself during his life time . Today his tomb lies inside the complex of the college . He was the father of Mir Qamar-ud-din Khan Siddiqui, the Asaf Jah I, the originator of the Asaf Jahi dynasty of Hyderabad, also known as the first Nizam of Hyderabad. Mir Qamaruddinr Ghazi ud-din Khan Bahadur, Fath Jang, Sipah Salar, Nawab Subedar of Deccan (born 1671 – died 1748).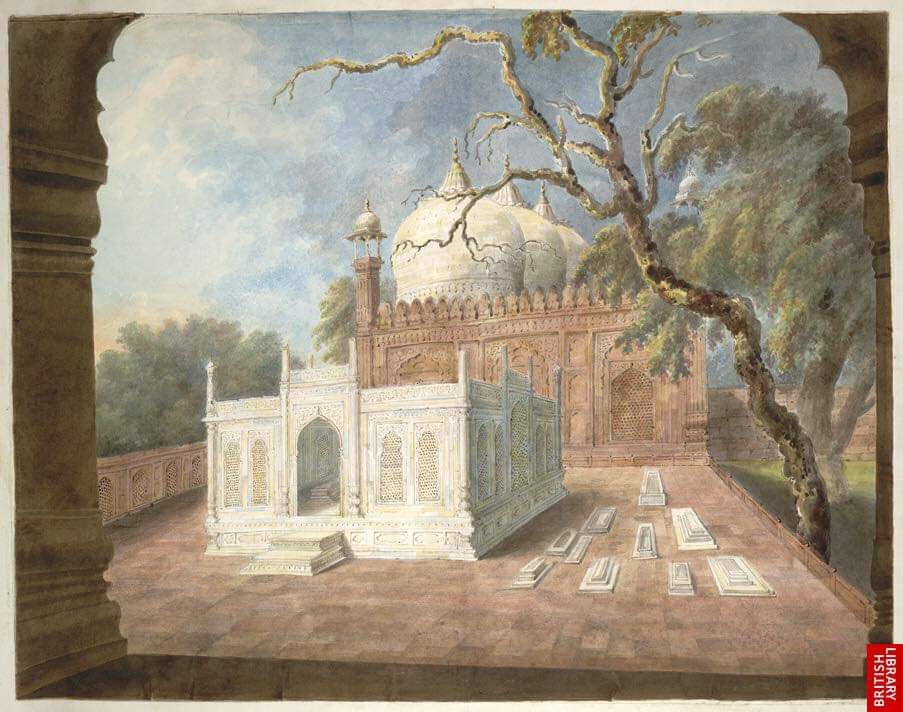 Madrasa Ghaziuddinn
Initially, students were offered only religious subjects in Arabic and Persian. However after the reorganization, various sorts of courses, including that were not only limited to Maths, Geography, Quranic Studies, Jurisprudence, and Astronomy, were also taught. During the bad days of Mughal Empire, the Madrasa was temporarily closed down in the early 1790s but was reopened with much enthusiasm when the nobles of Delhi came together for its revival, and as a result, an oriental college for literature, science, and art came up at the same site in 1792 and this time the college was stronger and more vibrant than earlier.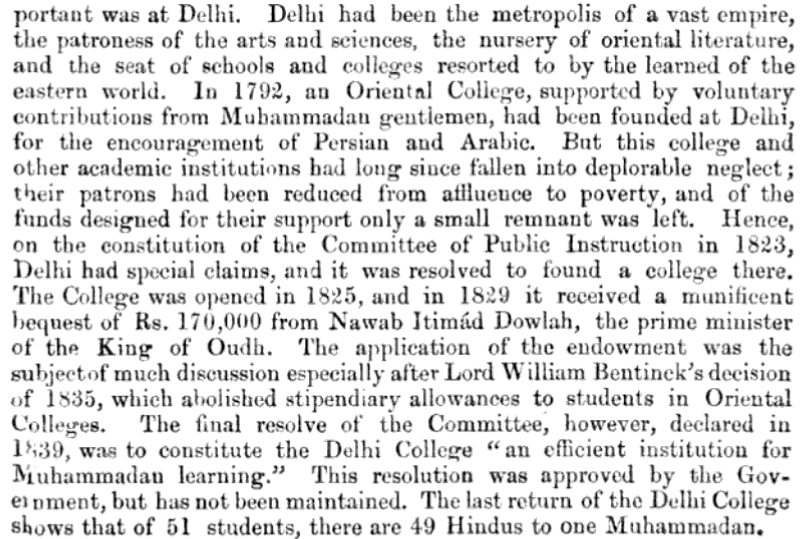 Delhi College
A report by Taylor informs that only nice students were enrolled in 1824 with only one teacher whose salary of 33 rupees was paid by Nawab Amir Khan of Tonk. This was the time when Delhi's administration was taken over by the British, they re-christened it as Delhi College in 1825. They made Maths, Science as an indispensable part of the curriculum and the erstwhile Madrasa Ghaziuddin Khan was transformed as Delhi College while the original Arabic department came to be known as Oriental department. However, a full fledged English department came on the proposal of Charles Trevelyan, the brother in law of Thomas Macaulay, in 1828 .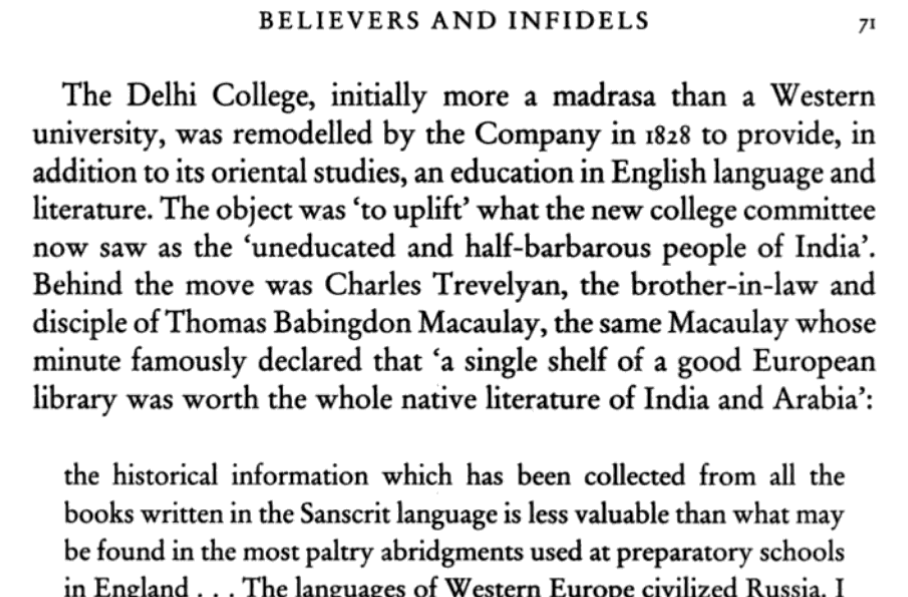 Incidentally the prime minister of Awadh Aitmadud-daulah Nawab Meer Syed Fazal Ali Khan, donated 1.70 lakh Rupees as an endowment for the promotion & instruction of sciences in Arabic, Persian in 1829. Aitmaduddaulah was a native of Delhi but prospered as Prime minister of Oudh in Lucknow during the reign of Naseeruddin Haidar . He died in 1831. Before his death, he willed that his donation be used for Delhi College subject to the conditions he had mentioned in his will i.e., that all this amount should be spent for promotion & instruction of modern education in vernacular language as a medium.
An act of Parliament covered this endowment, i.e., Aitamatuddaulah Trust was created under a General Committee of Public Instruction (GCPI) established under G H Taylor as the secretary/principal in the premises of Madrasa. A memorial stone can still be seen on the main gate of the school in his memory.
It is noteworthy that Aitmatuddaula Turst had played such a gigantic role in bringing about enlightenment and education monster the old Delhi citizens as can be seen from the list of schools it managed during the first half of of 20th century.  
Anglo Arabic College.
Anglo Arabic Higher secondary School – Ajmeri Gate
Anglo Arabic High School at Mori Gate ,
Anglo Arabic Primary School at Tokri Walan,Daryaganj
Anglo Arabic Primary School at Gali Qasim Jan,Daryaganj
Anglo Arabic Lower Middle School , Choori Walan
Lord Amherst visited the college in 1827 while Lord William Bentinck examined the students in 1832. Lord Auckland came in 1837.

Matbaul Uloom
In 1843, a society for the promotion of knowledge through the medium of vernacular languages was established under the patronage of Principal Boutros that would translate the works in English, German, and French to Urdu, the lingua Franca of the country. Not less than 120 highly valuable books were published under its aegis. In 1845, the College set up its press known as Matba-ul-Uloom. Principal Sprenger presided over the founding of the college press "Matba-ul-Uloom", and founded the first college periodical, the weekly Qiran-us-Sadain. Within the space of two decades, it published works covering a range of subjects including mathematics, science, philosophy, history, surgery, geography, political economy, civil law, and principles of legislation.
The reason why the Delhi College has been widely acclaimed as the center of a Delhi Renaissance since it was evolved as the meeting ground of the British and Oriental culture before 1857. Through extensive translations programme and by making Urdu & Persian as the medium of instruction, Delhi College aimed at making western scholarship accessible to the Indian students without uprooting them from their cultural traditions. In 1843 or 1845 , the college was shifted to the building of Dara Shukoh Library at Kashmiri Gate . it was the same building where Delhi Polytechnic came up in the later years.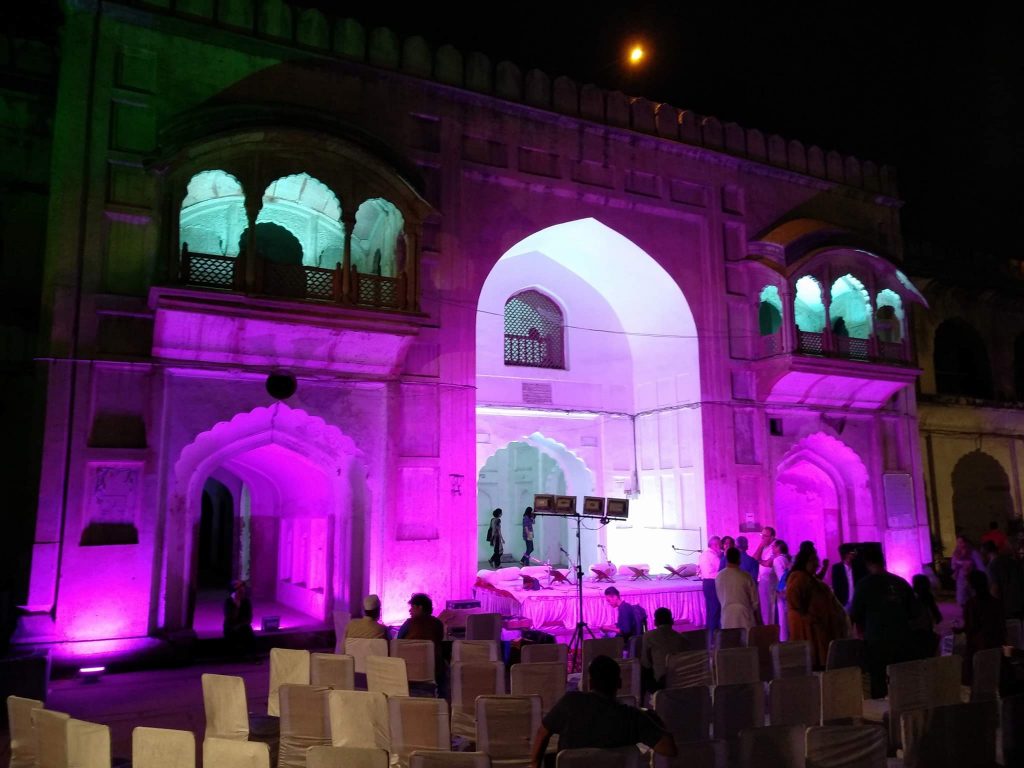 1857   
The college was then situated at Kashmiri Gate. On May 11, 1857, the revolutionaries plundered the college, science laboratory and library was burnt along with innumerable manuscripts that were reduced to ashes, revolutionaries were angered because it provided western education. Principal Taylor was saved by his Muslim servant and later removed to the house of Mohammad Baqar between Mori Gate and Ajmeri Gate. Maulvi Baqir actually gave shelter to Principal Taylor in his Imam Bara but when this news went out, Maulvi Sahib got Mr. Taylor him dressed in Hindustani attire and asked him to skip away but he was recognized at Tiraha Bairam Khan and was mercilessly killed . He was mourned by one and all . The mob killed principal J.H. Taylor, Headmaster Roberts, and second Master Stuart had took shelter in the magazine but when it was surrounded and bombarded, they both were killed in flames at the magazine. Maulana Imam Bakhsh Sahbai, the famed poet and Persian teacher was also killed ruthlessly.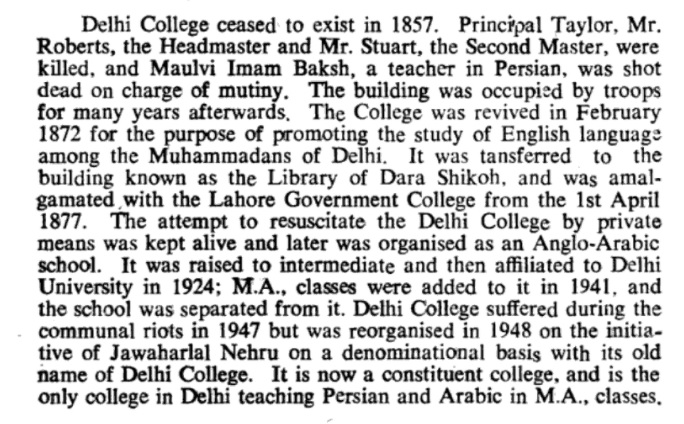 In 1864 after seven years, the institution once again started its classes in Chandni Chowk with the name Delhi Institute . Only two classes FA 1st & IInd year, affiliated with Calcutta University in those days. Bachelors classes were started in 1867 while masters in 1871 and the college went on till 1877. However, in April 1877 the imperial government decided to close down the institution, transferring its staff and library to Lahore, despite loud protests from the citizens of Delhi. At the Delhi Durbar in 1877, the Lieutenant Governor announced that this college would be closed down and its assets and classes would be amalgamated with Government College of Lahore ( Punjab). In 1872, the citizens appealed to the Govt that since the medium of instruction had changed to English, the proceeds of the Aitmatuddaulah trust should not be used for the college. Accepting the demand , the govt started a new Arabic Middle School in Chandni Mahal area of Old Delhi with the proceeds of Aitmadudaulah trust.
Now the Arabic Middle School at Chandni Mahal which was started in 1872 became a High School in 1884 and shifted to Haveli Ikramullah Khan in Sirki Walan and with the passage of time, space constraints came up. The local Delhi elites had not abandoned their hope of getting back the premises of Delhi College which had been occupied by the military police since 1867. In 1893 ( some reports say 1883) they succeeded and won back the Ghaziuddin Madrasa and then the Arabic Middle School shifted back to the original building of Madrasa Ghazi-ud-din at Ajmeri Gate. In 1926 it became Anglo Arabic Intermediate College and in 1927 it became a Degree College and graduated to being called "Anglo Arabic College", This Anglo Arabic College came to an abrupt end in the wake of bloody riots in 1947. It brought the end of Anglo Arabic College.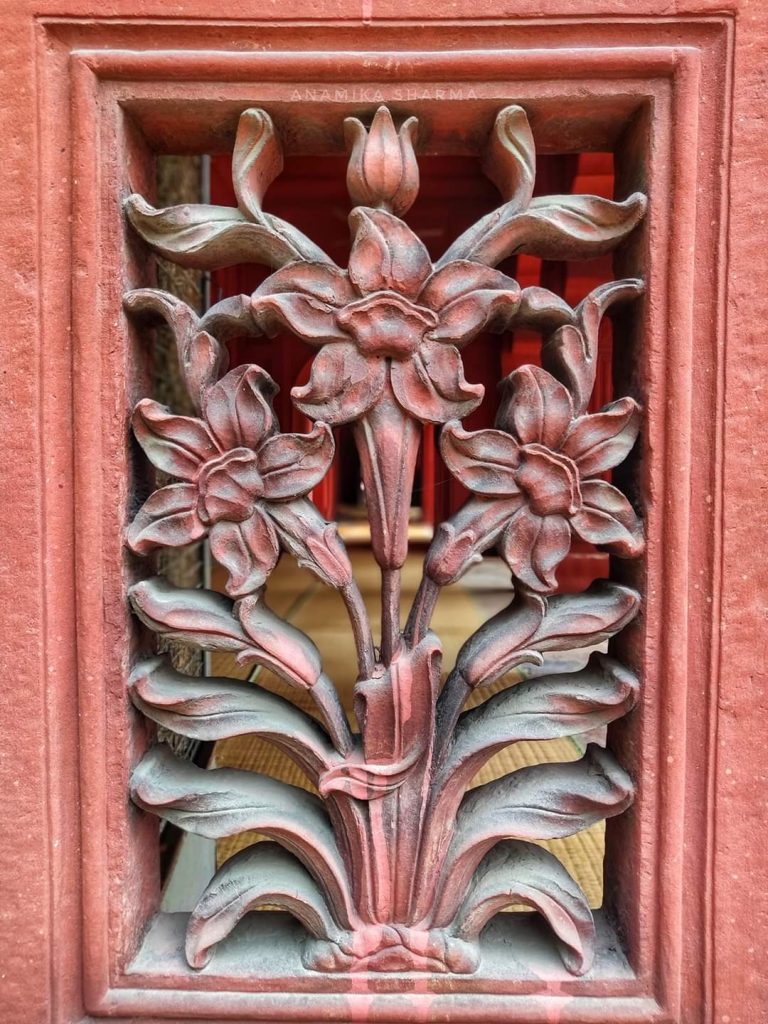 Post independence
As mentioned earlier like its predecessor, Anglo Arabic College also came to a sad and abrupt end when it had to be closed in September 1947 due to communal disturbances in the wake of the partition of India. It was attacked and set on fire by incendiary mobs. Courageous staff members managed to save the library and office records. Mirza Mehmood Beig, an old student and a man of immense courage and potential , did a yeoman service, dedicated his life to revive his Alma-mater, which had been reduced to relic after the partition. With a helping hand of Dr. Zakir Husain and others, he got the Delhi College revived as a non-denominational institution in 1948. Anglo Arabic School became Anglo Arabic Higher secondary School while Anglo Arabic college became Delhi College.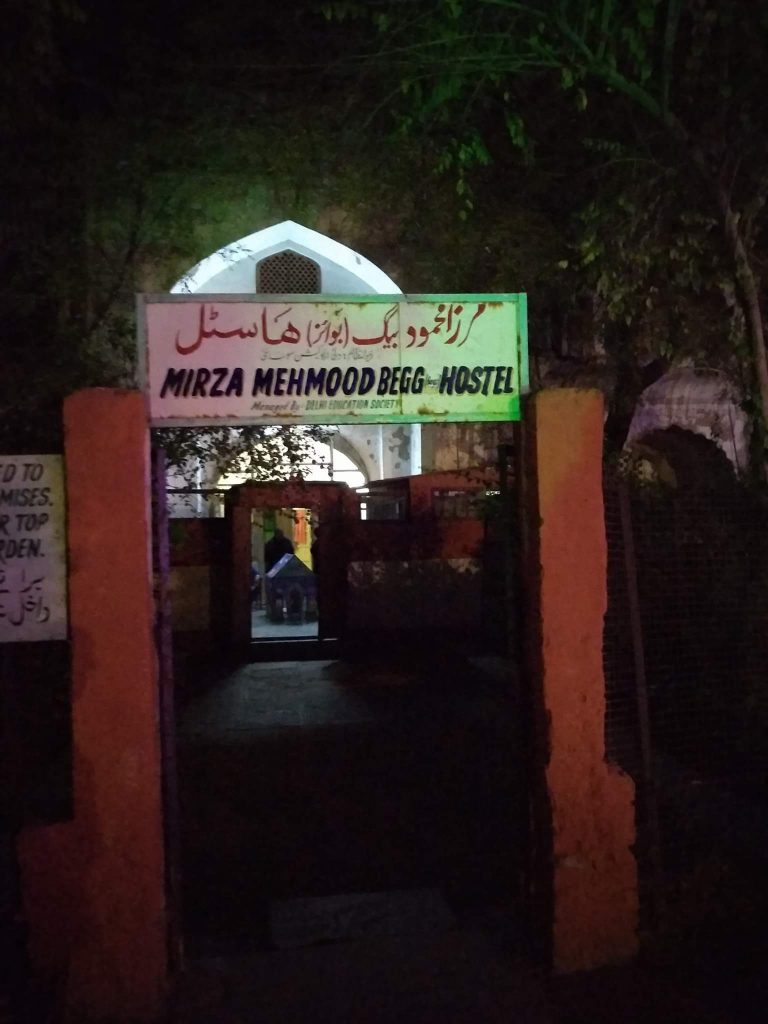 Zakir Husain College 
In 1975, the college was renamed "Zakir Husain College" by the Indian  government after Dr. Zakir Husain, the late president and was put under Zakir Husain Memorial Trust. In 1986, it was shifted to its present building outside Turkman Gate. In 1991 , the Zakir Husain College shifted completely to the new Building inaugurated by Prime Minister Chandra Shekhar. In 2011 , it got its old name back inserted in the new name and came to be known as Zakir Husain Delhi College. The college comprises a total area of 43 Acres. It has had a considerable influence and today remains the only Delhi University college offering B.A (Hons) courses in Arabic and Persian. The Anglo-Arabic Sr.Sec. School is functioning from the old building and and its compound is known as Anglo Arabic Senior Secondary School.
Ghalib & Dehli College
Legend has it that famous poet Mirza Ghalib once came here to seek employment as a teacher of Persian, but he failed to grab the opportunity as the poet waited in his palanquin outside the main gate and the principal did not come out to welcome him. The legendary poet got dismayed & he ordered the palanquin bearer to return. Eventually, Shaikh Imam Bakhsh Sahbai was appointed as Farsi lecturer. The reliable sources however confirm that he was offered to teach Persian in the college but he declined.
Maulana Mamluk Ali Nanautwi  (1204 – 1267 AH)
Special mention must be made of one of the greatest scholars of Arabic and Islamic sciences of his times who taught at Delhi College and influenced an entire generation. In turn, his students and their works influenced the entire sub-continent with their lives and works. He taught at Delhi College for 26 years. Besides he used to take classes at his home as well after the college hours. He had translated books I-IV of Iqlidas (Elucid) published in 1844 to be included in the curriculum. Famous as Ustad-ul Kul (teacher of all) among his students included Maulana Qasim Nanautwi, Maulana Rashid Ahmad Gangohi, and his son Maulana Yaqub Nanautwi, Munshi Zakaullah, Asghar Ali Sonipati, Maulana Ahmad Ali, Nazir Ahmad Bijnauri, Muhammad Husain Azad, Ahsan Nanautvi to name a few. These students later on in their life founded schools, wrote books and textbooks, translated works into Urdu, and edited journals while some of them became civil servants. A multi-racial vibrant community had evolved around The Delhi College, which became the focus of this composite urbanity in Delhi, and its distinguished group of teachers and students became the center of a movement that should be called the `Delhi Renaissance'. 
Alumni
The list of its alumni included several well-known personalities. But the names of , Rai Saheb Kedar Nath founder of Ramjas College, Mukund Lal, the first Indian medical student in Europe, Maulana Qasim Nanautvi (Founder of Deoband School), Deputy Nazir Ahmed first novelist in Urdu, Maulana Muhammad Baqir (Baqar) editor of first Urdu daily in Delhi, Mohammed Husain Azad, Peerzada Muhammad Husain , Khwaja Muhammad Shafi , Meer Nasir Ali , Maulvi Zakaullah, Maulvi Karim-ud-din, Pandit Man Phool , Master Pyarelal 'Ashob' and Dr. Zia-ud-din, Master Ram Chander, Moti Lal Kashmiri , Nawab Liaqat Ali Khan, Mulla Wahidi, Mushtaq Ahmad Zahidi, Asaf Ali Barrister , Prof. Gopi Chand Narang, Ali Sardar Jaffery, Col. Bashir Hussain Zaidi, Mirza Mehmood Beg, Akhtarul Iman, Shamim Karhani and Jan Nisar Akhtar, Moin Ehsan Jazbi, Prof AN Kaul( Pro VC Delhi Univ)Jamil-ud-din Aali, Sadiq-ul-Khairi, Ansar Nasiri, Muzaffar Shikoh, Muslim Ahmed Nizami, Mirza MN Masood (Hockey Olympian) are worth mentioning. Long live Delhi College! The college continues to live in the hearts of its alumni and will continue to live forever in the pages of history.
Ghaziuddin Khan mosque 
This mosque, being a real architectural marvel of this complex was built-in 1727, an example of the Indo-Islamic style of architecture. It is made of red sandstone and has marble relief work. The mosque is seven bays wide. The layout of the mosque is like the Khairul Manazil mosque.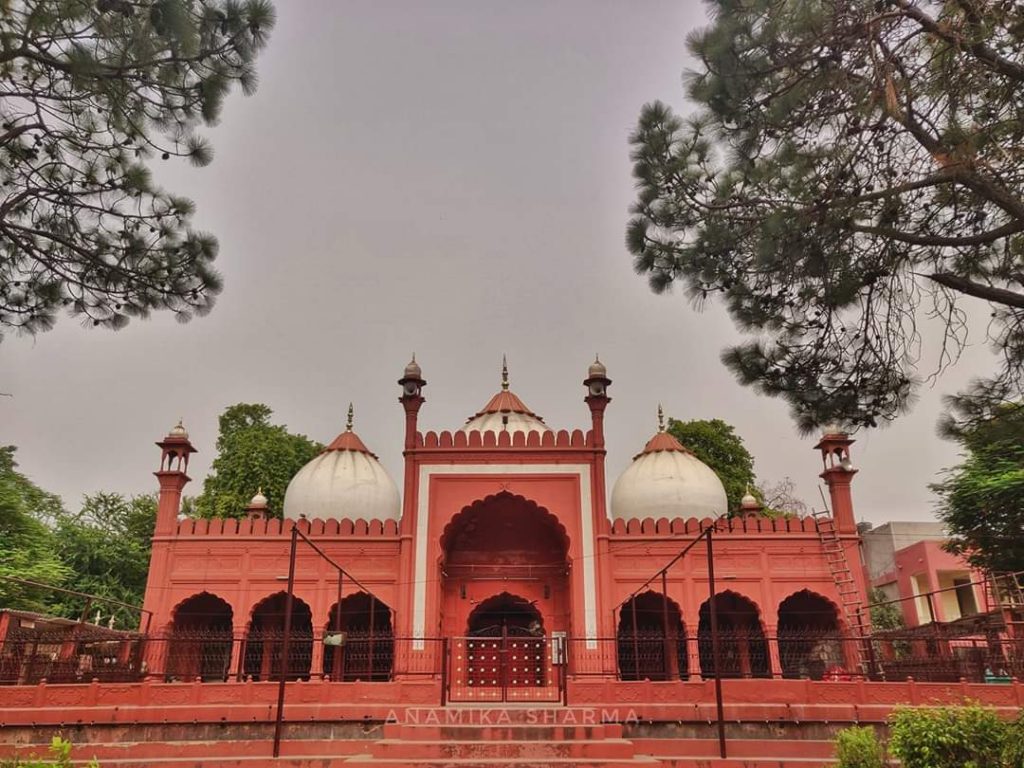 Tomb of Ghaziuddin Khan Firoz Jung
South of the mosque is the tomb of the founder Ghaziduddin Khan. What sets it apart from other mausoleums is the intricate and beautiful stone Jali work. The enclosure sits right next to a mosque and built-in style similar to the compounds of Muhammad Shah Rangila, Shahzadi Jahanara, and that of Mirza Jahangir in Dargah Hazrat Nizamuddin Aulia but the Marble walls and surrounding Jaali presents remarkable artistry.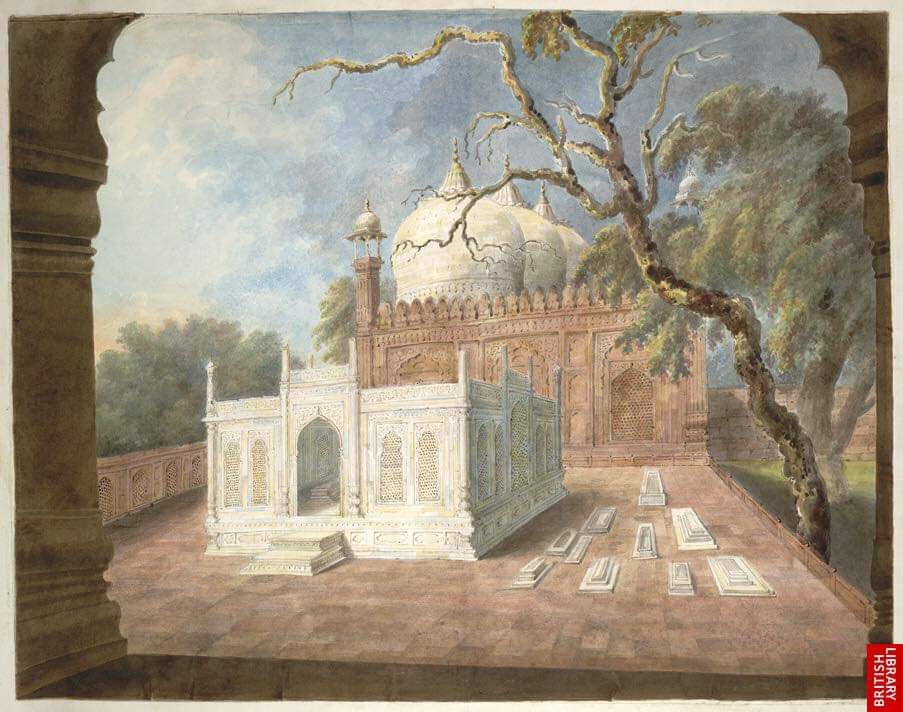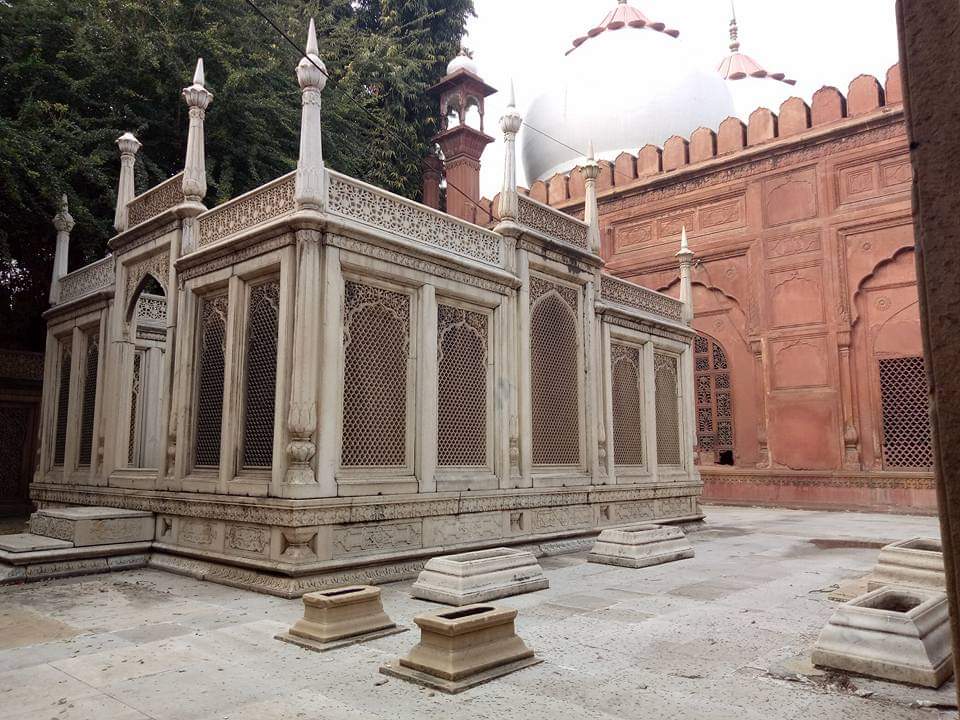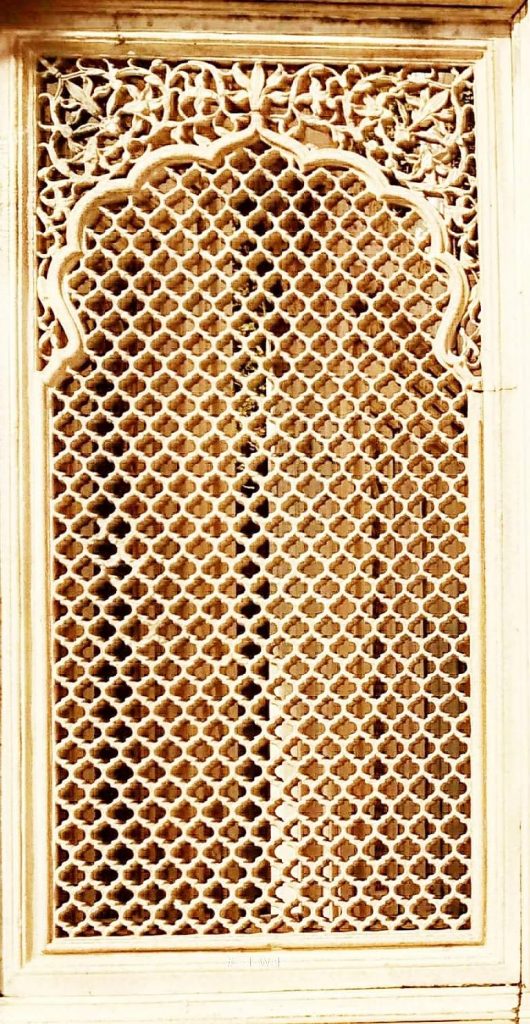 Bibliography:
Knowledge, Power & Politics: Educational Institutions in India by Mushirul Hasan – 1998 
Performing Heritage: Art of Exhibit walks by Navina Jafa – 2012 
A History of Educational Institutions in Delhi By Ajay Kumar Sharma
The Delhi that No-one Knows – Page 57 – By Ronald Vivian Smith – 2005 – ‎Delhi (India)
Islamic Civilization in South Asia: by Burjor Avari – 2013. 
The Delhi College: Traditional Elites by Margrit Pernau
Catherine, A. B. The architecture of Mughal India.Cambridge: Cambridge University Press, 1992. 
Delhi Gazetteer – Page 793 Prabha Chopra – 1976 
Marhoom Dehli Kalij – By Maulvi Abdul Haq
Aasar us Sanadeed – Syed Ahmad , Sir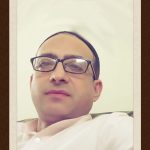 Khalid Bin Umar is a history buff who writes on Micro-history, Heritage, Sufism & Biographical accounts. His stories and articles has been published in many leading magazines. Well versed in English, Hindi, Urdu & Persian, his reading list covers a vast arrays of titles in Tasawwuf & Oriental history. He is also documenting lesser known Sufi saints of India