Story of Sayyad Muhammad Shah
Aziz Fatima, a seventy-seven-year-old Urdu speaking lady from Sialkot, Punjab, Pakistan recollects her memories from her birthplace at Ranikhet. A beautiful hill town situated in the Kumaon Hills of the Himalayas that is now a part on Uttarakhand, India.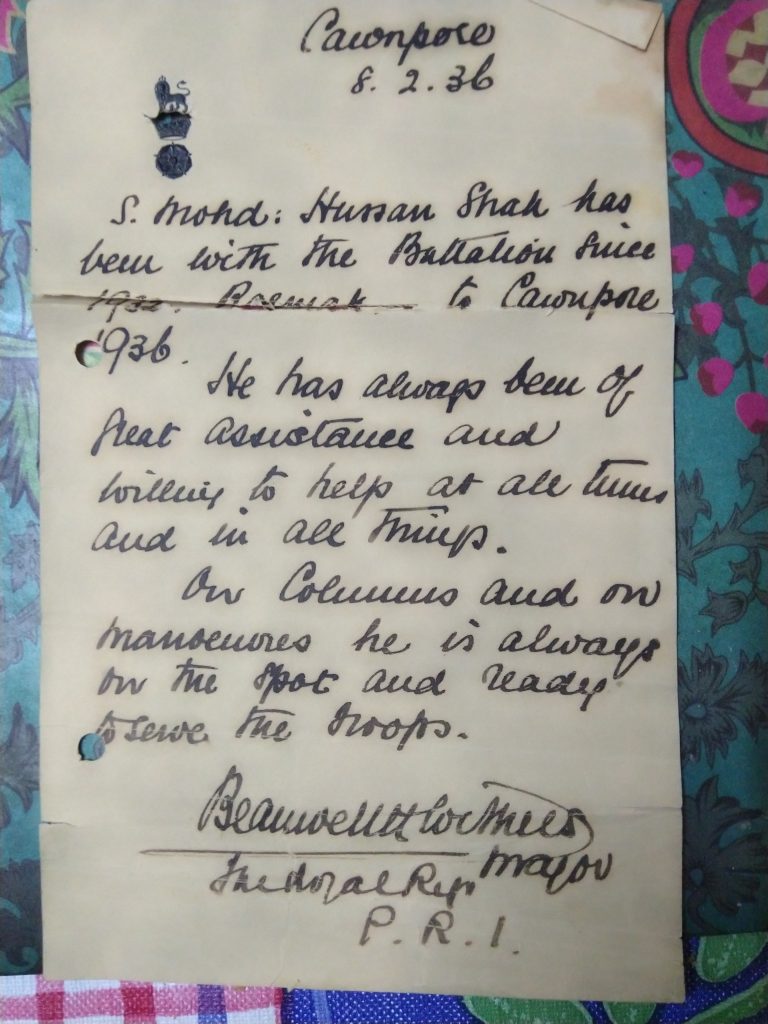 Dr. Kazmi, the son of Mrs. Aziz Fatima, a microbiologist is working as colleague from last six years at my workplace in Saudi Arabia. Even we used to share a common office from last two years along with one closer friend from Karachi. As we used to have chats on many shared topics, one of them is history and culture. He used to tell me that his maternal grandfather run a coffee house somewhere in India before partition. Tempted with inquisition one day I requested Yousuf to ask his mother if she could memorize the place where his grandfather was settled in Colonial India. This is how my context with Mrs. Aziz Fatima was started. As Yousuf father belonged to famous Kazmi Sayyads of Ambala, I was presuming that his maternal grandfather was probably settled somewhere in East Punjab. After the weekend, when we were chatting in our spare time, Yousaf interrupted the talk in between. He told I had talked with "Ammi" on weekend for the queries that arose regarding her father's residential place in Colonial India.  He took out handwritten notes from his pocket and placed his reading spectacle frame to read the text written by him. He started to read the text from the piece of A4 size paper and asked me to take the notes or collect the information. It was "Chaubatiya Pahad, Ranikhet'' somewhere in India and he moved to other details collected from the mother. In between he added, she was also talking of the someplace "Moradabad" where his Nana used to visit a lot. For the moment I was lost and then exclaimed with joy and with a sense of belonging I stopped Yousaf. It was hard for my colleague to understand the feelings at that moment of time. I started to narrate him in one big bolus, this is my place. You know I used to work for a year at one of the Medical Colleges at Moradabad before coming to Saudi Arabia. My wife's family lived at Kathgodam, the last railway station on the route to Ranikhet and other hill towns of Kumaon. Ranikhet is only eighty kilometers from Kathgodam. In excitement, I bring my hometown inside the chat. You know Pilibhit is the last district of Uttar Pradesh and its boundaries touched with Uttarakhand, the province in which now Ranikhet is located. Sitting in our offices thousand kilometers away from our countries, the distances between Pilibhit, Kathgodam, and Ranikhet seemed to be insignificant for both of us. From here I had many queries in my mind that could be only answered by Mrs. Aziz Fatima. I placed my next request to talk to his mother who was in Sialkot. After the gentle nod, he made a call to his mother and fix my appointment with her on coming Thursday 10.30 PM Pakistani time on 29th September 2018. 
Avoiding the noise of big boss (one the favorite shows of my wife) and kid's cartoon running on the gadgets of my son in the lounge, I stepped with pen, paper, and recorder in the drawing-room. It was the younger brother of Yousaf who picked the phone. After initial greetings, he handed the phone to his mother. Initiated with apprehension, I broke the silence by greeting her. While I was introducing myself she asked me a question "Beta aap India me Kidhar  Rahteho".  As usual, I started from Delhi, moved to Bareilly and then finally came on Pilibhit to provide her an orientation of my lesser known hometown. But this allays all my anxieties as I easily jumped on Ranikhet. I continued "Yousaf told me that you were born at Ranikhet". Did you recall anything from your birthplace? For the moment, there was a pause as she was taking the time to enter in her childhood memories. Then she broke the silence, "Bahut Purani baten hain main to paanch saalki thi jab hum log Ranikhet chhod kar aye the". From here our talk continued for more than one hour on Ranikhet, her father, childhood days and journey to Sialkot.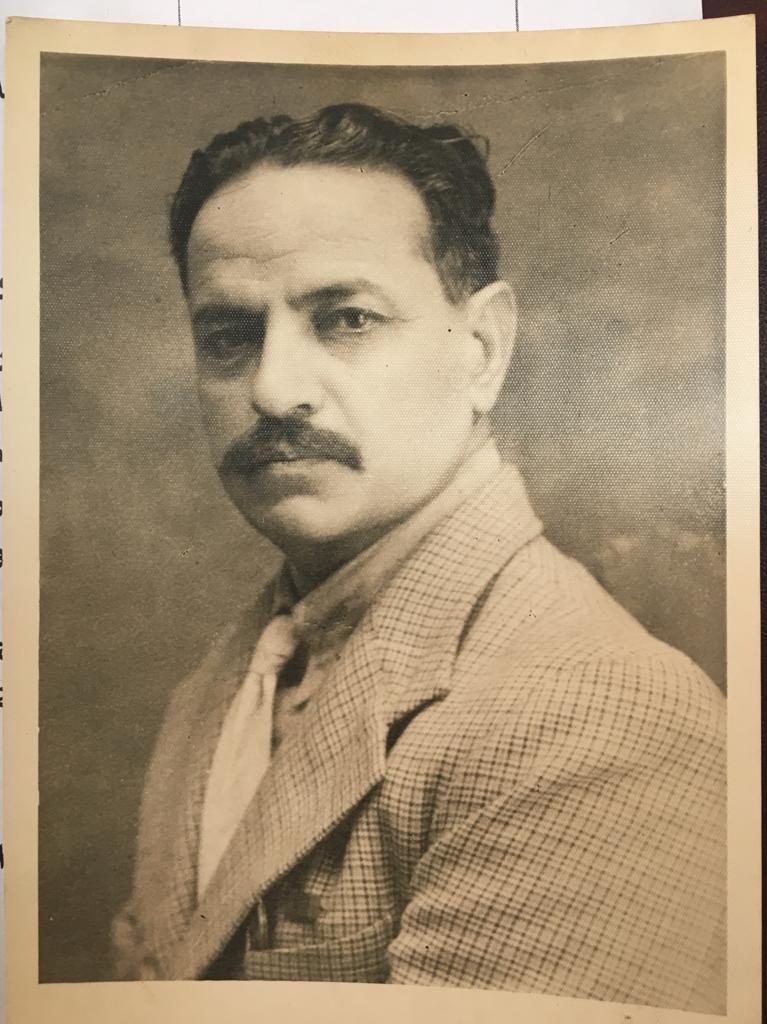 "I was born at Ranikhet in 1944. My father Mr. Syed Mohammad Hussain Kazmi came here for the purpose of business. We originally belonged to the small village in Sialkot known as Kammawala. In fact, it's hard to remember whether he has any relatives or any friends living here in Ranikhet before his arrival. But as far as I know, he came to search for business opportunities. When I was a child I saw him as a successful manager & supervisor for the contracting company Shamsuddin & Sons that worked for the army mess.  Among the locals in hills, he was popular with the name of Shah Ji. From the archival letters that have been safely kept with my elder brother, it appears that he was working with army mess contracting company as a manager & supervisor in 1930s from Cawnpore & Lucknow. A letter issued in 1934 by a major from Lucknow headquarters of Army cited him as a manager & supervisor for the directing staff camp messes in the district. Many of the letters issued from Cawnpore & Lucknow eulogized him as a sincere & capable manager who did his duties in an efficient manner. At Chaubatia in Ranikhet, he was working for Royal Berkshire regiment".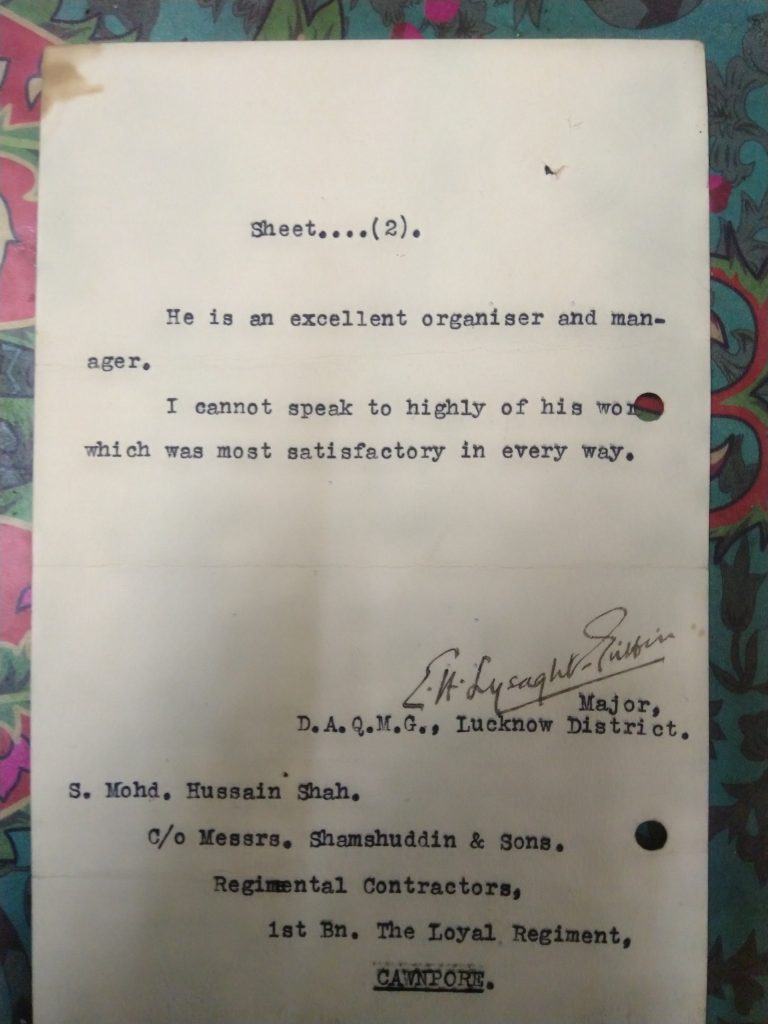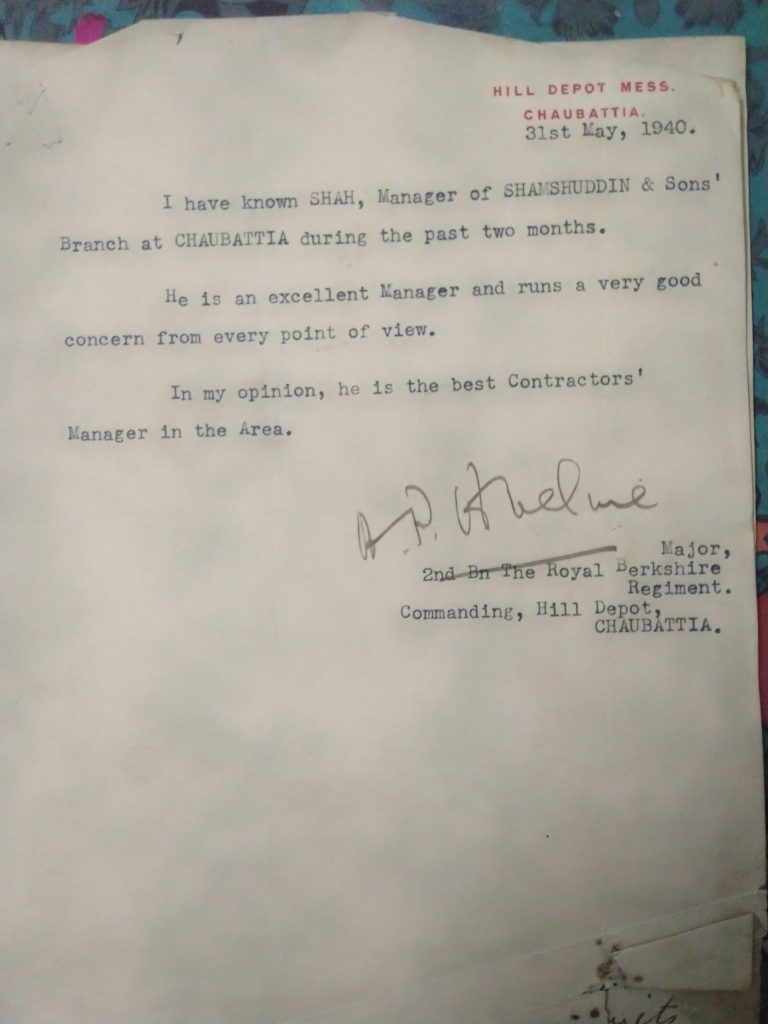 I interrupted her, why Shah Ji. You told me his name as Mr. Syed Mohammad Hussain Kazmi. She replied "beta, hum log Saadat hai na aur un dino me Sadat to "Shah" ke naam se pukarne ka riwaj tha". As we belonged to the house of Prophet (Sayyad), it was the trend in those days to call then as "Shah".  She continued "All Hindus and Muslim used to give a lot of respect to Shah Ji". From here onward, she mentioned his father with Shah Ji or Abba Ji. You know "Shah Ji" was a kind man. He has good connections with British Officers. There were a lot of British citizens who used to live at Ranikhet in those days. Locals used to approach Abba Ji for the jobs and some of them got placements due to his contacts with Britishers.
Could you recall the exact place where you were living? I was informed that he also runs a coffee house there. Where exactly it was located?
She replied, "Haan Mujhe achhe se yaad hai".  I remembered it very well. The place where we used to live was a little bit away from Ranikhet. It was a small wooden cottage located in the base of the mountain. I could remember, it was surround by beautiful pine trees and apple orchards. The area was known as Chaubatia Pahad. We used to live on the first floor and ground floor was used by another Hindu family from plains. Abba Ji was mainly engaged as a Manager for the contracting company and also runs a Coffee house. His Coffee house was on the way from Ranikhet and Chaubatia. The coffee house was like a past time passion for Abba Ji. Many of the British officers used to visit during off time at his coffee. We commute by own Jeep for visiting Ranikhet.
Did you have any memories to share from Ranikhet?
Haan beta bahut sari yadeen hain. I used to go to the local School. As I remembered, there were two schools at Ranikhet, one for natives and others for British kids. She stopped for a while and then exclaimed: "You know I can read Hindi alphabets because of my early schooling at Ranikhet". I used to attend natives school. Two of my elder brothers were studying at Shimla. They visited us at Ranikhet during summer vacations. I could recall some of my father friends lived in main Ranikhet. We usually visited their homes during Muharram. In Ranikhet, we used to watch the mourning procession of Ashura. One incident I would never forget from my childhood. I could remember it was a small mud road near chaubatia hill close to our cottage. I was walking with my younger brother who was around three years old. As one of the naughtiest among our kins, he was always ready for adventures. He jumped in the small stream of the canal that was running by the side of the road. When I found my brother drowning in water, I started screaming and called for help. I saw two local girls probably thirteen-year-old passing us on the road. Initially they ignored but when I gave reference of "Shah Ji". They stopped and one of them who know swimming jumped in the stream of water and rescued my brother. Abba Ji was fond of the utensils from Moradabad. He has a huge collection of Morabadi bartan most of them were Nakshi ke Bartan.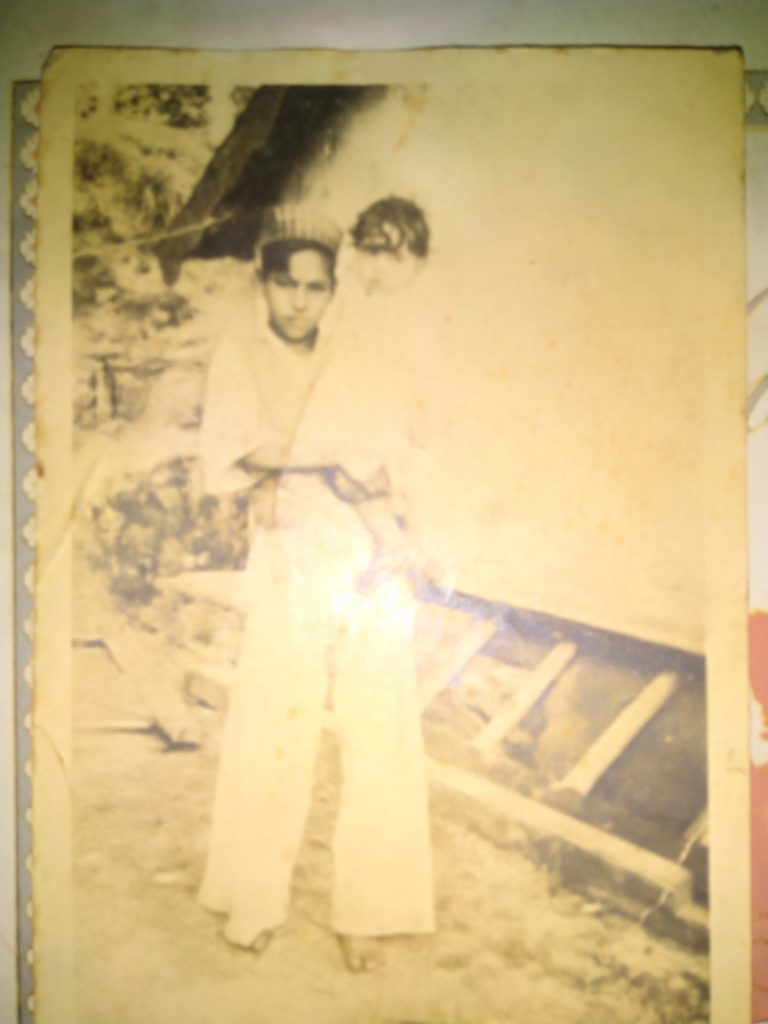 When you left Ranikhet and what was the reason behind it. Did you recall anything from your journey from Ranikhet to Pakistan?
As I remember during 1947 there was no incidence of violence reported in our beautiful town. Up to 1949, we continued to live here only. Though, all of our relatives were in Sialkot. One day Abba Ji received a letter from his elder brother. They insisted to join the family. Initially, after partition, we used to think that the situation will change. This was just temporary. Here she uses specific Urdu word "Beta Sab ko yahi lagta tha yeh aarzi hai". Initially, Abba Ji was apprehensive as he was well settled in Ranikhet. Finally, he made his mind and my mother started to pack our home. The only thing I could tell that we came to Pakistan by ship. I don't remember where in India we boarded but it was a long journey and we finally reached Karachi. We left behind a wonderful cottage and coffee house at Chaubatia hills. After a long voyage by ship when we landed at Karachi, I had few memories of that time. There was a small girl who missed her parents. There was a man who was trying to help her in finding her parents by asking everyone at Karachi port. On reaching Karachi port big cartons of our home items that were loaded on other ship were lost. The only item that reached our paternal village in Sialkot after a long journey was favorite Naqshi Bartan of Shah Ji from Moradabad. Abba Ji was so fond of it that it was loaded in the same ship in which we boarded from India. It was with us till 1965 as memories from Ranikhet till 1965. During the war of 1965, we were in Sialkot and our ancestral home at village Kammawal was locked for a long duration. Some local thieves robbed all the belongings of our paternal home in which we lost all the Naqshi Bartan. Our elder brothers exchanged letters for some time to their Hindu friends of Ranikhet. Later this connection was lost. Many times I wished to saw the place where I was born and spent the early days of my life. Today talking with you has pushed me back in days of my childhood. Abba Ji after coming back to Sialkot always remained lost in his memories, the time he spends at Ranikhet, Lucknow & Cawnpore during colonial days. It was a big change for him. At the time of relocation, he was around fifty-four years. He ventured many businesses but didn't able to succeed in a different environment. After some time, he faced health issues & took retirement. He passed away in 1971.
Did you find any from the childhood days and now living in Pakistan after partition?
That was different time. Now hate has been spread everywhere whether Pakistan or India. During British punishment was very strict and I think incidence crime was quite low. We used to have more pure edible items. Nowadays everything is adulterated & system is corrupt. I could recall, how badly my late father used to miss Ranikhet & his old days. May God bless his soul.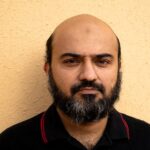 Rehan Asad is a medical doctor & currently working as an anatomy faculty. He has a penchant for writing people, food & culture stories.