Awadh and its Qasbas as a whole stand out in terms of intellectual heritage, significance, and contribution towards learning. They were not just being centers of literary tradition but equally perpetuated an intellectual environment through the production of men of learning.
Amethi
One such Qasba of Awadh is Amethi. A town of antiquity , famous for its saints , located 17 miles away from Lucknow. In the days of Akbar, Shaikh Bahaul Haq (D.922 AH) and Hazrat Nizamuddin Chishti Alias Bandagi Miyan (D. 979 Hijri ) were the famous saints, the sanctity of Bandagi Miyan was so widely known that the town itself is known as Bandagi Miyan ki Amethi or Amethi Bandagi Miyan even to this day.
Shaikh Ahmad Mulla Jeevan
Shaikh Ahmad son of Abu Saeed of Amethi ( Lucknow ) popularly known as Mulla Jeevan Amethvi was one the most prolific scholars of Islamic learning during the late Mughal era. His famous work Noor ul-Anwar is still widely used as a textbook in Usool ul-Fiqh throughout the Islamic world. A teacher of Emperor Aurangzeb, he was held in high esteem not because of his connection with the royal court but because of his erudition , piety, and simplicity.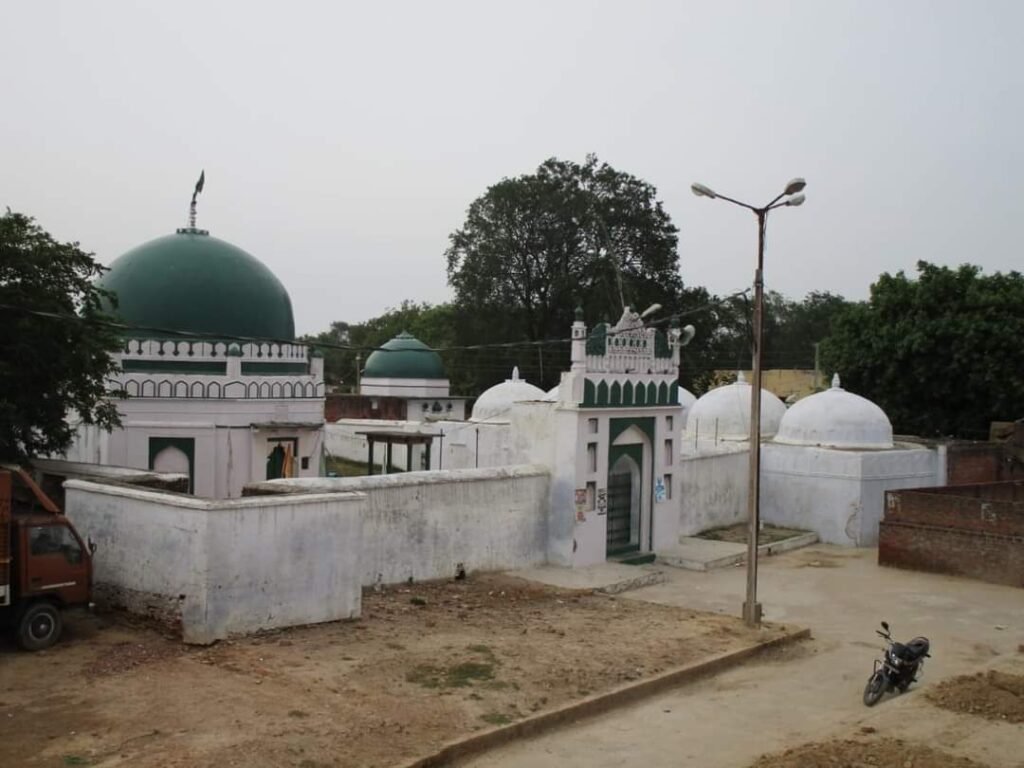 Family & Genealogy
He was amongst the descendants of Shaikh Bahaul Haq Chishti of Amethi. His genealogy goes like Shaikh Ahmad Bin Abu Saeed bin Ubaidullah bin Makhdoom Abdul Razzaq bin Shaikh Bahaul Haq Khasa-i-Khuda Al Hanafi, Al Makki , Al Swalehi , Amethvi, Al Hindi. The first person who settled at Amethi was Shaikh Bahaul Haq Salihi Chishti who died in 922 Hijri. This family has been descended originally from Hazrat Abdullah Alambardar Makki who was descended from Prophet Hazrat Salih Alaih Salam and hence in all the family chronicles , the family surname is mentioned as Salihi. Now for the last hundred years, I don't know why a section of family has wrongly tried to associate the family with Hazrat Abu Bakr Siddiq. So much so that in some books, the name of Mulla Jivan is mentioned as Mulla Jiwan Siddiqui which is absolutely wrong. Even Mulla Jiwan himself has written about the family to be descended from Hazrat Salih AS
Mulla Jiwan
He was born on 25 Shaban 1047 Hijri (1636 AD) at Amethi. His father Mulla Abu Saeed was a Hafiz, a Scholar and a successor of Shaikh Bahawal Haq known as a very noble soul. His mother was the sister of Nawab Izzat Khan ( Real name Abdullah) who was a Mir-i-Aatish at the Royal Kitchen.
Childhood
His grandfather was also called Jiyo as was the custom in those days, Jiyo or Jiwan means life and the word Jiyo was uttered as a prayer for long life in Hindi. Mulla Ahmad too liked this eponym for himself imitating his grandfather so much that he signed as Jeewan bin Abi Saeed.
At the age of 4 , he was put him to commit to his memory the Holy Qur'an. At the age of 7, he completed the Hifz-i-Qur'an. Unfortunately his father expired when he was 13, his mother sent him to study at the feet of Shaikh Muhammad Sadiq Satrikhi ( Satrikh, Barabanki) , thereafter he went to learn at the Madrasa of Mulla Lutfullah Korvi ( Fatehpur near Allahabad) and returned as an accomplished scholar after studying for 9 years, started teaching at the madrasa of his father that continued for the next 12 years at Amethi.He finally graduated from Korah, Fatehpur, and was awarded the license of completing his advanced religious studies by Mulla Lutf Allah Korwi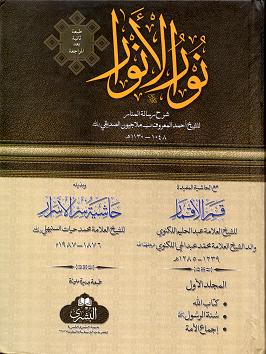 Travels
Thereafter he travelled to Ajmer and from there he proceeded to the capital Delhi where he stayed for 15 years and taught a galaxy of students who became scholars in their own right. At the age of 55 , he went to Haramain and stayed there for 5 years. It is there that he penned his most famous book "Noor ul Anwar Fi Sharh al Manar" within just two months. It is one of most famous commentaries of Manar so much that even the fame of original text of Kitabul Manar is to a great extent eclipsed now. After 5 years of stay , he left Hijaz and returned to India. He reached Deccan where he met for the first time the Emperor Aurangzeb Alamgir. The emperor was highly impressed with his erudition and scholarship and more because of his simplicity and austerity. He stayed with Alamgir as Qazi-i-Askar for 6 more years teaching him Quranic interpretations. According to Maasir al Kiram , the emperor took lessons from his regarding Quranic interpretations and Tafseer.
In 1112 Hijri, he saw his father in a vision who asked him to perform a Hajj-i-Badl on his behalf. He embarked on another journey to Hajj and stayed at Hijaz for four more years. At Haramain he gave lessons of Sahihain and wrote a book Sawanih. In 1116 Hijri, he returned to his Native Amethi at the age of 70 . Now he turned his attention towards spiritual pursuits. He took the Bai'at at the hands of Shaikh Yasin Bin Abdul Razzaq Jilani in Qadria order. He had already permissions from his ancestral order along with the Khilafat from his master Shaikh Muhammad Sadiq Satrikhi in Chishtia Silsila. After two years, he left for Ajmer where he met the successor of Aurangzeb, Muazzam Shah who took him to Lahore where Mulla JIwan stayed and till the death of Muazzam Shah in 1712. Muazzam Shah took lessons from him throughout his stay at Lahore. There is mosque in Loha Mandi , Lahore that is attributed to his memory. Now he was 80, but he continued his madrasa and teaching and students from all over the country thronged Amethi to study there. Azad Bilgirami writes in Sabhat ul Marjan that Aurangzeb held Mulla Sahib in high esteem and similarly all his princes respected Mulla Sahib in the same way. Farrukh Siyar too regarded them as their elder and esteemed teacher and included him amongst the groups of his selected advisors.
Personality
Azad Bilgirami writes that Mullah Sahib lived a life of an extreme austerity and simplicity. He ate simply and wore coarse clothes. Syed Najeeb Ashraf Nadvi says that the stories about his childish innocence and simple life are still very popular in Awadh. Mulla Jiwan never took benefit of his proximity to the Emperor and royal court, his life style did not change irrespective of where he lived. He did not accept any allowance or grant for himself or his family despite his close association with the Emperor. This is a remarkable feature of strength of his personality and religious piety. However he got a lot of his countrymen benefitted through his recommendations. People of Amethi used to approach him for the redressal of their issues with royal court and he would very happily extend his help. People knew about his tender heartedness and approached him throughout day and night and got benefitted through his recommendations and connection with the emperor. His whole life was characterized by abstemiousness, saintly piety and simplicity.
Death
On 8 th Zee Qadah 1130 Hijri, after having meals , he finished his last prayer of Isha and went to bed. After a few hours, he felt uneasiness in chest and the pain gradually increased .His son Mulla Abdul Qadir approached him, he told " it is time of his departure. Then he walked to the southern courtyard of Jama Masjid Delhi and lay down there for an hour or so. Thereafter he recited Kalima Shahadat and passed away shortly. He was 83 . This was 9th of Zee Qadah, Tuesday 1130 Hijri. (1717 AD) After zuhr, he was buried in the Takia of Mir Muhammad Shafi at Delhi. After around 50 days, his casket was transferred to his native Amethi on 14 Muharram 1131 Hijri and was finally laid down to rest near his Madrasa. On the grave-stone the following words have been engraved وَیُتِمَّ نِعۡمَتَہٗ عَلَیۡکَ ۱۱۳۰ھ

Amongst his most famous students were
Mulla Abdul Basit Amethvi
Shaikh Ahmad Gopamawi
Mufti Muhammad Tabe Lucknawi
Aurangzeb Alamgir
Muazzam Shah Alam Bahadur Son of Aurangzeb
Nawab Ahmad Jan Dihalvi
Zeb un Nisa Begum daughter of Aurangzeb
Descendants
He had two sons , the elder one was Mulla Abdul Qadir who was a profound scholar in his own right while the younger one was Mulla Abdul Basit who too was a scholar of repute , and he wrote basat-i-baasiti on the lives of the saints of Amethi.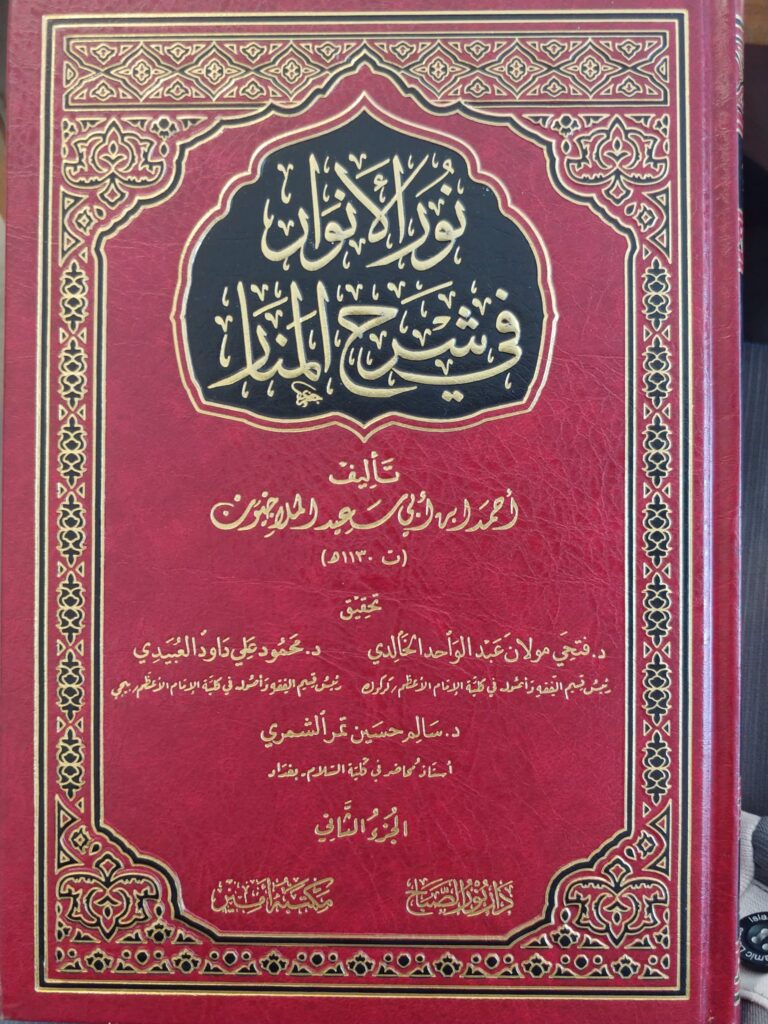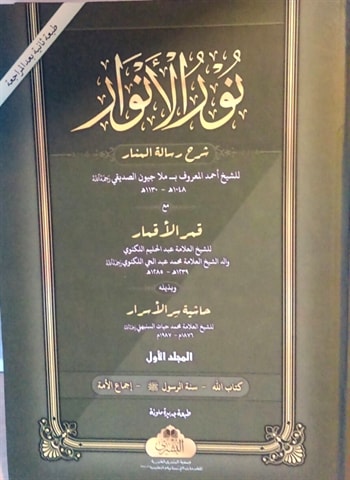 Works –
The following works are listed amongst the works of Mulla Jiwan. However except the first two , none of his works are to be found today.
Al-Tafsirat al- Ahmadiyyah fi Bayan al-Ayat al-Shar`iyyah (30 Volumes).
Nur al-Anwar Sharh al-Manar of al-Nasafi (d. 710 AH) (2 Volumes);
Manaqib-i-Auliya (A history in Persian);
Al-Adab al-Ahmadiyah fi bayan aurad al-masha'ikh wa al-sufiyyah;
Sawanih bar Ijazat-i-Lawa'ih Jami;
Khud Nawisht Sawanih;
Mathnawi comprising 6 volumes
Sharh of Qasidah (قصیدہ) Burdah Sharif.
Editing of many books of his grandfather.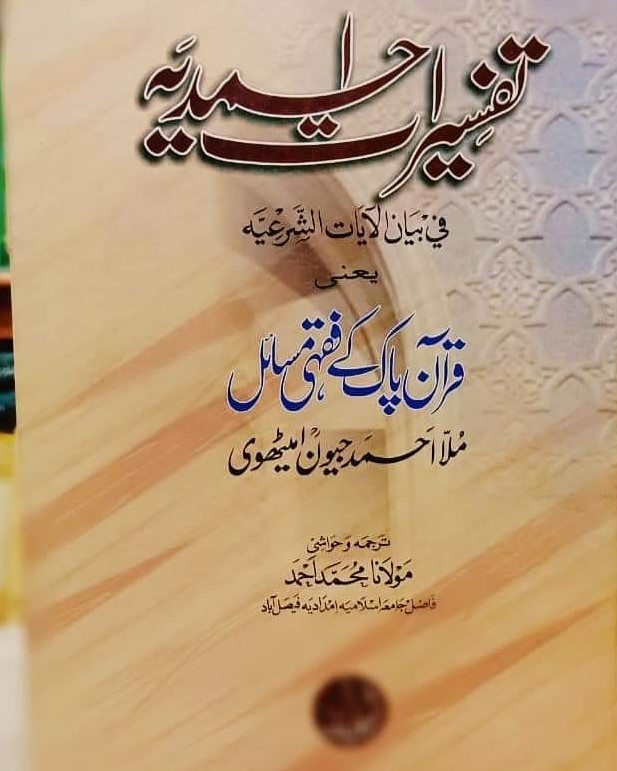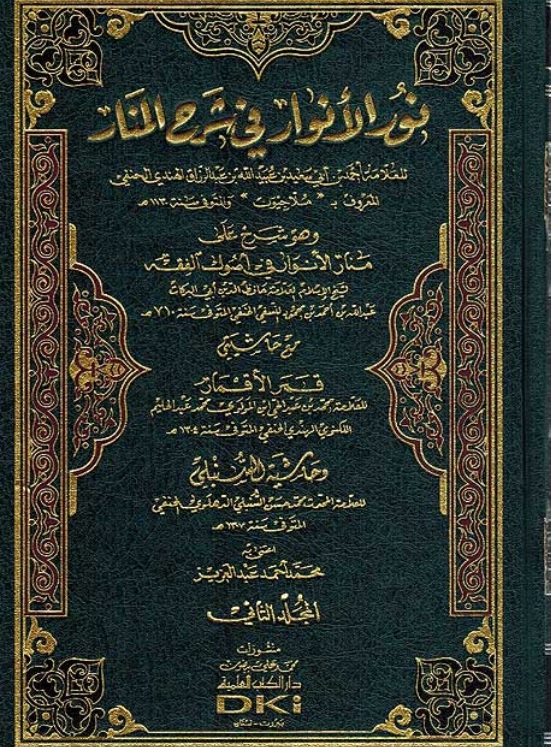 Landmark Works
His two works are still extant and can be bought through Amazon.
1.Tafseerat Al Ahmadiya Fi Bayanil Ayatil Sharaiya: He started writing this book at the age of 16 and finished it at the age of 21 in 1069 AD. This Tafsir became much honoured and popular. He selected 500 verses relating to injunctions, those verses wherein solution of some problem was hidden . In this work the author has compiled the verses that deal with Fiqh, Usul, Ahkam, and Kalam and has expounded the various interpretations thus making it very concise for students of knowledge. Today we can buy the book through Amazon after almost four hundred years of that being authored.
2. Noor ul Anwar fi Sharh Manar ul Anwar: It is now considered a standard work and is included in the curriculum of higher studies throughout the Islamic world, Its Arabic editions are still in print from Beirut, Damascus and Baghdad. The book is a commentary of al-Manar of al-Nasafi, which is a famous text book on Islamic Jurisprudence.
As mentioned earlier, Mulla Jiwan performed his first Hajj in the year 1102 AH when he was 55 years old. He remained in the Haramayn Sharifayn for about five years. It was during this holy journey that while he was staying at the holy city of al-Madinah a-Munwwarah he completed the compilation of his book Nur al-Anwar in just two months and seven days. Without any library and without any reference material, it is a miracle that he compiled this kind of Sharh. We can have an idea of his depth of knowledge, brilliance of intellect , penmanship and pedagogic acumen. He had a remarkable memory , he could quote from original texts page by page and works of prose and poetry were at his finger tips.Mulla Jiwan was blessed with an astounding memory and could retain in his memory lengthy poems after just hearing them once
This Sharh of Mulla Jiwan is still in print and is been referred to by all schools of thought in Islamic Jurisprudence. It is included in the syllabi of Madrasahs in the Sub-continent being widely used as a textbook in Usool ul-Fiqh.
References
Subh e Bahar 1918, Khadim Hasan Alavi- Nayyar Press- Lucknow
Nuzhat al Khawatir – Syed Abdul Hay Hasani, Hyderabad Deccan 1947
Tazkirah Ulama e Hind – Maulvi Rahman Ali 1914
Hindustani Mufassiren – Salim Qidwai
Manaqib Aulia – Ahmad bin Abi Saeed Amethvi– Qalmi
Sabhat ul Marjan – Azad Bilgirami p 205
Masir ul Kiram- Azad Bilgrami p 326
The Court of the Great Mughals – Mubarak Ali Khan
The Maāṯẖir-ul-umarā: Shāhnavāz Khān Awrangābādī, ‎ʻBeni Prasad • 1979 • ‎
Mulla Jiwan ke Muaasir Ulama – Ashfaq Ali
Ulama i Hind ka Shandar Maazi – Muhammad Miyan 1958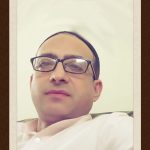 Khalid Bin Umar is a history buff who writes on Micro-history, Heritage, Sufism & Biographical accounts. His stories and articles has been published in many leading magazines. Well versed in English, Hindi, Urdu & Persian, his reading list covers a vast arrays of titles in Tasawwuf & Oriental history. He is also documenting lesser known Sufi saints of India