Do you know
Shivaji's grandfather was a mureed of Shaikh Muhammad of Shrigonde.
Shivaji's father was named after a Sufi saint
Shivaji respected and provided sustenance to Muslim Sufi Saints.
How many Muslim soldiers & commanders worked for the Shivaji's army
Shivaji  appointed and consulted Qazis  and provided for the lightings of mosques in his dominion.
How many grants did Shivaji bestowed upon the scholars and Qazis of his dominion ?
Distortion and hiding of historical facts is the rage of the day , specially imposed by a particular group of people who want to portray history as per their convenience to fulfill their agenda. Same is the case with the valiant Maratha chief Shivaji who actually was a man of exemplary character and a considerate ruling chief but unfortunately the man was portrayed as Hindu fanatic communal championing him as a part of Hindu Nationalist ideology.
When we refer to the historical accounts and try to look at his life history and circumstances in which he rose ,  the truth rises like Sun and we find a different Shivaji , completely different from what he has been portrayed , We find a considerate human being, a man of strong moral character and a  ruler whose treatment and conduct with Islam and Muslims was not so black and white as being portrayed purposely to make him a  religious fanatic. In this write up I shall try to dispel the myth and represent his character and conduct with regard to Muslims.
Sufi Saint Shah Sharif


Lets start with his grandfather Maloji
Maloji Bhosale – Grandfather of Shivaji –was a Maratha general from Pune. Maloji was childless for a long time. After he and his wife Uma Devi prayed at the tomb of famous Sufi Saint Shah Sharif of Ahmadnagar, he was blessed with two sons. Consequently Maloji named his sons Shahaji and Sharifji in honour of the pir and later built a reservoir in the name Shah Sharif around his tomb ( Ref1,2,3,4,5).
It has been reported that the Dargah of Shah Sharif at Ahmednagar enjoyed two villages Eklare and Konosi given by the Marathas (Dhere, p60). Pir Shah Sharif (1526-1617AD) came from Gujarat to Ahmednagar during the reign of Burhan Nizamshah (1508-1553). His tomb is known as Dargah Daira to this day. His Dargah near Mukund Nagar in Ahmad Nagar has been a symbol of cultural unity since ages ( Ref 11, 12, 13).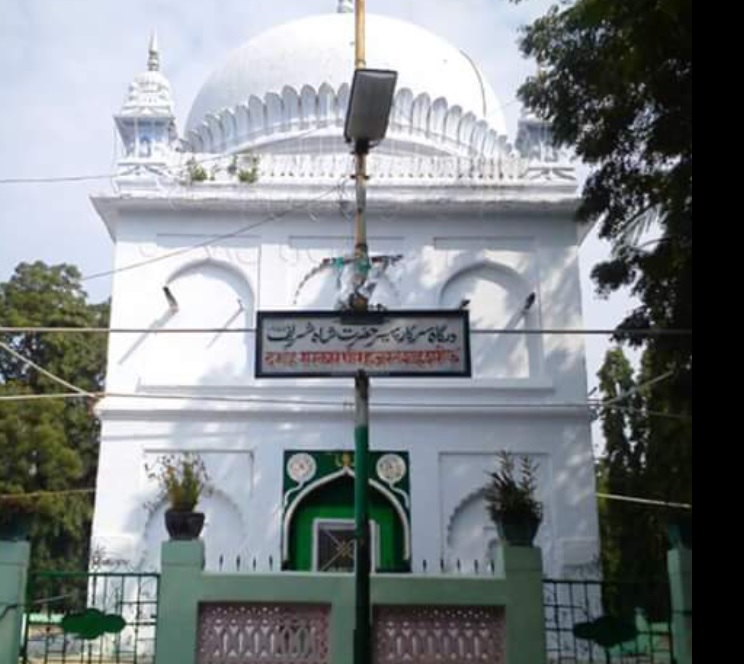 Shaikh Muhammad of Shrigonde
Shivaji's grandfather Maloji was a devotee of the legendary Muslim saint-poet, Shaikh Muhammad , author of the Yoga-samgrama, and when Maloji shifted to Ahmednagar , he brought Shaikh Muhammad along with him (Kulkarni p.110). He also gave 12 bighas land to the Shaikh and built a math for him at Shrigonde (13).
Maloji and his brother Vithoji served Ahmednagar Sultanate
Both of them first served as horsemen under the Jadhavs of Sindhkhed who provided military service to the Ahmednagar Sultanate (1). Later on they joined the service of the Ahmednagar Sultanate, under Murtaza Nizam Shah I. Maloji's became an aide of Malik Amber (2) and was given the title of raja by Nizam Shah, of Ahmednagar Sultanate. He was given the jagir of Pune and Supe parganas on the recommendation of Malik Ambar (3).
In Sivabharathi, the Loyalty of Maloji towards Nizam Shah has been remembered in these words 'Whatever enemies did arise [to oppose] the Nizam Shah, mighty Maloji opposed them. Incidentally Maloji was killed while fighting for Nizam Shah against Raja of Kolhapur (14, 26).
Shahaji Bhosale served the Ahmadnagar, Bijapur kingdoms
Shahaji, father of Shivaji too, like his father was military officer who served the Ahmadnagar Sultanate, the Bijapur Sultanate, and the Mughal Empire at different points of time (8). Since Maloji died in a battle while fighting on the side of Nizam shah of Ahmednagar hence he and his brother Sharifji were raised by Maloji's brother, Vithoji Raje. After being deprived of his inherited jagirs, he defected to the Bijapur Sultanate in 1632 and regained control over Pune and Supe. Later he came back to Ahmednagar under the son of Malik Amber, Fateh Khan (8). In 1630, When Mughals came down to conquer Deccan; he joined the Mughal forces and served Emperor Shah Jahan for a brief period. During 1659–1662, When Bijapur fought against Shivaji, Shahaji traveled to Pune as a mediator between Shivaji and Bijapur, meeting his son for the first time in 12 years. This was also Shahaji's last meeting with Shivaji, as Shahaji died in early 1664, in a hunting accident (11).
Adil Shah granted a village for the upkeep of the Samadhi of Shahaji
Shahaji died in an accident at Hodigere in Channagiri falling from his horse while on a hunting mission in the jungle to protect the villagers on January 23, 1664. His Samadhi was first erected by his son Vyankoji (also known as Ekoji I who was Shivaji's half-brother. Adil Shah granted the village to him for the maintenance of the Samadhi which is apparently a specimen of the later Mughal articheture (15, 16).
 Muslim soldiers and Commanders in Shivaji's Army
Contrary to the popular belief , we find that Muslims fought in large numbers in the "Maratha" armies but the dishonest historians hid and tried to expunge those details. Even after a cursory browsing we could find names of a number of Muslim commanders or soldiers in Shivaji's army: Siddi Hilal, Daulat Khan, Ibrahim Khan, Qazi Haider, Siddi Ibrahim, Siddi Wahwah, Noor khan Beg, Shama Khan Silehdar, Siddi Sambul , Dariya Khan Sarang and Madari Mehtar. 13 (
Rise of the Maratha Power, Mahadev Govind Ranade (Rao Bahadur) , 1961)
SN Sen writes on page 138, "chief commanders of the fleet were Dariya Sarang, He employed Ibrahim Khan Gardi for his artillery and he was his artillery in charge for a long time. Most of the fleet officers were Muslims (39). Siddi Hilal and his Siddi Wahwah were one of the trusted chieftan in Sivaji's Army. (
Shivaji: The Great Maratha By Ranjit Desai, Vikrant Pande )
An overview of his Muslim military officials recorded in books
Qazi Haidar –Shivaji's confidante secretary was Munshi Qazi Haidar whom he used to send as envoy and as a Vakeel of Shivaji to Mughal court and other opponents. This Qazi Haidar , after the death of shivaji left for Delhi where he became the chief justice of the empire.
Madari Mehtar – When Shivaji planned to escape from Aurangzeb's prison at Agra , Madari Mehtar was one of the two whom he had taken in confidence and disclosed to him his future plans. Shivaji on his safe return from Agra gave Madari and his descendants the right to take the coverings of the throne at the time of every coronation. Madari Mehtar ' s descendants served as Farrash with the Bhosle kings till the last Shahuji .
Chintaman Vinayak Vaidya (1931). Shivaji: the founder of Maratha Swaraj page 194.
Daulat Khan: He was one of Shivaji's trusted admirals.
Ibrahim Khan – was Pathan general in Shivaji's service, he plundered Bednur under the orders of Shivaji that belonged to Shivapps Naik. He displayed exceptional courage during the siege of Phonda. (16) ( Sabhasad Bakhar 54 , Shejwalkar )
Siddi Ibrahim – was his body guard and one of the ten trusted commanders who accompanied and protected Shivaji during the meeting with Afzal Khan , The unit of 700 Pathans, who had left Bijapur after the treaty of mughals. Sidi Ibrahim and Nur Beg Khan were the trusted confidantes of Shivaji
Siddi Hilal – earlier worked with Afzal Khan, after his death, he joined Shivaji and served as a trusted commander of his army. When the Mughal army led by Bahlol Khan was encircled by Marathas near Umrani, it was Siddi Hilal who successfully commanded the army. Apart from being a commander, he worked as a trusted spy of Shivaji. He worked at Delhi at Aurangzeb's court but actually he was working as a spy of Shivaji in Aurangzeb's court.
Rustam e Zama III – He was son of Rustam e Zaman II and was called Abu Khan as his father. He was given this title in 1671 and was a close aide of Shivaji.
Siddi Fateh Khan – used to keep secret correspondence with Shivaji and agreed to surrender the fort of Janjira in Shivaji's favour   ( 27, 28).
Shivaji , wishing to avenge the degradation of Brahmans , sent his admirals Daulat Khan and Daria Sarang with 4,000 men to Panvel , a town opposite Bombay with orders to cross the creek and burn the Siddi fleet then anchored at mazgaon in Bombay Island (35). It becomes clear that Muslims fought in fairly good number in the "Maratha" armies during the seventeenth and eighteenth centuries only to be exiled from Maratha history due to the painstaking efforts of the modern historians of the colonial period (3, 27, 28 , 29 ).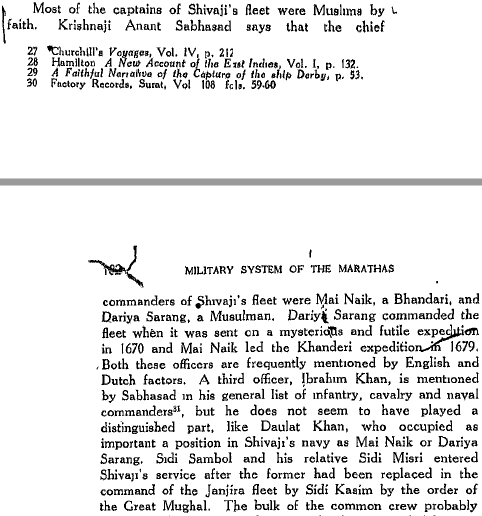 Appointment of Qazis by Shivaji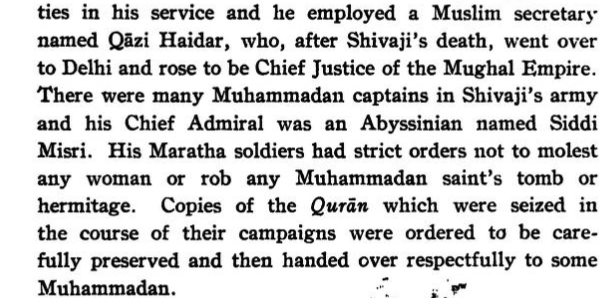 There is considerable evidence to prove that Shivaji had employed Muslim Qazis in his state. The court proceedings on 1657 tell that he appointed Qazis to adjudicate the cases and were paid by the government of Shivaji.
He gave legal recognition to Muslim Qazis in his dominion and continued the land grants to a number of Muslims Qazis and Scholars who were awarded those grants since the time of shahji Bhosle (Page 90  ,Khafi Khan , Muntakhib ul lubab). Poona Mahzar (Proceedings of Poona Court) mentions the name of Qazis appointed in his government Qazi Abdullah Bin Qazi Muhammad and Qazi Nayab .
He used to consult the Qazis as well (17, 29). He continued the grants to the Qazis of Ahmednagar, Qazi Ibrahim, Qazi Abdullah, Haakim-i-Shara  as was enjoyed by their ancestors during Ahmednagar rule. These facts explode the myth that Shivaji was an enemy of Muslims and wanted to eradicate Islam from the land. He was indeed against any kind of persecution and coercion but to portray him as a fanatic is completely wrong. He was a just and kind ruler by all respects.
Afzal Khan's burial
Shivaji ensured that Afzal Khan's head is buried with full military honors after killing him in 1659 and sanctioned funds for the upkeep of his tomb.  (18, 30)
Baba Yaqoob (Yaqut) of Kelshi
Being a devout and disciplined Hindu, Shivaji was not a fanatic but was a righteous man , a man of strong character , he had intense regard for Muslim saints and Gurus whom he visited frequently and his life history has many examples to this effect. A glaring example is his support and subsistence for Muslim Saint Baba Yaqut (Yaqub) Thorwale of Utambar  Village in Kelshi on Ratnagiri Coast.  (19)




Baba Yakut (Yaqub) was a sufi saint who came from Sindh and settled at Kelshi. Shivaji visited the great seer Yakut (Yaqub) baba several times and especially whileon the way to Dabhol, he sought his blessings and this meeting is recorded invariably in different books. It was Shivaji who expressed the desire to build a Dargah at Kelshi but the Baba disagreed saying that he won't be able to build it.
In fact there are reports that Shambhaji too intended to construct his dargah but he too couldn't complete it due to continuous warfare and disturbance. Yakub baba left for heavenly abode on 6th Shaban 1093 Hijri corresponding to 1681 AD. An area of hundreds of acres of land was awarded for the upkeep of the dargah. The Farman of Shivaji is still with the caretakers that mentions Baba Yakoot as Bahut Thor Wale bhau that means elder brother ( 20, 21, 22, 233).
Respect to Women
When Shivaji captured the treasure of Kalyan to Raigadh , Maratha Army captured the family of Governor Mulla Ahmad along with his young daughter in law. Abaji Sondev sent the young lady as a present to Shivaji , Shivaji was very angry the way poor girl was treated. He apologized to the lady and sent her back with proper escort. He then issued a severe warning to all his officials against recurrence of any such matter.
In another incident, Sakuji Gaikwad , army officer, raped Savitri Bai , wife of Desai , thanedar of Belvadi after the Maratha army captured the Thana. Even though Savitri Bai and his husband had been putting up a heroic fight against the Martha army for over a month, Shivaji was deeply mortified at this incident. After enquiries, he ordered that Sakuji Gaikwad should be blinded and kept in prison till death.
Khafi Khan writes in Muntakhib ul Lubab that Shivaji had ordered that women and children captured during warfare or looting activity must be treated with dignity and honour, if the sacred book of Muslims Quran came to their hands, they must show due respect towards it.
His battles with Muslim Kingdoms
A close look at his warfare against the Sultans of Bijapur, Golkonda and Aurangzeb shows that Shivaji opposed them from purely a political point of view and not because they were Muslims. There is no historical evidence to prove that he ever harassed any Muslim on the simple reason for being a Muslim. Until 1657, Shivaji maintained peaceful relations with the Mughal Empire. Shivaji offered his assistance to 
Aurangzeb
 who then, was the Mughal 
viceroy
of the Deccan , in conquering Bijapur in return for formal recognition of his right to the Bijapuri forts and villages under his possession. Dissatisfied with the Mughal response, and receiving a better offer from Bijapur, he launched a raid into the Mughal Deccan (
Sarkar, Shivaji and His Times 1920
, pp. 55–56).
General Conduct
His character and behavior was so impressive that Bhimsen Burhanpuri, a hindu in the service of Mughal emperor,  writes in Nuskha-i-Dilkusha that Shivaji's policy brought peace and order to that part of country, he assured the protections of women's honour and of all sects without distinction. He had instructed that Maratha army should not attack the dwelling or hospice of any Muslims Saint , Khafi Khan tells us that whenever the Maratha troops attacked the city of Jalna, many people took shelter in the hospice of Saint Sayyid Jan Muhammad and there they remained safe as Maratha army did never attack the dwelling place. There is no record available that he ever destroyed any Mosque or ever desecrated Quran in his entire life.
Grants to Qazis , Mosques and Scholars
He gave legal recognition to Muslim Qazis in his dominion and continued the land grants to a number of Muslims Qazis and Scholars who were awarded those grants since the time of shahji Bhosle. Page 90  ,Khafi Khan , Muntakhib ul lubab. He awarded the grant of lands and other rights enjoyed by Syed Sadat Hazrat Pir , Syed Hisam Qattal and Qazi Qasim Pirzade Kasim Pirjade , and the deputy ( Nayab ) Kazi and others since the time of Shahaji Bhosle .We find his sanad issued in favour of Sayyid us Sadat Syed Hisam Qatal , Qazi Qasim Pirzade , and Naib Qazi and Khateeb in Pune. Shivaji ordered to pay the expenses of oil used to light lamps in mosques under their rule.  (24 ,25)
Khafi Khan , Muntakhib – ul – Lubab , A.H. 1134 ( A.D. 1722 )
Sanads and Letters by PV Mawjee & DB Parasnis  – 1913 – Sanad NO. 14, 121-
Mosques
The Qazi of Indapur and the khidmatgar of the Bhambavade mosque received land and allowances from Shivaji.
Shivaji's grandson, Shahu Bhosale I (1682–1749 CE) gave an entire village in grant to the Muslim saint Sayyid Ataullah of Shakarkoti of Loni in Pune. Mir Sayyid Sadi of Nasik and Mulla Hussaini Mosque of Rannebennur (Dharwad) received inam (gifted) lands from Shahaji . ( 5 , 26, 27)
(Kulkarni p. 112). Page 82 Apte Chhatrapati Shivaji Siva Chhatrapati: Translation of Sabhasad by Krshnaji Ananta Sabhasada (Author), SN Sen 2017
Social condition of Qazis
The Kazi and the  Maulana  had a seat in the gotsabha in every village. In the Got, the proportion of Muslim members was usually proportional to the Muslim population in that village. Both the Hindus and Muslims sat together at the village temple and settled disputes irrespective of caste or religion.
Mulansara
A kind of tax originally introduced by the Muslim rulers for the maintenance of the village Maulana continued under the Marathas. Muslim Patils were there and not unheard of under the Marathas (Kulkarni p.115).
In the light of the above , it is evidently clear that the grim and fanatic portrayal of Shivaji is absolutely baseless and this portrayal was done to serve a particular agenda in the country.
Shivaji ranks amongst the few selected valiant Indian chiefs who displayed exemplary strong moral character and ethics during his long military career. He always showed respect and protected women, children, holy books and places of worship irrespective of creed and religion. His portrayal as a blind fanatic Anti-Muslim ruler is absolutely baseless. 
References: 
Satish Chandra (2005). Medieval India: From Sultanat to the Mughals.
Chintaman Vinayak Vaidya (1931). Shivaji: the founder of Maratha Swaraj.
Govind Sakharam Sardesai (1957). New History of the Marathas: Shivaji and his line (1600-1707).
Gazetteer of the Bombay Presidency: Ahmadnagar. Printed at the Government Central Press. 1884.
Kosambi, Meera (editor); Laine, James (2000). Intersections : socio-cultural trends in Maharashtra. London: Sangam. p. 62
Asgharali Engineer (1989). Communalism and communal violence in India: an analytical approach to Hindu-Muslim conflict. Ajanta Publications (India). p. 182. 
V. Oturkar (1956). "A study of the movements of Shahaji (Shiwaji's father) during the period of 1624-30". Proceedings of the Indian History Congress. Indian History Congress.
Stewart Gordon (1993). The Marathas 1600-1818. The New Cambridge History of India. Cambridge University Press. .
James W. Laine (2003). Shivaji: Hindu King in Islamic India. Oxford University Press.  .
Stewart Gordon (1993). The Marathas 1600-1818. The New Cambridge History of India.
Govind Pansare's Shivaji Kon Hota?
New History of Maratha – Sardesai
Studies in Indian History: Historical Records at Goa By Surendranath Sen, Surendra Nath Sen page 53
Sardesai, Govind Sakharam(1957) [1946], New History of the Marathas: Shivaji and his line (1600–1707), Phoenix Publications
The Military System of the Marathas by SN Sen pp 155-158
Composite Culture and Indian Society: Radhey Mohan Page 82
Chhatrapati Shivaji: Coronation Tercentenary Commemoration Volume by Bhalchandra Krishna Apte – University of Bombay, 1975
Marāṭhī vāṅamayācā vivecaka itihāsa: Prācīna khaṇḍa by Pralhad Narahara Joshi
Musalamāna Marāṭhī santakavī – Page 164 Rāmacandra Cintāmaṇa Ḍhere Jñānarāja Prakāśana, 1967
Bhūshaṇa: sāhityika evaṃ aitihāsika anuśīlana -Bhagavānadāsa Tivārī-Page 300 Chhatrapati Shivaji By Bhawan Singh Rana – Baba Yaqut
भूषण : साहित्यिक एवं ऐतिहासिक अनुशीलन भगवानदास तिवारी
Bhārat kā rājnitik saṅkaṭ – Vāṇī Prakāśana, Page 98
Gazetteer of the Bombay Presidency: Ahmadnagar – Page 1884
Shivaji the Founder of Maratha Swaraj by C. V. Vaidya, 1931 – page16
Dhere, R C. 1967. Musalman Marathi Sant Kavi. Padyagandha Prakashan. Pune.
Contributions of Thanjavur Maratha Kings by Prince Pratap Sinh Serfoji Raje Bhonsle Chapter 2 authored by Prince Pratap Sinh Serfoji RajeBhosle
DECCAN CHRONICLE. | Sunday Story by VITTAL SHASTRI Published Dec 10, 2017)
Sabhasad Bakhar 54 , Shejwalkar 
Marathyancha Itihasanchee Sadhane, Khand 17, Lekh 10 by Rajwade
See Pratabgadache Yudha , Ganesh Vasudev Modak Page 298 }
Bal Krishna, SHivaji The Great Page 170).
Explorations in the Deccan History by AR Kulakarṇī, Indian Council of Historical Research
Proceedings of the Indian History Congress page 241 1970
See, Sardesai Page 275
Shivaji by Jadunath Sarkar P. 421
Khafi Khan , Muntakhib – ul – Lubab , A.H. 1134 ( A.D. 1722 )
Sanads and Letters by PV Mawjee & DB Parasnis – 1913 – Sanad NO. 14, 121
Kularni A R. 1999. Social Relations in Medieval Maharashtra: Experiments in Living Together. In: We Lived Together. Eds. S Settar and P K V Kaimal. 1999. Pragati Publications. Delhi
Siva Chhatrapati: Translation of Sabhasad by Krshnaji Ananta Sabhasada (Author), SN Sen 2017
Shivabharat , Parmanand 23/55-56
Patra Sar Sangraha Letter 1300
Sarkar, Shivaji and His Times 1920, pp. 55–56)
Communalism and writing of Indian history by Satish Chandra p.12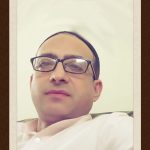 Khalid Bin Umar is a history buff who writes on Micro-history, Heritage, Sufism & Biographical accounts. His stories and articles has been published in many leading magazines. Well versed in English, Hindi, Urdu & Persian, his reading list covers a vast arrays of titles in Tasawwuf & Oriental history. He is also documenting lesser known Sufi saints of India