It was the year 1682, Prince Azam Shah was busy fighting Marathas when he was ordered by the emperor to march out to Ahmednagar. He started out and overran Dharur (in Beed District) entering the territories of Sambhaji.
He left his wife Jahan Zeb Banu behind (at Dharur )in the camp and entrusted her safety to Rao Anirudh Singh Hada and his loyal Rajput contingent. Prince Azam left the place and advanced with his army towards Ahmednagar. The Marathas, played shrewdly by sending off one troop to engage Azam Shah at one end while they surrounded the royal camp where Jahanzeb Banu was encamped. They might have a plan to get hold of the royal Harem, so that they could dictate terms and conditions to Aurangzeb for their comfort.
The courageous Jahanzeb upon hearing the news of approaching Maratha Army quit her chair ,came out of the tent, mounted on the elephant, and drove two miles from her camp to take on the Marathas. Rao Anirudh Singh Hada and her trusted eunuchs tried in vain to prevent her from going ahead but she said "Situation is critical, stop talking to me and get to your job ".
Thereafter the brave Mughal princess called Rao Anirudh Singh close to her elephant and told him
Asmat e Chaghtaiya wa Rajput yak ast "
The honour of Chughtais (Mughals) is same to Rajputs (as their own honour")
I call you my son and then she personally handed over a few spears to Rao Anirudh telling him " If God gives us victory with this small army , that would be good otherwise rest assured about me , I shall sit down after doing my work "( Meaning she would kill herself to avoid capture ).
Rao Anirudh Singh Hada, the valorous Rajput chieftain of Bundi overcame with emotions and thereafter a great battle was fought, the Rajputs displayed exemplary bravery and courage with 900 of Rajputs dying in the course. At last, Anirudh Singh returned victorious but wounded.
During the entire battle, Jahanzeb Banu would send her eunuchs with Paan (Betel leaves) for Rao Anirudh Singh and each one of the commanders in the army to cheer them up. After the battle, she took out her necklace and placed with her own hands around the neck of Rao Anirudh Singh and thereafter she returned to her camp. [1, 2, 4, 12]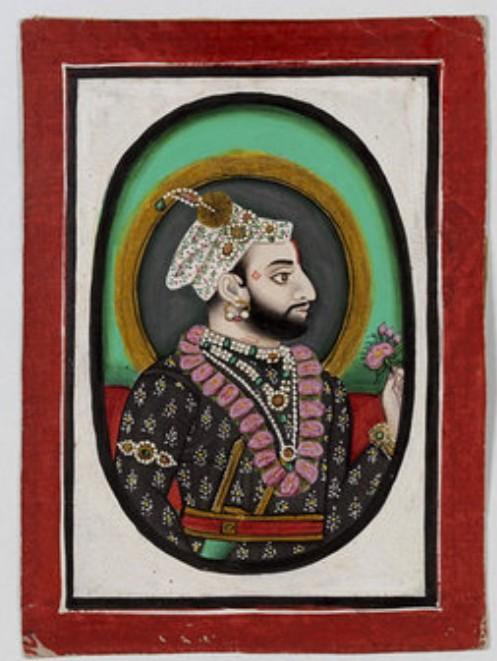 This shows the kind of camaraderie and understanding existed between the two chivalrous communities during the Mughal rule in India. It bears testimony to the fact that Rajputs were indeed a race of true moral character, courage, and valour. It also explodes the myth that Rajputs had a forced and compulsive affiliation, dedication, and devotion towards Mughal regime. The partnership between the two royal communities was exemplary and mutually beneficial.
As per Dr. Qanungo, the more detailed account of Anirudh's rescue of Jahanzeb Banu from the hands of Marathas is found in Vamsa Bhaskar by Suryamal Meesan of Bundi. [3]
Rao Anirudh Singh Hada – was a Rajput chieftain who ruled Bundi from 1682-1696. He was born in 1665 succeeding Rao Bhao Singh at the age of 15 and was assigned to the Deccan advancement by Emperor Aurangzeb in 1682. Hada is a branch of the Chauhan Rajput community. They live in Hadoti and have ruled the states of Bundi, Jhalawar and Kota.
Jahanzeb Banu Alias Jani Begum
The gallant lady in discussion was Jahanzeb Banu (died 1705) who was popularly known as Jani Begum, a daughter of Prince Dara Shukoh and Nadira Banu. She was the wife of Muhammad Azam Shah, the heir-apparent to Emperor Aurangzeb, who briefly became Mughal emperor in 1707.
Her story is fully of vicissitudes of life with pain, agony, torture, death all playing their roles. She saw her father being murdered and mother dying hapless. She lived a life of orphan. During her years after marriage, she played the role of a peacemaker who constantly tried to bridge the gaps and differences between the male members of the royal family. She lived to see that her son was estranged from his father, and both did not meet for a long time. Ultimately, she got a fatal disease that put her life to an end. Despite all the odds, her life is an example of extra-ordinary courage, valour, and perseverance that she possessed and displayed.
Life after the parents
Jahanzeb's mother Nadira Begum died in 1659 while she was on the run from the forces of Aurangzeb accompanying her husband and family and a few days after her death, her father Dara Shukoh too was executed in Delhi. Within span of a month, Jahanzeb became an orphan. His uncle and the new emperor Aurangzeb entrusted her to his favourite sister Princess Roshanara Begum, but Roshanara was not kind enough to accept her niece, thereafter Jahanzeb was forwarded to Agra where her grandfather, Shah Jahan was alive in confinement along with her eldest daughter Jahan Ara. [8]
There, Jahanzeb was brought up by her eldest and beloved aunt Jahan Ara Begum, who brought up as her own daughter. Under her care, Jahanzeb grew up to be a refined, cultured, and beautiful princess.[7] When Jahanara died in 1681, she bequeathed her finest gems to Jahanzeb, her favourite niece.[9] The Italian writer and traveller, Nicolao Manucci too, described her as being beautiful and courageous lady.
Marriage
On 3 January 1669, Jahanzeb married her first cousin, Prince Muhammad Azam, the eldest son of her uncle Aurangzeb and his chief wife, Dilras Banu Begum. The marriage ceremony was arranged by her beloved aunt Jahanara Begum amidst grand celebrations that took place in her palace at Agra. Their marriage proved to be a pure marital bliss. She was extremely happy with her doting husband who loved her the most. She became the chief consort and the most trusted companion and confidante of her husband. She was also Aurangzeb's best-loved daughter-in-law. [4 &10]
She gave birth to Azam's eldest son on 4 August 1670 who was named 'Bidar Bakht' by Aurangzeb. Aurangzeb loved this family throughout his life and had exceptional love for Azam and his wife as well as for their eldest son, Prince Bidar Bakht, a chivalrous general, who was his favourite grandchild in his old age.
Character
Jahanzeb has been described by almost all chroniclers to be courageous and a beautiful lady. She was instrumental in creating a harmonious atmosphere inside the royal household. She was the bridge between the father and son and for other royal officers as well. When Bidar Bakht, her son fell out of the favour of his father and could not visit her parents , she asked permission from Aurangzeb to allow Bidar Bakht to visit her mother.
She intervened in the court affairs as well as is evident in the case of Mir Hidayatullah who was fired from his job by Azam Shah however he regained his position after the intervention of Jahanzeb Banu.[11]
She accompanied her husband Azam Shah's in all his military campaigns for almost a month in 1679, when Azam was engaged in marching ahead on other fronts.
In 1682, she personally oversaw and supervised the counterattack by riding on the elephant against Maratha Army when she was surrounded by Marathas. She is said to have personally handed out spears to Rao Anirudh Hada. During the fight Jahanzeb continually sent her eunuchs to present packets of betel leaf to the Rajput warriors. In1685-6 she was actively involved in boosting the morale of Mughal Army when Azam's forces had lost all hope during the invasion of Bijapur. [11]
Death
Jahanzeb died in 1705 at Gujarat due to an abscess in her right breast. The French Agent Mons. Martin advised her to be examined by one of his female relatives at Delhi who was skilled in surgery, but the princess refused to be examined by a woman who drank wine which would defile her body with her touch. The disease aggravated within two years and eventually took her life. Upon her demise, Azam was inflicted with great sorrow that lasted till the last breath of his life.[10]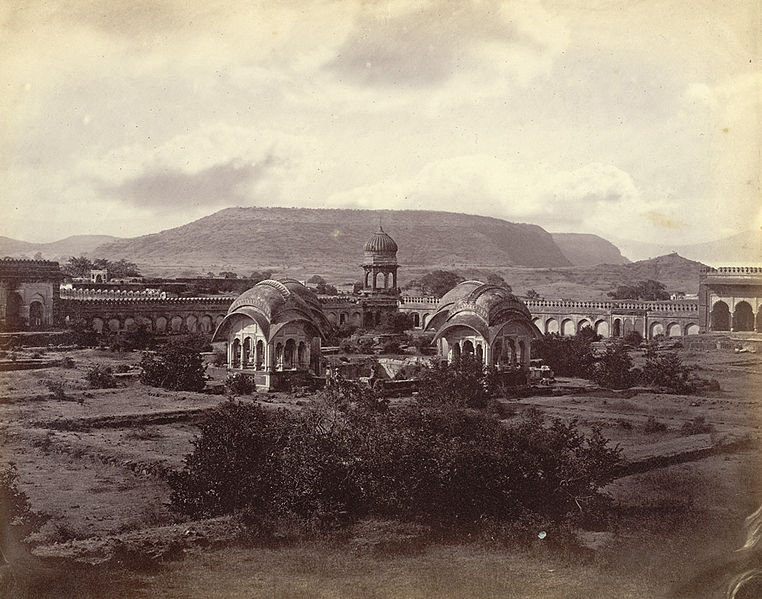 Mausoleum
Jahanzeb Banu was buried in a Garden located at Khuldabad about 25 km from Aurangabad. The garden consists of several domes, fountains and fluted pillars and is a great example of the Mughal architecture. Its pavilions are balanced on slender pillars surmounted by Bengali-style domed roofs. It is popularly known as Bani Begum ka Bagh.
A Note
It has been observed that the incident of Jahanzeb Banu's rescue by Rao Anirudh has been represented incorrectly in a few articles in the print as well as electronic media. In those articles, the name of Princess is incorrectly mentioned as Nadira (which is actually the name of Jahanzeb's mother) and the princess is reported to have been going to Gilgit (which is incorrect) and the name of saviour Hada Rajput is also mentioned incorrectly. These historical inaccuracies render those write ups/ articles unreliable and make grave misrepresentation of historical facts.  This article is an attempt to put the records straight.
References:
1. Studies in Aurangzib's reign: Jadunath Sarkar p.44,45,46 ( 1989 Edition Orient Longman)
2. A History of Aurangzeb by Sir Jadunath Sarkar with reference to Akhbarat of Persian Jaipur records Page 224 Vol 4,
3. Dara Shukoh Vol 1 – Kalika Ranjan Qanungo 1935 Page 331
4. A Short History of Aurangzib 1618-1707, by Jadunath Sarkar – Page 294-95
5. The Princes of the Mughal Empire, 1504-1719 By Munis D. Faruqui – page 110
6. Bengal, Past & Present: Journal of the Calcutta Historical Page 282
7. The Peacock Throne: the drama of Mogul India. Hansen, Waldemar (1972).
8. Captive princess: Zebunissa, Annie Krieger-Krynicki (2005). p. 104/206.
9. Jahanara, Princess of Princesses. Lasky, Kathryn (2002)- page 148
10. Studies in Aurangzib's reign: Sir Jadunath Sarkar (1933) pp. 43, 53, 56.
11. Princes of the Mughal Empire, 1504-1719. Munis D Faruqui . pp. 110–111.
12. Chauhanon ka Brihad Itihas – Shodh Granth – Page 157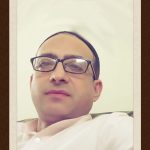 Khalid Bin Umar is a history buff who writes on Micro-history, Heritage, Sufism & Biographical accounts. His stories and articles has been published in many leading magazines. Well versed in English, Hindi, Urdu & Persian, his reading list covers a vast arrays of titles in Tasawwuf & Oriental history. He is also documenting lesser known Sufi saints of India