A visual gallery
In quest for Mughal history and following in the footsteps of Zahir-uddin Babar and his autobiography," Waqa-I-Babar" (the Urdu translation of which was performed by Prof. Yunus Jafrey,) I undertook exploratory journeys in the years 2000 to 2007 to Uzbekistan, Tajikistan, Kyrgyzstan, Turkmenistan, Afghanistan, Pakistan & India.
In year 1483, Zahir-uddin Muhammad Babar, the founder of Mughal Empire was born as eldest son of Umar Sheikh Mirza at Andijan in Fergana Valley, which is now in Uzbekistan. Because of infighting in his family and failing in his attempts to gain power in his own country, he migrated to Afghanistan by crossing Amu River.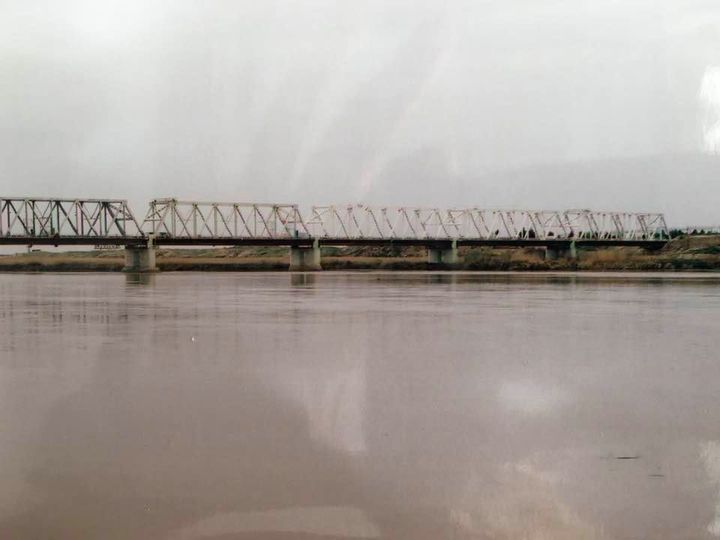 Amu Darya
This is Amu River that divides Tajikistan and Uzbekistan from Afghanistan. It is formed by the confluence of water streams coming from Pamir Mountains. In Latin text, this river is mentioned as Oxus & the area beyond it is called Transoxiana. Similarly Arabs called this river as Nehar, so the area beyond it is known by Arab historian as Mawra-un-Nehar. The bridge seen in this picture is a rail & road bridge build between Afghanistan and Uzbekistan by Soviet Union and named as Friendship Bridge. This connects the Hayratan town of Afghanistan with Uzbekistan. In 1504, when Babar crossed this river it would have been by boats, he was taking a great risk with the hope that his luck may change as he was hearing favourable news from across the land. The local chieftains & leaders were visiting him and submitting. His strength was growing. After crossing the river Amu, Babar reached Aibak, where many tribes joined him. Further south after crossing Andrab River, he sat down under a Chinar tree. It was here, that the Hakim of Hisar, Khushro Shah bowed himself in the front of Babar. Babar was generous with him allowing him to take away whatever he wished with himself. Babar marched further south towards Kabul.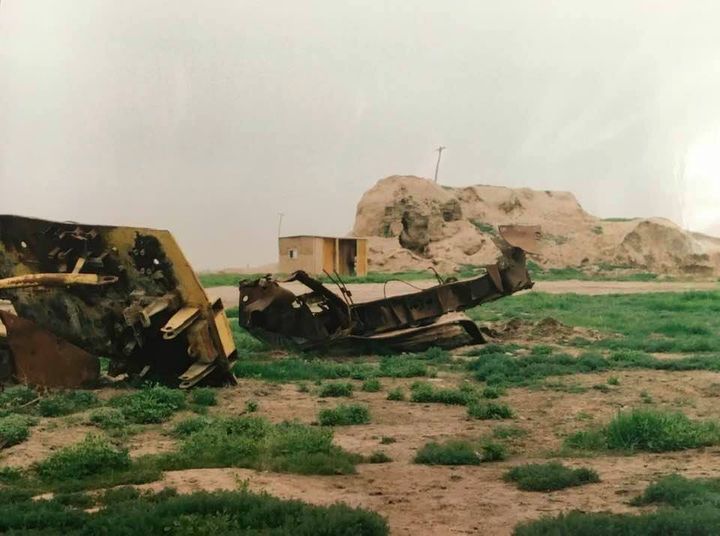 Qunduz
In today's Afghanistan Qunduz is the graveyard of Russian tanks. In the plains of Northern Afghanistan, this is one of the large cities. When Babar was here, he received the news that his sister Khanzada Begum has reached here after her husband Shaibani Khan has been killed. So Babar reached Qunduz to meet his elder sister after the time span of ten years.
Mazar-i-Sharif
Mazar Sharif is the famous city of Northern Afghanistan. It is famous for its shrine. The attraction here is the tomb of Hazrat Ali. It is widely believed that his body was brought here to be buried. Babar's uncle Sultan Hussian Mirza builds a section of the shrine. However down the centuries many new additions & renovations have been made here. The Nowroz of Mazar Sharif is quite popular here when at a huge ceremony a big Aalam is raised every year.
Balkh
Located 20 kms North West of Mazar-i-Sharif; this is another historic town that has historical imprints from sixth century BC. Today it is a ruined city. In 1220, this city witnessed the devastation of Mongols under Genghis Khan. Ibn Batuta saw the destruction of this city in 1233. Now the remnants include tomb of Khwaja Parsa, the Sufi saint & Rabia Balkhi, popular in history as first woman poet of Persian. Young lovers of the region come here to take their vows & seek for supplication here.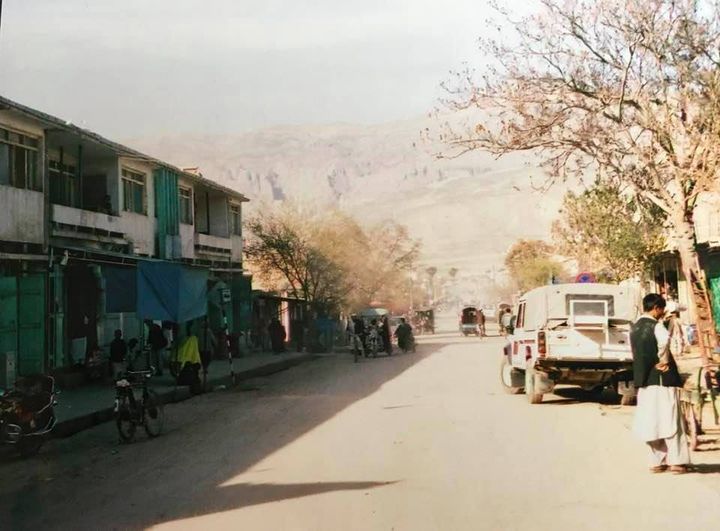 Doshi
Presently Doshi is one of the dusty towns on the Afghan Turkistan. Somewhere close to this place, the Uzbeks made an attack on Babar that failed. Here Babar sighted a Sohail star that is considered as the sign of good luck. After this incident, the power of Babar started to increase, day by day. Many tribes paid their allegiance and submitted their loyalty to him.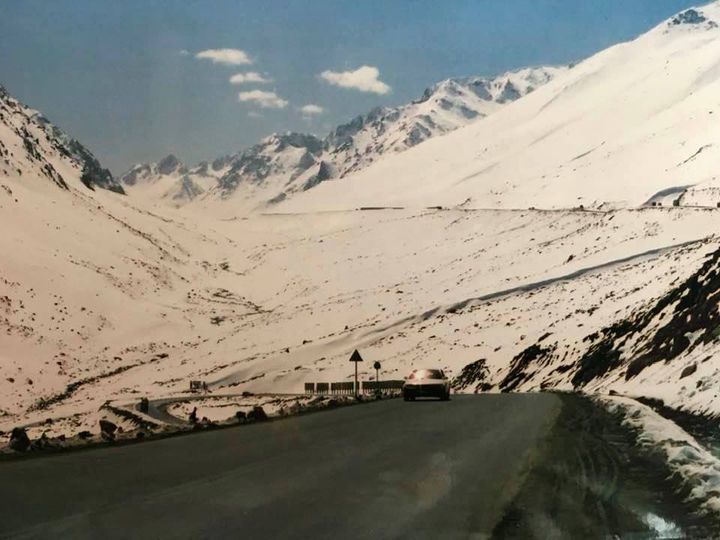 Hindukush
This is a huge mountain range that stretches from Afghanistan, Northern Pakistan, & Tajikistan. Babar's memoirs mentioned seven passes in this its range. At present the pass that is commonly used is Salang Pass which was built by Soviet Russia in 1964. Even in the month of May, you will find this range covered with snow at the top. Babar crossed Hindu Kush & reached Qara Bagh which is in the North of Kabul.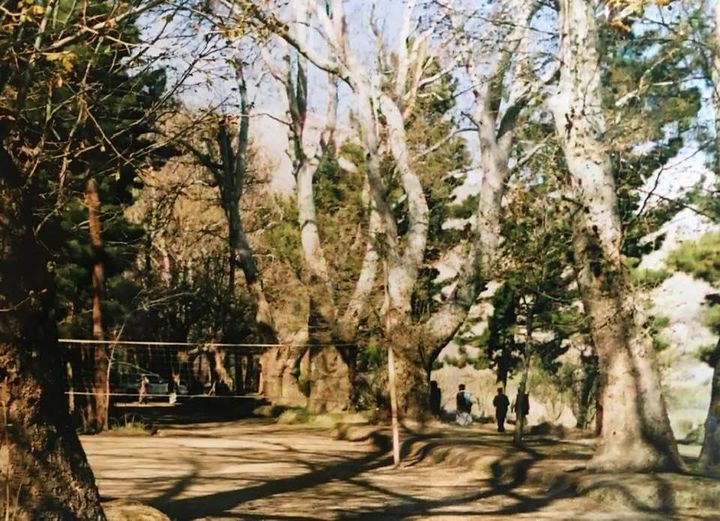 Astalif
This beautiful town is located at the decent from the Hindukush range; it is around forty kilometers North West of the Kabul. Babar documents the scenic beauty of this place in his memoirs. The entire town is like a garden with water channels flowing and large Chinar trees. Babar used to enjoy the scenic beauty of the place. After first Anglo-Afghan War, the entire area was destroyed by the British army as a revenge of killing of Alexander Burns, the English spy master by the Afghans who were trying to get rid of the English proxy government.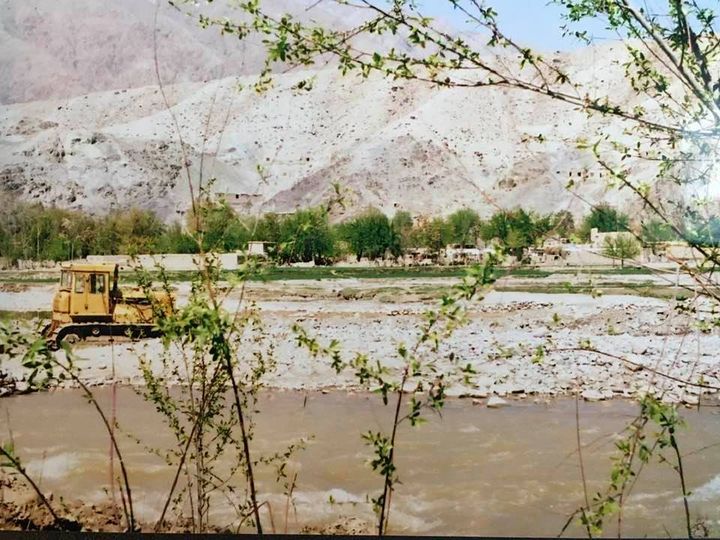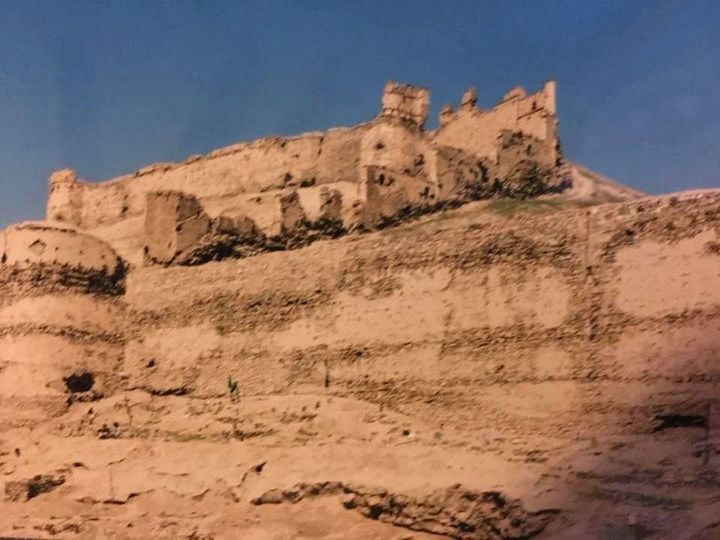 Ark Kabul
According to the Babar, Kabul is a strong fortress that cannot be conquered by enemies easily. The city beautiful has rivers, moving water & surrounded by mountains. He emphasized the importance of trade in the city from across the world being on Silk Road. He describes the fruit and trees of Kabul in his autobiography.
Bagh-e Babar
Babar was fond of gardens & he laid down several beautiful gardens in Kabul. With the time, almost all of them are lost except the one where he himself is buried. This garden is surrounded by a wall. There are many other graves surrounding his own, of his near and dears. The present Afghan government is restoring the area with the help of UNESCO. The explosive landmines have been removed, new plants were sown in and other restorations were done to facilitate the visit for tourist.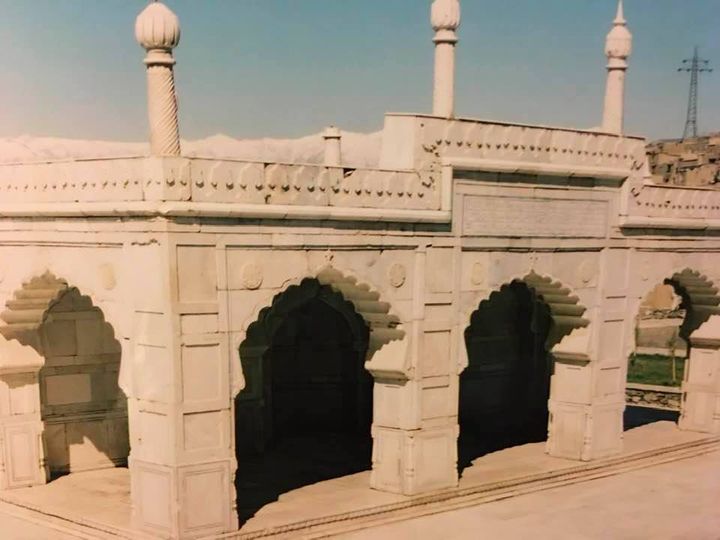 Shahjahani Mosque of Bagh-e-Babar, Kabul
When explosive mines were removed during the restoration, the marble pieces of the old Shahjahni mosque were found. An attempt has been made to reconstruct the mosque build by his great, great grandson, Shahjahan. The quality of the work is shoddy and poor, though the work was done in collaboration with Agha Khan Trust, but Shahjahan would be turning in his grave looking at the quality of repair.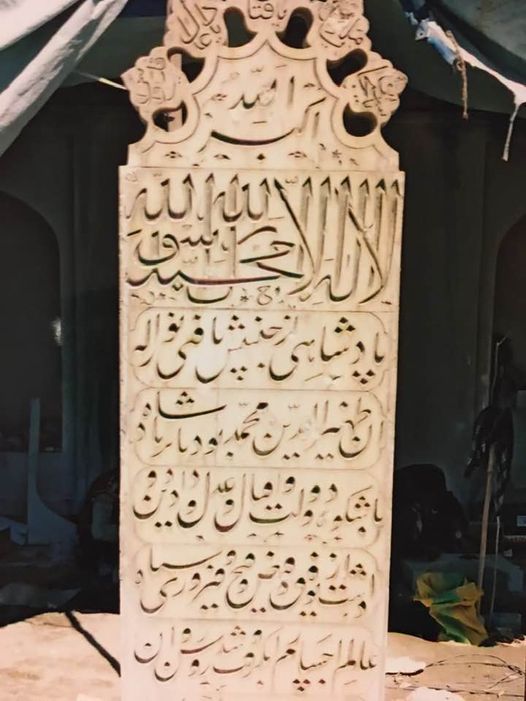 Tablet of Babar's Tomb
Here is the tablet on the grave of a genius, who was not only a great leader, statement but also a poet, calligrapher, writer, historian, & admirer of Sufi orders. In addition to conquering India, he was keen observer of the nature, of people, of the fruits, and the environment. He brought many plants & fruit trees to India and from India to Afghanistan. Even today one can find the signs & remnants of the gardens & buildings of his era. This tablet was fixed by his great grandson Emperor, Jahangir on his tomb.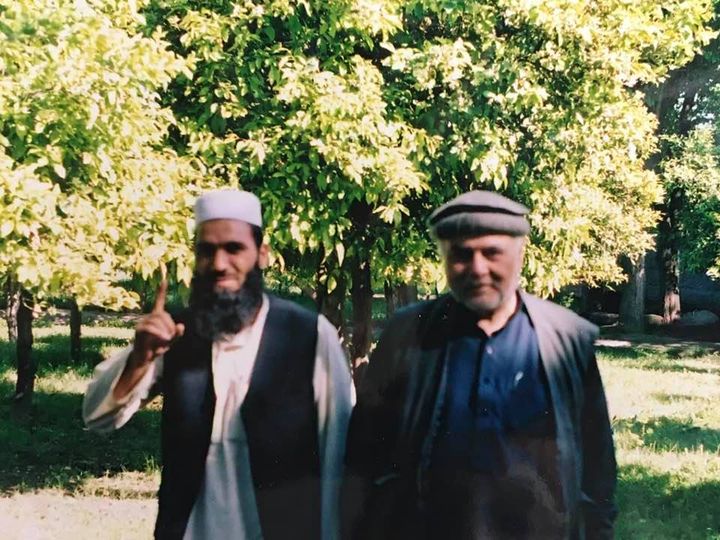 Bagh-e-Wafa
This is one of the earliest gardens laid down by Babar in 1508. This Chahar Bagh garden was planted at the fortress of Adinapur, Nangarhar, Afghanistan. After occupying Lahore, he brought many plants & trees to be planted here, including Sugarcane & Banana. Describing its beauty he says when oranges get yellow; it gave a spectacular look to this garden. When Akbar, his grandson established the city of Jalalabad, the strategic position of Adinapur got gradually reduced. We tried to locate this garden by travelling on Kabul-Jalalabad road, we do find a Bala Bagh, and a fort nearby and river Surkhrud, where Bagh Wafa should have been but nothing can be said with certainty.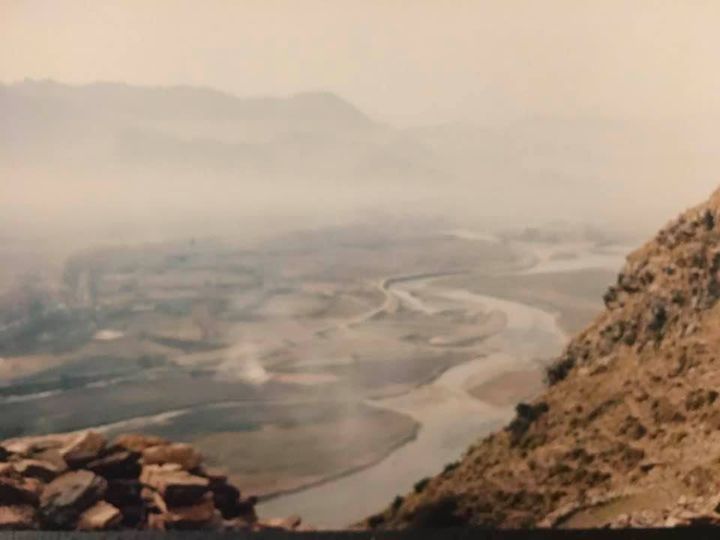 River Kabul
At Kabul, this is small stream but as it flows towards south of Afghanistan many other tributaries of water drain in it. Close to the Khyber Pass, the size of the river Kabul became great. Babar describes crossing this river on a raft. He enjoyed this new form of transportation as he has not used it before.
Khyber Pass
This is the historic passage in the mountain range between Afghanistan & Pakistan. From the time of antiquity, the invaders have passed through this pass to travel to Indian Subcontinent, except those who came disguised as traders and choose the unprotected underbelly of India, the Indian Ocean. Babar in his memoirs described this pass as one of the low altitude pass comparing it to higher passes of Afghanistan and Central Asia.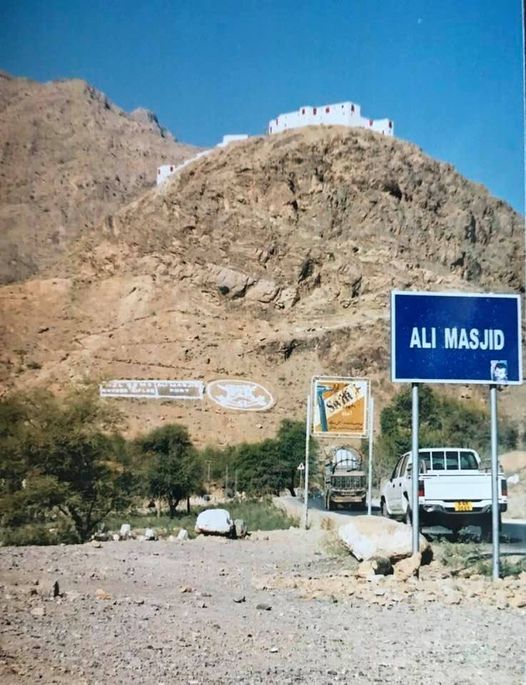 Ali Masjid
Ali Masjid is the narrowest part of Khyber Pass from where almost every invader has passed in History. Babar also passed from here & gave the detailed description of this place. A tablet in Urdu has been fixed by Pakistan Government that cites the details of all invaders who entered the subcontinent from the time of antiquity. It started with Aryans, Greeks, Mauryans, Mongols, Mughals, Afghans under Ahmad Shah Durrani, Sikh rulers, British & finally ended with modern nation of Pakistan. When Babar was stationed here, he used to camp on the top of the hill while his Lashkar was at the base of the pass. At night when the candles and flames used to get alighted it uses to present view of the pass like a starry night as described by Babar in his memoirs.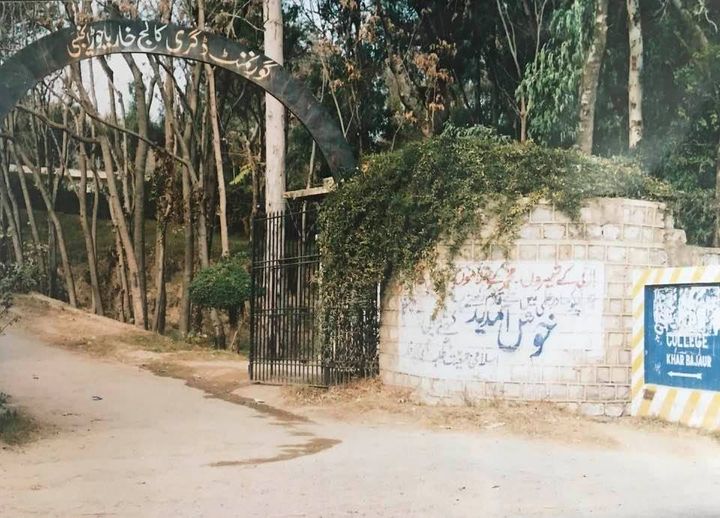 Bajaur
Bajaur is now in Pakistan. Its main city is known as Khar. The terrain at Babar's time was difficult & inhabited by independent tribes. Even now in this age they pride in posing with their Russian Kalashnikovs. The fortress of Bajaur was occupied by Babar after few hours of the encounter in 1519 AD. The people of Bajaur faced guns for the first time when Babar attacked. Initially, they were making fun of it but were scared when they started falling to its fire. Now there is only one mosque which is supposed to be from the times of Babar and a wooded area called Dasht Babar.
Chakdara
While trying to invade Bajaur, Babar passed through Chakdara. Inside the local fort, behind the gate is an inscription describing Babar's passage but ironically more emphasis has been placed by creating a Churchill picket, as this English stiff upper lip was posted here during his earlier carrier in Malakand force of the English army.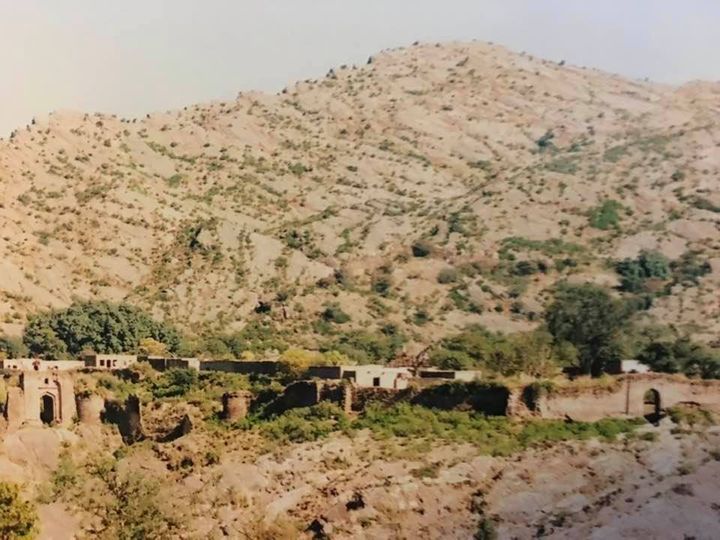 Parhala Fortress
This was a strong fortress during Babar's days. Even now it is difficult to approach. From Rawalpindi airport, one needs to travel on Lehtarar road for about twenty kilometers & then walking on a dusty path by the side of Sone River for five kilometers to reach it. At Babar's time it was ruled by a cruel chief, Hathi Ghakkhar. Babar using the tactic of surprise attack in 1519 AD/925 Hijri. Hathi Ghakkhar soon submitted.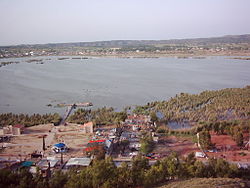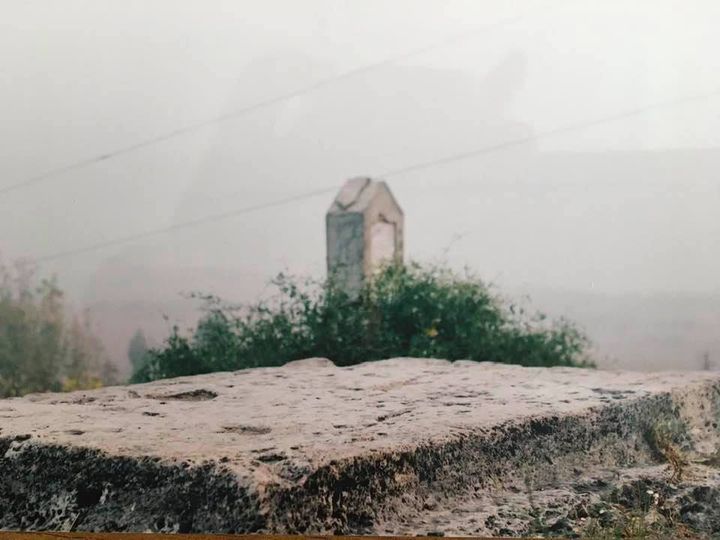 Takht-i-Babar
Kalar Kahar is a beautiful valley in Chakwal district of Pakistan, surrounded by the mountains & lovely lake. A flat stage of stone is what is left of original Takht-i-Babar commissioned by him during his passage from here. While descending for Delhi he used to stay here and he also created a garden here called Bagh-i-Safa. He addressed his army from this high stage. Now there is no evidence of the garden, but you may find a jungle in its place.
Koh-e-Jude of Babar
This is a mountain located in the salt range of Khewra. According to Babar, two races, the Jude and the Janjuha were the inhabitants of this area, but the tribes of Ghakkhars and Aiwans pushed them towards North West. The Malik's of Janjuha were the owner of these mines that produce natural rock salt. In 1519, Babar passed from here and described it.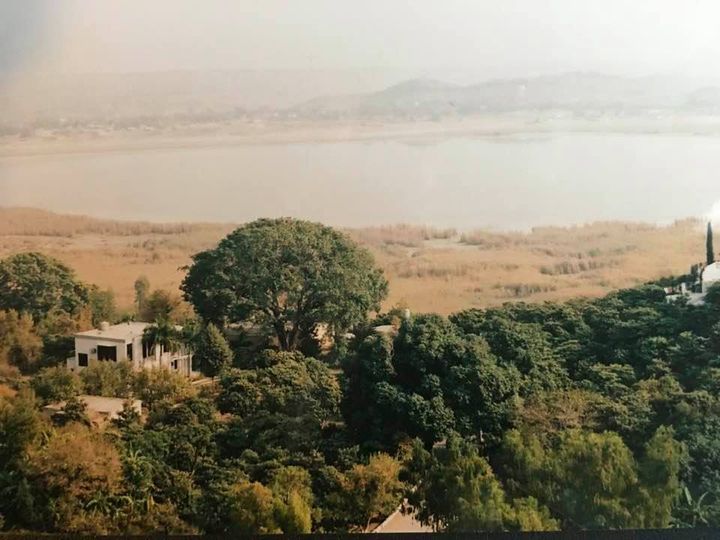 Bhera and River Jhelum
In 1519, Babar reached the town of Bhera. In those days the town was inhabited on the right side of River Jhelum. The present population of Bhera is settled on the left side of the river. It's a tehsil of Sargodha district of Punjab. The word "Bhera" is derived from Sanskrit words, Bhey (fear) & Hera (pure), meaning the place is free of fear. Here Babar talks about a grandiose palace. The remnants of that palace can still be seen. It was here Babar saw the extraction of water by rehat , using of the wheel to pull water, for the first time in his life.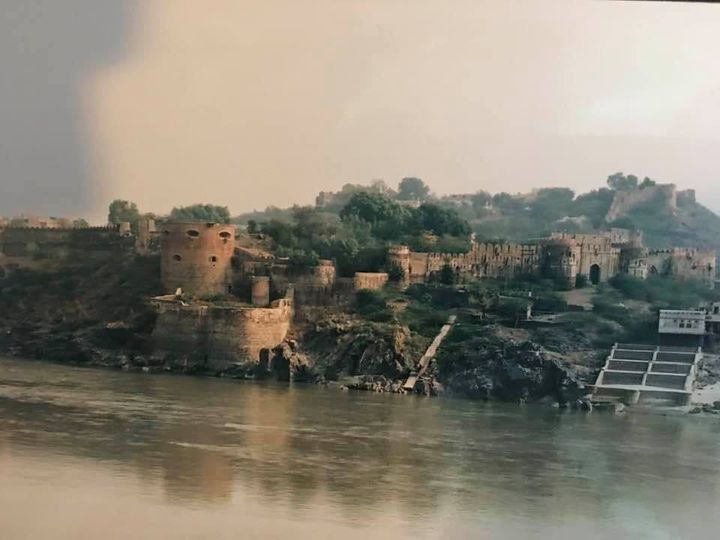 River Sindh at Attock
Babar's final assault on India was in 1526/932 Hijri. On 08 th of Safar (2 nd month in Hijri Calendar), on Thursday, he camped at the banks of River Sindh, which he names as Neelab. From 01st Rabi-ul-awwal (03rd Islamic month in Hijri), he started to cross the river. At Attock, the river Sindh is narrowest and easier to cross for a Lashkar. During this stay, he ordered that the number of his Lashkar should be counted. It came out to be twelve thousand. It is his grandson Akbar who built the fort seen on the river bank.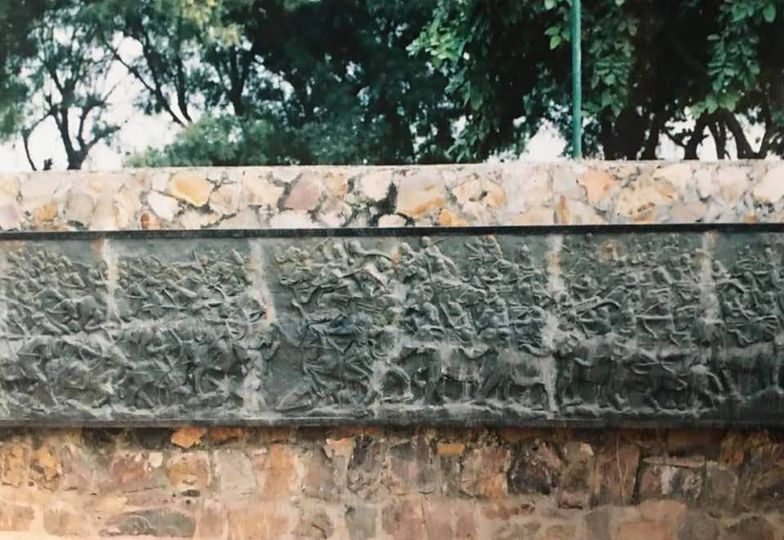 Panipat
For reaching Panipat, Babar crossed the river Jhelum from south of the city. And he crossed the river Chenab close to Bahawalpur. As in that year, the plains between Panipat & Delhi were dry due to reduced rainfall. The vast ground of Panipat has enough supplies of water for the troops as it lay next to river Jamna. On one side of the ground, there were havelis & homes. On the other side, he dug the trenches & fixed the trunk of trees for the defense of his lashkar. This historic battle took place on 26th April 1526 between the Babar & Ibrahim Lodhi .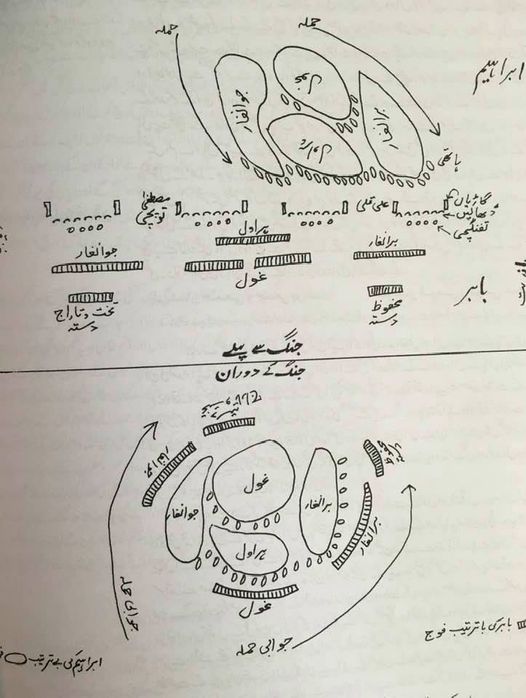 He divided his troops in three parts, the right wing, the center & the left wing. In addition there were was a flank of troops at the rear. The harawal or the advanced flank was kept in the front. Aaraba (Carts that transport cannons) were tied with the leather ropes. A space for six musketeers was left in between the two Aarabas. There was a gap equal in distance of throw of an arrow between the troops. When Ibrahim Lodhi's Lashkar attacked, which was running haphazardly, saw this organized arrangement, they got surprised. To them the opposition looked like a solid wall. Babar trapped the lashkar of Ibrahim Lodhi from two sides because of this organized arrangement. Skilled archers with Turki Kamans stormed them with arrows. According to Babar, the best weapon for the war was the archers & it was due to them, that he won the battle.
The skilled war strategy of Babar at Panipat is apparent from these maps. Ibrahim Lodhi was depending on war elephants while Babar relied on his arrangement, cannons, & guns. At the time of the assault his troops of right flank & rear troops surrounded the army of Ibrahim & showered them with arrows. Both armies fought with bravery but the one who used advanced technology such as cannons & Turki bows won the battle. It is usual in the battles that monarchs at the time of defeat run away from battlefield to prepare themselves for the next encounter. But Ibrahim Lodhi fought with bravery & died at battle field. The tablet at his grave in Panipat, India is still present. The inscription at the grave is in Urdu language.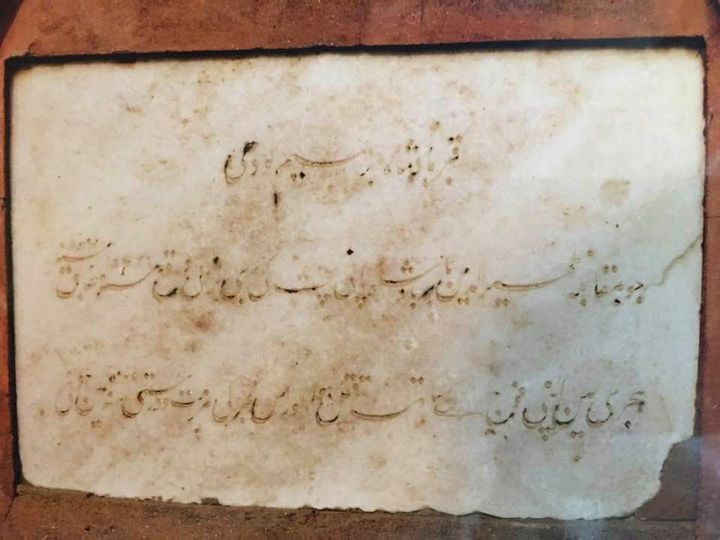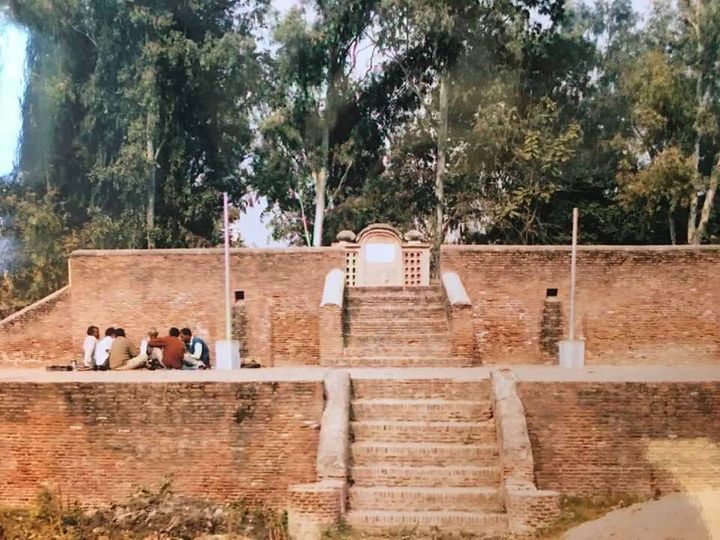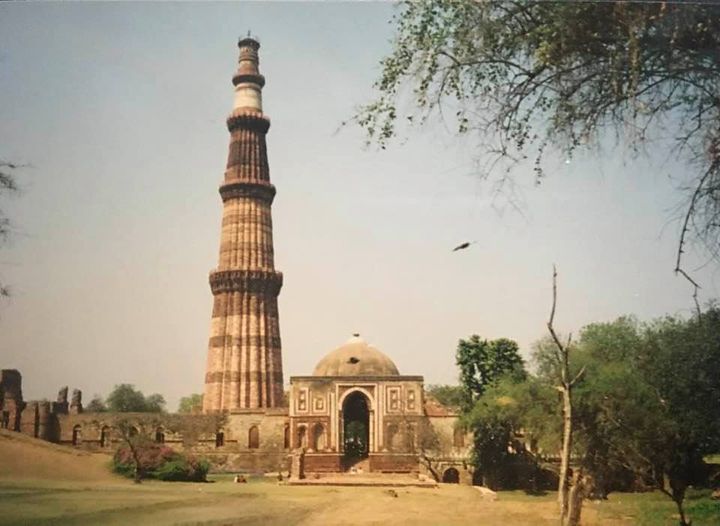 After victory at Panipant, Babar visited Delhi. He gave the description of Qutub Minar, Dargah Hazrat Nizamuddin, Dargah of Hazrat Bakhtiar Kaki & other monuments. On Friday, the sermon was read in the name of Babar at mosques in Delhi. He asked his son Humayun to hurry up to Agra, which was the capital of Ibrahim Lodhi.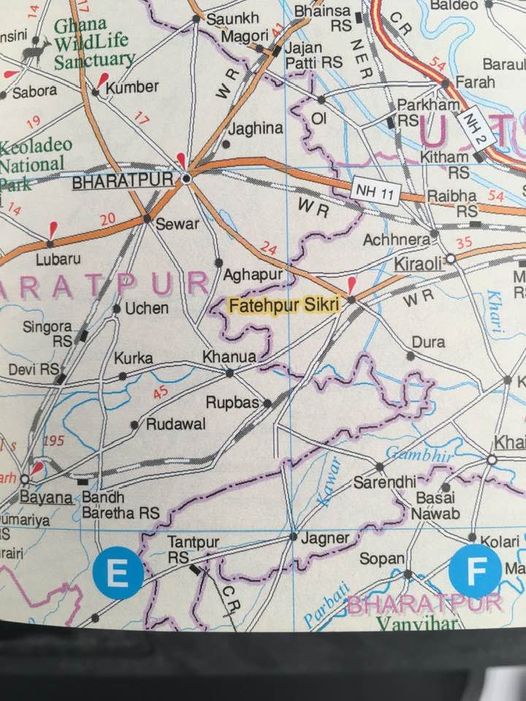 Khanwa
The second biggest battle of Babar in India after Panipat was at Khanwa. This battle was fought on 16th March 1527 with Rana Sangha of Mewar. Khanwa is now a small village located around twenty kilometers from Fatehpur Sikri on the road to Bayana. Babar did a great preparation for this battle as well, on similar lines to Panipat. He motivated his army by a rousing speech & even repented himself by renouncing from drinking wine. There was a fierce fight & the battle was won by Mughals.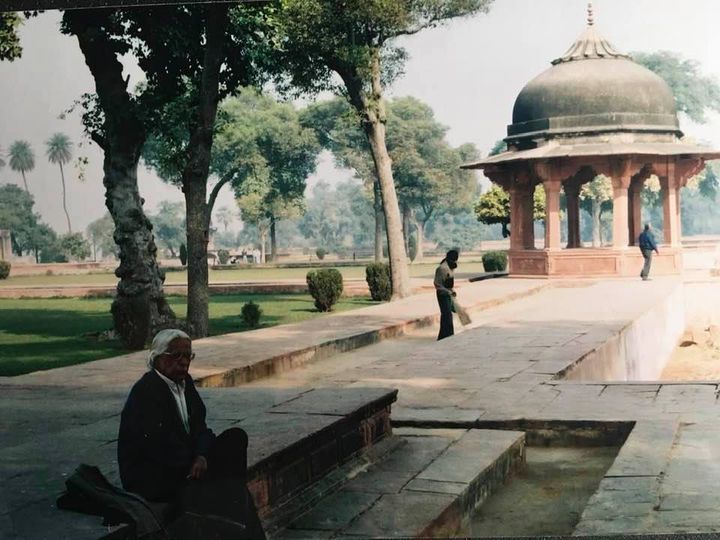 Bagh-e-Gulafshan
Close to the Agra, Babar has laid many gardens. One of them was Bagh-i-Gul Afshan that was laid down on the pattern of his Kabul Gardens as Charbagh divided in four parts. During the days of Jahangir, the name of the garden was changed to Aaram Bagh. During Maratha occupation of Agra in late18th century, the name was corrupted as Ram Bagh. The man seen sitting here in the picture is Prof. Ram Nath who accompanied me during the trips of Agra, Dholpur & other places of India exploring various Baburi sights.
Jal Mahal
On the eve after the victory at Khanwa, Babar visited Sikri. He ordered that a garden, a Jal-Mahal (water palace) and a baoli (step-well) to build here to commemorate his victory at Khanwah. Two of the pillars from the baradari (twelve pillars) & remnants of Jal Mahal are still present. Run of the mill tourist rarely visited here. Jal Mahal use to be in the centre of a lake, even now you have to use a boat to cross the lake to reach the Mahal.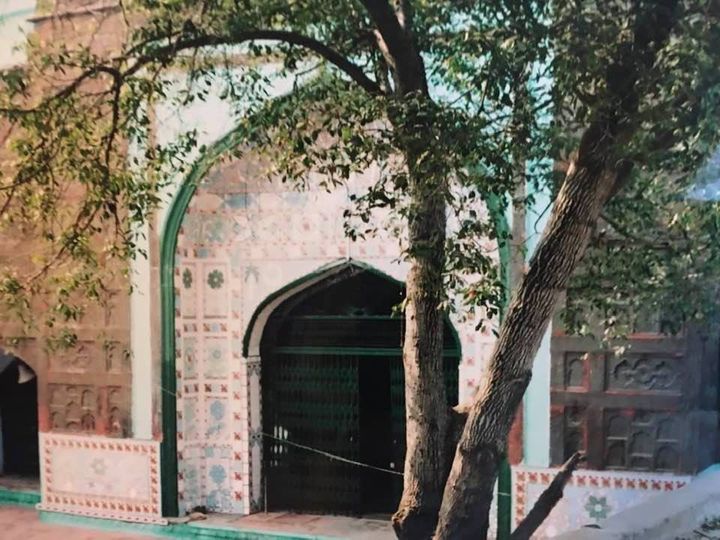 Babri Mosques in India
This mosque in Agra in the photograph is named after Babar. It is mostly newly constructed. There arefive other mosques in India named after Babar, Sambhal, Panipat, Rohtak, Sonipat, & Ayodhya. Babar has never visited Ayodhya. Ayodhia mosque was built by his musahib, Mir Baqi. Most of these mosques were designed on Afghan/Lodhi era architecture. For more details, please refer to Prof. Nath's works on Ayodhia and on Mughal Architecture.
Chauburji
This building was a part of Bagh-i-Bahisht of Babar. Among the gardens of Agra, this was the most favorite garden of Babar. According to Gulbadan Begum, his daughter, he used to sit here and complete his autobiography. Babar while completing his autobiography wrote the largest part describing India, its people, animals, plants and even its fishes. At the age of forty seven, Babar passed away in 1530. Chuburji was his temporary burial place & afterward his mortal remains were shifted to Kabul by Haji Begum somewhere in the year 1539 to Kabul.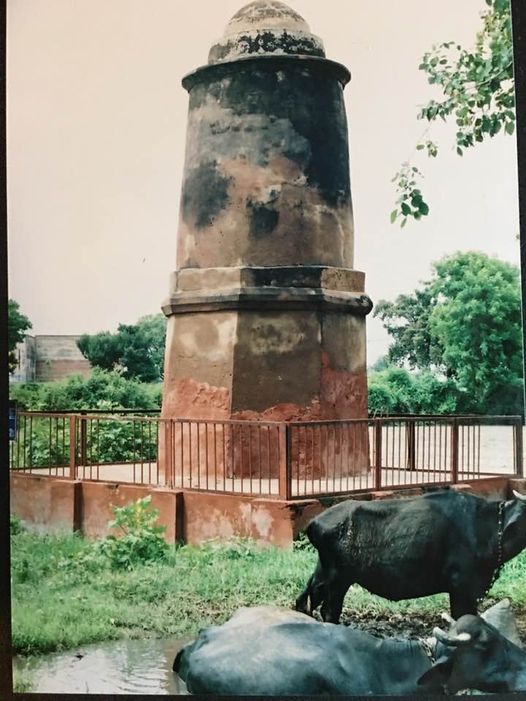 Mile Stone by Babar
Babar ordered that the distance between Kabul and Agra to be measured. He instructed that at every nine Koroh (approximately two miles), a minaret is to be built of twelve yards height with four doors. At every 18 korohs there ought to be a post house. This initiative was for developing highways & ensuring the safety of the passengers. Sher Shah later extended this project up to Bengal.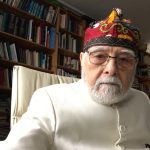 Dr. Mirza Hasan Beg is Scotland based Otorhinolaryngologist who is always passionate to contribute in literary sphere of History & Culture. He had edited & compiled five accounts of Mughal history. He published innumerable number of articles in filed of history, culture & Urdu poetry. From Central Asia to India, he traveled & traced the footsteps of Babar, the first Mughal ruler of India.