Translation series from Heroes of 1857, by Sayyada Anees Fatima, Episode II (First Ed., 1949)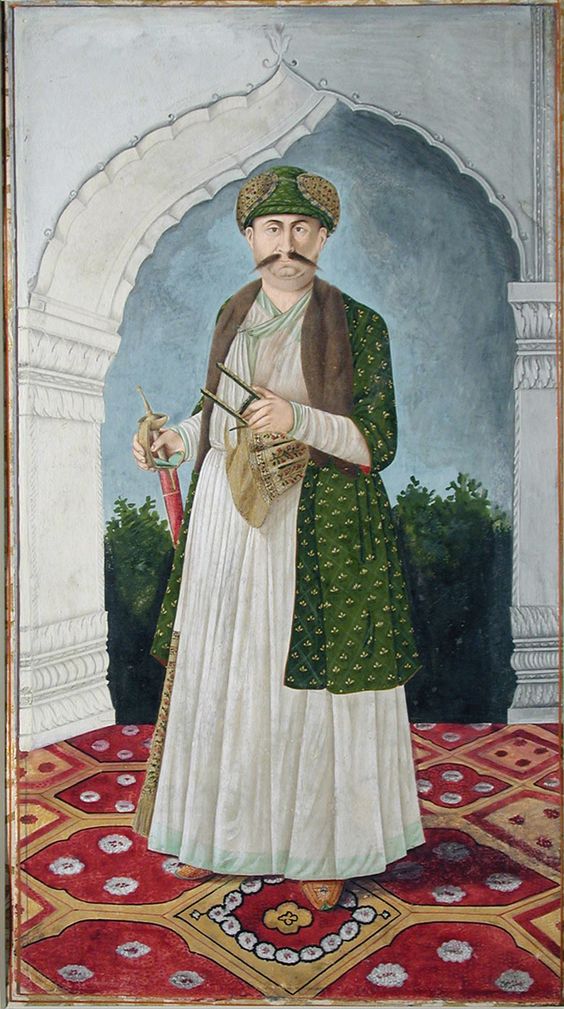 Historical Background
In the year 1774, Shuja Ud Daula took a sigh of relief after vanquishing the well respected and brave Rohillas while conspiring with East India Company. Reveling in the surety of the safety and stability of the Kingdom of Awadh, he didn't realize annihilation of Rohillas would lead to ultimate destruction of Awadh itself. The way Rohillas became victims of the diplomacy of Company Bahadur (East India Company or EIC), one day he (Shuja ud-Daula ) will also suffer the same fate.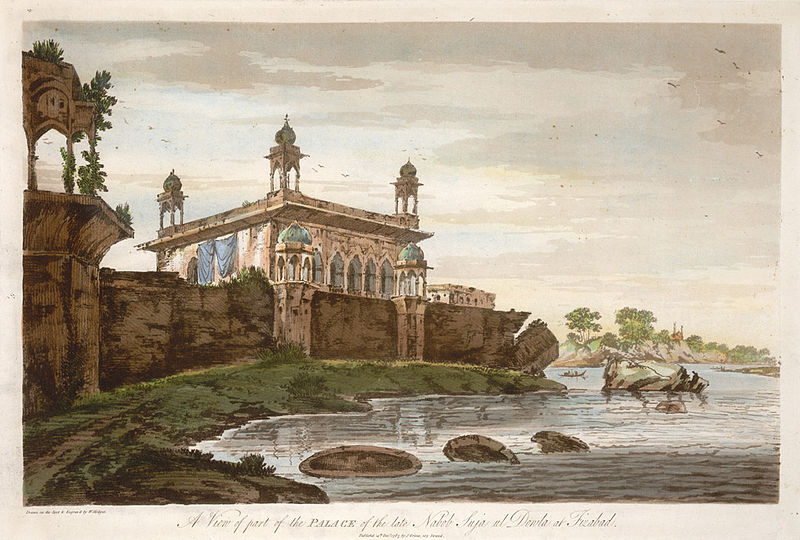 Asaf-ud-Daula
After Rohillas the ground was clear as who could have challenged a formidable foe basking in the glory of success. They toyed with the dividends of power corridor, blood stains of Nepalese and treasures of Hindustan assisting Company Bahadur tremendously in taking over the country. After Rohilkhand, it was Punjab and Awadh's turn. Although Shuja Ud Dula's successors didn't fail the Company (EIC) in establishing its might and superiority being their lackeys. So why the so-called kind and generous Company had to resort to the unavoidable annexation of Awadh. The secretary of the then Governor General stated, "Awadh is that critical part of Hindustan Govt machinery which kept us (EIC) safe from many calamities''.
The moment Shuja-Ud-Daula left for eternal abode, Company Bahadur unilaterally relieved itself from "Cooperation Agreements" and every good trait of Awadh's autonomous regime turned into an eyesore. The Englishmen were mavericks of politicking and in order to achieve their objectives creaking an excuse was not difficult at all. Before accession of Asaf-ud-Daula to the throne of Awadh following conditions were laid out by EIC.
All past debts will be recovered.
British Army stationed at Awadh will get a raise of Rs.50,000
Raja Cheet Singh's state of Banaras will come under dominion of British forces instead of Audh. Moreover, EIC will receive Rs 2.2 million from Raja Cheet Singh instead of State Awadh's regime.
Above demands were accepted, and the moment Asaf-ud-Daula's reign started, the iron grip of the Company (EIC) tightened further. The era of hardships remained until the last drop of life was sucked out of the carcass of Awadh. The prerogative of drawing a line or limiting extravagance or fringe benefits of Awadh's royalty was with the Company (EIC) from the beginning of Asaf-ud-Daula's rule. He didn't have a warrior mindset hence he intentionally kept silent.
As the poet said,
سر تسلیم خم ہے جو مزاج یار میں آۓ
Verse by Nawab Ali Asghar
(Trans. Bowing head in submission; Whatever beloved wishes for)
The main principle of the Company (EIC) was to rule, not govern while they took the reins of State and its politics. Nawab (of Awadh) laid foundations of mirth and merry making. Accretion of his regime and his life was reduced to the organization and management of the events promoting romantic poetry, showing unprecedented interest in architecture and the most zealous devotion in the execution of the religious ceremonies. Taking care of masses was one of their good characteristics, but there is an entirely different set of prerequisites to understand the demands of geo-political situation. Warmongering became a reason to shock the senses out of royalty, so any mention of the war in their presence ended up being considered as bad manners and naivete.
History has witnessed the long tradition of the world, bestowing the crown of respect and reverence to only those who never shied away from riding gallantly through the hardships of war. This peaceful time of leisure and comfort is dominated by the prestigious gatherings of literati. But when the nation's integrity comes under question, pen is always known to be put aside to take hold of sword and armor. Stories of the brutality and intensity of war displaced academic debates. But here in Awadh it was vice versa.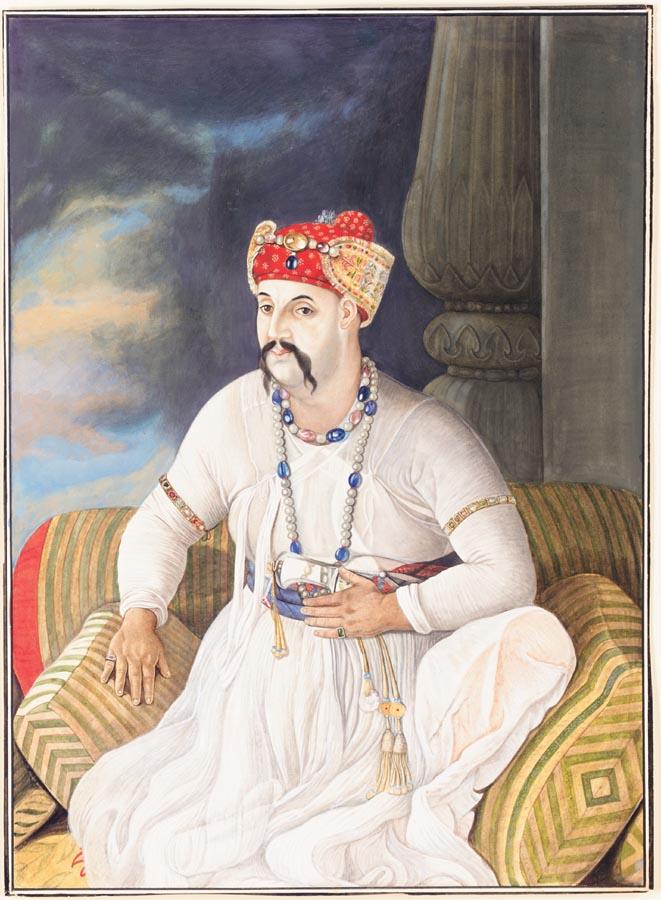 WAZIR ALI KHAN
Asaf-Ud-Daula passed away on 21st Sept 1797. His adopted son Wazir Ali Khan sat on the throne continuing the succession. But in the Company's opinion he lacked the "Political acumen" to qualify as the next ruler of Awadh. Once a soldier always a soldier.
Citing these verses of Hasrat Azeem Abadi,
ہم پیروی قیس نہ فرہاد کریں گے
ہم طرز جنوں اور ہی ایجاد کریں گے
(Trans. We will not imitate Qais's nor Farhaad's way
We will discover our own realm of passion)
This resulted in a serious conflict between the Company and Wazir Khan. Nawab Wazir was unhappy with Tehseen Ali Khan because of a minor personal issue and asked him for an audience at the Court (of Awadh). But instead of his attendance at the court with Wazir Ali Khan, he went straight to the residency with a reference from Khan Allama. Mr. Cherry, who was the resident, was already livid at Nawab Wazir Ali Khan. Using this opportunity, blew this issue out of proportion and wrote to Calcutta at once.
The Governor General, Sir John Shore left with an Army for Lucknow. Nawab Wazir Ali Khan, unaware of the background of this development, went till Chaanda and Partapgarh with his servants and aides to welcome him with a clear heart. Wazir Ali Khan and Sir John Shore had met before, and apparently there was a little to no chance for a development of any unpleasant encounter. And as opposed to what they hoped for, this solitary issue was not giving enough chance to Nawab Wazir, resident and the opposition to elevate them in front of the Governor General.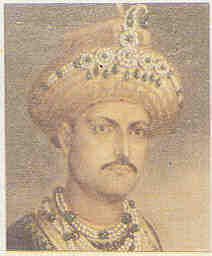 With mutual deliberation they prepared a Royal Decree in which Wazir Ali Khan was denied being the real and lawful son of Asaf-Ud-Daula. Governor General, in a public gathering, with the endorsement from all palaces and Custodian of the City, disanointed Wazir Ali Khan from throne. It didn't stop here. Wazir Ali Khan was also exiled from the country and put under house arrest at Banaras Durgakund.
اس خانماں خراب نے ڈھونڈا ہے گھر کہاں
Verse by Altaf Hussain Hali
(Trans. What an abode this destitute has been condemned to )
How a restless nature could have found peace with the loss of honor and being forsaken. The pain of losing the seat of power was unrelenting. But his heart also grieved for the miscarriage of justice despite him being innocent and for the disloyalty of his friends.
اسی کی سی کہنے لگے اہل محشر
کوئ پرسش داد خواہاں نہیں
Verse, Mufti Sadaruddin Azurda
(Trans. He spoke and the crowd echoed
No one is concerned. Neither giving nor seeking)
During the time of Banaras incarceration, Raja Gossain of Bundelkhand persuaded Wazir Ali Khan to start a rebellion under his patronage and a date was fixed but it was unsuccessful. He was reprimanded for this rebellious act by the Resident and Governor General who decided to transfer him to Calcutta from Banaras to continue his exile in isolation. Wazir Ali Khan was summoned to the residency to be informed about this decision. The Resident Mr. Cherry, along with presenting the verdict used some unpleasant and derogatory words. Unable to contain his anger he waylaid Mr. Cherry with his sword right there and then.
آخر تو کوئ لائیں گی آفت فغاں سے ہم
حُجت تمام کرتے ہیں آج آسماں سے ہم
(Trans. We will surely bring down a calamity by our protest
This argument is between us and heaven today)
[Poet: Unknown]
The sensational killing of the resident raised hell for next several days. A large contingent of military with canons from Calcutta also reached Awadh. Wazir Ali Khan fought along with his few supporters in couple of skirmishes, before he was forced to retreat and escape. After wandering in wilderness for a long time, he was captured and imprisoned in Calcutta owing to conspiracy hatched by Munshi Baqir and Raja Jaipur. He was kept in an isolated bungalow. Since he was also a poet, he wrote the following verses giving a vivid description of the painful account of his condition during incarceration by the British.
A sigh of a broken heart which goes like this,
جوں سبزہ رُندے ، رُندتے ہی پاؤں کے تلے ہم
اس گردش افلاک سے پُھولے نہ پھلے ہم
ارمان بہت رکھتے تھے ہم دل کے چمن میں
بییٹھے نہ خوشی سے کبھی ساۓ کے تلے ہم
زندان مُصیبت میں بھلا کس کو بُلائیں
رہتے ہیں وزیری ہی سے دن رات ملے ہم
ہم نہ وہ قلم تھے کسی مالی کے لگاۓ
نرگس کے نہالوں میں تھے آصف کے پلے ہم
Verses by Wazir Ali Khan
(Trans. Like the lush green fields crushed under feet,
We weren't able to nourish from the revolution of these skies
Ours too was a heart, like a garden full of desires
But we were never able to sit with happiness in the comfort of its shadow
Who will be called in this prison of calamity?
We dwell our nights and days with the same authority
We weren't the saplings planted by some gardener
We were among the sons of narcissus (Nargis, a flower),  brought up by Asif
He was kept under constant 24/7 surveillance by the double tier watch and ward of EIC.  In 1806, he was released from the incarceration of the Company and later in 1817 a distraught warrior Nawab said adieu to the confines of his life.
ہزار دام سے نکلا ہوں ایک جُنبش میں
جسے غُرور ہو آۓ کرے شکار مجھے
Verse by Nawab Mustafa Khan Shefta
Trans. I have escaped thousand entrapments in a single move
Come and hunt me down who inhabits arrogance"
Nawab Wazir Ali Khan was laid to rest in Kasi Baghan at Calcutta beside the grave of Tipu Sultan's son. His tomb remains locked to this day may be because of the following thought:

کہیں سوتے میں نہ کروٹ یہ مُجاہد بدلے
اب بھی اس خوف سے ہیں لرزہ برندام خسود
[Poet: Unknown]

Trans. Lest this warrior changes his position in sleep
Still inflicted to shiver with this fear are his foes
[Translated by Syed Asad Ali and Edited by Saba Saif ]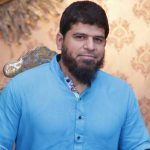 Syed Asad Ali is Lahore based branch head for a Japanese company that develop large scale Industrial Projects. Reading & writing are his favorite hobbies. His fathers family hails from Bareilly, UP & maternal side was from Kishangarh, Rajasthan. He is an avid follower of pre-partition history of India.