Translation series of "Heroes of 1857", by Sayyada Anees Fatima, Episode XI (First Ed., 1949)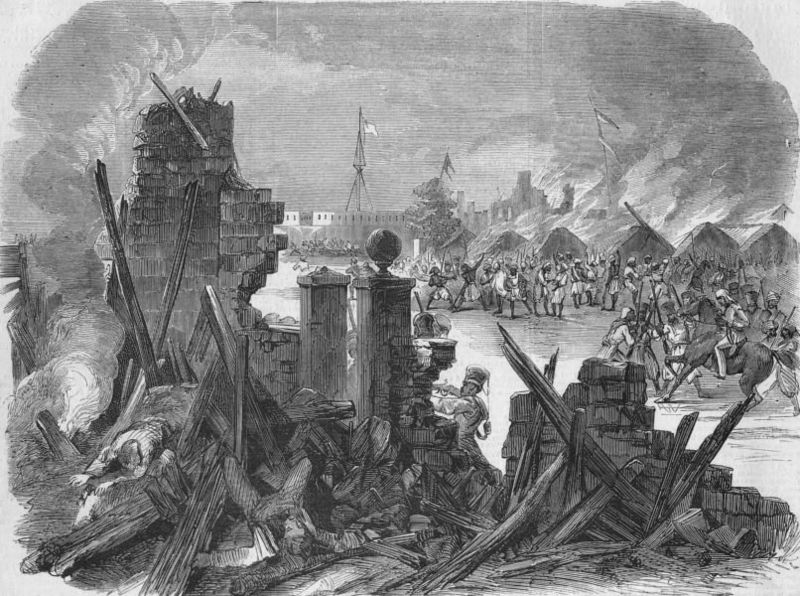 Emperor Shah Alam rendered a lethal blow to the nation by selling away the ancestral throne to Maratha's and Englishmen in a passive manner. Within a span of a century, once a mighty empire, which was nurtured by the Lion hearted Babur, Humayun, Akbar, Jehangir and Alamgir (Aurangzeb) with their blood, was compelled to survive at the mercy of the adventurous Maratha's and English Merchants. This era of Hindustan's history was the most trying period. As a matter of fact, at this very moment if in South Hind Haider Ali and Tipu Sultan , and in North Hind Nawab Muhammadf Ali Khan, Nawab Najeeb Ud Daula, Hafiz-ul-Mulk Hafiz Rehmat Khan, Nawab Ahmed Khan Bangash, Nawab Donde Khan and Nawab Wazir Ali Khan had not jumped into the fray then the larger brunt of anarchy & chaos had to be faced by masses. By defeating Maratha's in the battle of Panipat, Rohilla chieftains broke the back of their resistance forever. The calamitous end of the heirs of Shivaji was for the world to see. But after that a new power,East India Company started dreaming about the Governance and riches (of Hindustan), and started its Charge in this manner.
آستین میں دشنا پنہاں ہاتھ میں خنجر کُھلا
Trans:A dagger is hidden beneath the cuff ready to stab
Initially the mature segment of the country didn't pay attention to a small, novice group of foreign merchants who could come across seven seas with designs to seize the empire of Hindustan. Notwithstanding that the general public was carrying swords in their hands and a Mughal Emperor was sitting on the throne. The internal war and recklessness of Hindustanis gave rise to the boldness of the Company so much that even the ceremonial Sovereign of Lal Qila became a hindrance and without any fear or hesitancy they started having delusions of grandeur. The brave Rohillas who from the times of the passing away of Emperor Aurangzeb were occupied in the struggles (to keep the invaders away) could not remain silent and with exemplary courage pitted themselves (against the Company). Saunders wrote that, '' Across Rohilkhand the mayhem and disorder had risen to its peak''. When General Bakht Khan took the reins of the rebellion movement in his hands after reaching Delhi, it gave birth to audaciousness among the whole of Rohilla nation and they started dreaming about restoring the past glory and liberation of their country. Like all the other personalities who took part in the first war of liberation 1857, the affairs of General Mahmud also remained under the dark shroud. In order to get acquainted with General Sahib there is only one book by Sir Syed Ahmed Khan titled "Mutiny of District Bijnor''. Besides this if any historian raised his pen on this subject , they referred from this book under fear not becoming too reckless (to avoid retribution from the Colonialists and their allies. So much as that the author of '' Najeeb Ul Tawarikh'' who was eye witness of the rise and fall of General Mahmud Khan gave his (Mahmud Khan) exploits only half a page in his historical book and that is also after gleaning from Sir Syed 's book.
من انداز قدرت رامی شناسم
Trans. Due to reading these antagonistic and unfriendly accounts his mighty personality, in its truest form,leaves a very deep and lasting impression.
The proof of intentional attempt not bringing detailed account of General Mahmud Khan in public forum can be found in a writing of Nawab Abdus Salam Khan in his book ''Nasb-e-Afaana' which came under study (of Sayyad Anees Fatima) at Lytton Library (present day Maulana Azad Library), Aligarh Muslim University. He wrote, '' The account of the devastation of Mahmud Khan's family during the Rebellion and genuine objections against some unpleasant events came to light through the book ''Mutiny of District Bijnor'''by Sir Syed Ahmed Khan. But Mirza Naseer Uddin Barlas couldn't gather the courage to publish his own book owing to the dignified personality of Sir Syed Ahmed Khan. Upon my request he handed over the account of these events to me. This choice was not made under the condition that any content can be completed without seeking reference from other books''.
Besides this book, Mirza sahib also gave me ''Daily District Bijnor Rebellion era'' but I remained unaware who was the author of this daily[1]. Mahmud Khan was a Yusuzai Rohila Pathan from both maternal and paternal sides. He was son of Nawab Moin Uddin Khan alias Bhanbo Khan son of Nawab Zabta Khan son of Nawab Najeeb Ud Daula. He was born in the mansion called Mubarak Mahala in Najeebabad – District Bijnor. About this mansion and Nawab's other buildings the author of Najeeb Ul Tawarikh wrote, before the rebellion this writer went for sight seeing the Fort and Mehtab Bagh when he was 16 year old. The Tehsil office and Police precinct were also located within this compound. The gate of Palace rest house was very unique and majestic. There was a house called Fish Auditorium, during summers light droplets of water used to be poured like drizzle.
[1]MIrza Naseer Ud Din Barlas was the grandson of Abdul Qadir Khani. He wrote accounts of his family which were later published as ''Events of Nasr Khani''. He was pro-British Official Tehsildar. He was an eyewitness of the rebellion in Delhi and Lucknow through his daily register the situation of Lucknow after the capturing of Lucknow by British came to light. Extracts of his recordings were mentioned in the earlier written chapter on Hazrat Mahal
Early days , Education and Grooming
Father Nawab Bhanbo Khan arranged for Mahmud Khan's education and grooming. When he reached an age of maturity he was handed over the administration of the area. From another wife, the son of Bhanbo Khan named Sahibzada Jala Uddin Khan with a title of Muhafiz Ul Mulk Jalal Uddin Khan Bahadur. After the death of the father there was a dispute between the two brothers on distribution of inheritance which lasted until the end. Therefore Roshan Ud Daula Nawab Muhammad Saad Ullah Khan , Chief Justice of Awadh who was an adopted son of Nawab Abdul Qadir Khan Shaheed and Son in law of Nawab Bhanbo Khan was nominated as the arbiter-in-chief. He distributed the inheritance into 5 portions. Three were given to Mahmud Khan (being the eldest patron of the family) and 2 portions were given to Jalal Uddin Khan. Elder brother (Mahmud Khan) was aggrieved due to reduction of the inheritance. But still both brothers lived a life of opulence. Nawab Mahmud Khan was very generous and extravagant. Due to this he always remains under debt. So much so that on 1261 Hijri calendar i.e., 1845 he mortgaged most of his property to Nawab Muhammad Saeed Khan Bahadur, the Ruler of Rampur. Nawab Mahmud Khan was cheerful, friendly and hospitable. He had a soldier-like demeanor and was fond of hunting. Most of the time was spent in this hobby[2]. He was a sharp shooter, sometimes with British officials, Prince of Delhi Mirza Shah Farrukh and occasionally along with Maharaja Hindu Rao. General Mahmud Khan's family background is recorded in a book ''Tareekh-e-Kamila'n Rampur''(Comprehensive History of Rampur) compiled by Ahmed Ali Khan Shauq Rampuri. This author was real paternal uncle of Mualana Muhammad Ali Jauhar. Maulana 's paternal grandfather Ali Bakhsh Khan and Great Grandfather Mahmud Ali Khan remained Deputy Ruler for over half a century. Ahmed Ali Khan Shauq prepared this document from his family's archives. After studying it the dispute between the two brothers , financial difficulties and compelling requests to Englishmen for monetary support came to light.It also divulge the shrewdness and cruelty of this nation (Englishmen).
[2] Nawab Jalauddin Khan and Nawab Saad Ullah Khan- Justice of Nabira Nawab Najeeb Ud Daula were executed firing through cannon by General Jones without any investigation for allegedly participating in the Rebellion. Their sons Azeem Ud Din Khan and Hameed Ul Zafar Khan and family members suffered abject poverty. In 1869 Naseer Uddin Barlas, who was an ally of the British Govt explained facts in front of the Commissioner, later on the orders of the Provincial Governor , the Government softened its treatment with this family. (Ref: Page 73-74 from Chronicles of Abdul Qadir Khan Barlas published by All Pakistan Educational Conference – Syed Altaf Ali Barelvi Road, Nazimabad Karachi – 2)
The Rebellion of 1857 and General Mahmud Khan's Rule
Across the country clamour started against the British (East India Company) from May to June 1857. There was a flood of furore which kept erupting to brush aside the Government like heaps of rubbish. At all places the general public was raising the flag of Rebellion without any powerful leader by their side. People thought that as a befitting response to the insult and the humiliation suffered by Mughal King at the hands of Company and the fraudulent trap laid down to curb King's powers. The conditions should be made so unfavourable that they are at last compelled to leave.Similar strategy was adopted in Najibabad. As soon as Maulvi Munir Khan came to Najibabad with four hundred fighters the general public got extremely provoked against the Englishmen. Muslims appointed Mulla Akhund Yusuf as their patron saint ,started preparation for battle and raised the flag of rebellion. Ahmed Ullah Khan and Muhammad Shafi Khan also joined in!
Sir Syed Ahmed Khan wrote, '' The fear among people living in Bijnor vanished, the moment they heard the news of Moradabad jail break.While we were afraid of the British officials as their militia didn't have any compassion for Hindustanis''.
Escape of Englishmen
Situation in Najibabad was fast deteriorating. After failing to get additional forces, the Englishmen vacated Bijnor quietly. Nawab Shuja Ullah Khan wrote, ''The collector summoned 100 men from Nawab Mahmud Khan and said to him that we are heading to Meerut due to the rioters. Being the old noble, the administration of the District Bijnor is now given to you so please handle it''. Sir Syed wrote that '' All eyes of the District were on Mahmud Khan who did not remain unaffected from the surrounding atmosphere''. Even Sir Syed became a supporter of General Sahib. Nawab Shuja Ullah Khan wrote, '' Syed Ahmed Khan came and said to Mahmud Khan that you know pretty well that Deputy Rehmat Khan may have handed over the district to Chaudhrian Hindwan. But I made efforts and ensured that the district is given to you and you are appointed its Noble without any Co-ruler.
Proclamation of Thaneship
On 5th June 1857 , General Sahib proclaimed his thaneship in Najibabad. Ahmed Ullah Khan (nephew of Mahmud Khan) raised the Flag and set up a bunker near Jalalabad. Shafi Ullah was also there with him repairing War items. At that time he had 4000 men as his employee. Across the district without any opposition government of Nawab Mahmud Khan was formed. All of his advisors turned their attention towards administration of the district. Ahmed Ullah Khan was appointed as Chief Executive. Upon his (Mahmud Khan) arrival at Dhampur both Hindu, Muslim as a consensus accepted to abide by his administration. According to the author of Gazette of District Bijnor (in support of British rule), All of a sudden fate of the people fell in the hands of a violent party who were followers of Islam and sworned allegiance to the throne (Mughal) of Delhi. An army was raised under the valiant Pathan Chieftain Marray Khan.
Allegiance to King of Delhi
Mahmud Khan sent out a plea to Delhi through Mamdu Khan. In response Bahadur Shah Zafar decorated him with the title of Ameer Ud Daula Zia Ul Mulk Muhammad Mahmud Khan Bahadur Muzaffar Jang. King further added that the situation of your district and subdivision which you wrote should be managed. Kings of Delhi have been kind to your forefathers, and also inform the status of the treasury as you are our beneficiary. Three Mughal Princes also came to Najeebabad. Meanwhile, General Mahmud sahib remained so busy in organizing the internal state and monetary matters that the presence of Britishers ' mouthpiece Deputy Rehmat Khan was not given any importance. In the guise of a well wisher, deputy Rehmat Khan was inciting Chaudhry caste of Hindus to rebel. This strife turns out to be the biggest danger to the government of Mahmud Khan and became the very reason for Britishers to regain control of the government.
ہر کس از دست غیر نالہ کند
سعدی از دست خوشتین فریاد
Everyone complains of the pain, they received from the hand of others
But Saadi laments upon his own actions
Saadi Shirazi
Sir Syed writes, '' As a matter of fact, the secret correspondence was with John Craft Wilson''. Mahmud Khan clearly understood this trick of the Britishers. Therefore he kept on giving a cold shoulder to Deputy Rehmat Khan. Hence Sir Syed further added that, ''On 5th June, Mahmud Khan decided to raise clamour for the third time. At that very moment I went to see Mahmud Khan who was sitting among a horde of Pashtuns. I requested an audience in private… he retorted with superbity that no one here is an outsider and all are brothers! But upon my insistence he got up.'' In order to keep communal harmony between Hindus and Muslims he maintained fatherly compassion towards the Chaudhry caste of Hindus. His nephew Ahmed Ullah Khan appointed security around Temples so that no Muslim try to damage it which could lead to any instance of feud. It was not a surprise because they were the same people who were followers of an honorable personality like Najib Ud Daula. Maulana Akbar Shah Khan Sahib Najibabadi wróte, In the main market of Najibabad, Najib Ud Daula didnt construct any mosque so that Hindu shopkeepers may not feel aggrieved. When his mother passed away, the place for her grave was under the ownership of a Hindu Jat who refused so another place was suggested but it was also under the ownership of a Hindu. It dawned upon them that all the landholdings of the Hindus were rewarded. Under compulsion; he said that let's take the corpse to Matri. But at last a Hindu showed compassion and allowed him to build a mausoleum on his land. They were the same Chaudhris who were agitated for no rhyme or reason by the allies of Englishmen which led to the massacre of Muslims in Haldaur.
Sir Syed penned that', '' Before sunrise to dusk there was a massacre of Muslims. Afterwards all houses were burnt, no house was spared''. Mahmud khan was shoulder to shoulder with his great grandfather Najib Ud Daula in terms of contentment and over generosity. He did not permit any acts of retribution against the Chaudhris. Despite the general population of Muslims were extremely riled up. Sir Syed wrote, '' There was a larger calamity witnessed at Chandpur when Muslims came to know, several hundred men armed with sticks and rifles were marching and rioters kept shouting that Chaudhris conspired to slaughter Muslims. We will not let them live''. But praise be upon mighty courageous General Sahib who didn't interrogate Chaudhris and Deputy Rehmat Khan and kept his focus on rooting out the real enemy. After managing affairs of Najibabad and its adjoining areas, General sahib sent out large contingents of his forces to Amroha, Moradabad, Bareilly and Awadh where clerics and fighters were spilling their blood in decisive battle. His forces were known as Najibadi Tilangay. Therefore when Syeds raised the banner of rebellion in Amroha, Syed Gulzar Ali went to Hildaur and brought a large number of fighters to Amroha and announced that Marray Khan will also come[3].
[3] Before the war of independence he was independent ruler of Moradabad. On 16th May 1857 he came to Amroha where the population of Syeds was 20,000. He lead them and rebellion started in Amroha. After defeat he went underground in Bareilly. Spent days of exile in abject poverty. People say he was very handsome, good looking, generous, industrious and brave.
When Feroz Shah laid siege around Moradabad, he was accompanied by the forces of Najibabad. Maulvi Munshi Qurban Ali , resident of Dhampur also went to Lucknow along with a large contingent of his disciples and remained busy in the battlefield alongside Ahmed Ullah Shah. The author of Qaiser ul Tawarikh penned, '' After the capture of Lucknow, crime was proven & three years imprisonment was awarded. Now he is in Allahabad Jail. It is heard that now his intake of food has reduced, changes clothes and sleeps on bed. All the assets, house and cash has been confiscated by the Government''. Similarly in Bareilly when Khan Bahadur Khan proclaimed his thaneship and at Nuktia Bridge he fought with Englishmen. Feroz Shah was there with a large number of Najibabadi fighters.
The attack of Englishmen and defeat of Rebel Fighters
In March 1858 after becoming the victor of the biggest battlefront at Awadh. The Englishmen took steps against Najibabad calmly. Author of Bijnor Gazette recorded, '' After the victory of Lucknow, Colonel Campbell charged towards Rarki and Rohilkhand. This force was under the command of Mr Johnson. On 15th April this army captured Haridwar and then after crossing Ganges and moved towards the blockade of the enemy which was in a robust condition during the war. After marching fo 4 miles they battled against a large no. of rebels''.
Sir Syed wrote, Shiv Prasad reported that the army of the Nawab (Noble) is still inside[4]. Mr. Wymond saw through binoculars while standing by the water canal. He ordered the release of water in the canal. By this wise move dozens of rebels drowned in the water. The remaining were either standing in the middle of water or they were standing on the banks, all were killed. The agent of canal Shiv Prasad was awarded Rs 100/-''. Najibabadi forces were trounced unexpectedly. Moreover, due to all the assets of the state were seized by the East India Company, Mahmud Khan got extremely rattled and he estimated that the dream to liberate the Country and Nation will not be realized.So General Mahmud Khan, Saad Ullah Khan and Ahmed Ullah Khan gathered for consultation for the last time.
آج جانبازوں کا مجمع ہے در قاتل پر
کون کرتا ہے فدا تیغ پے سر دیکھیں گے
There is a gathering of fighters at the doors of their assailant
We shalt witness who will sacrifice his head on the sword
[4] One elder lady of my family heard this from Guldad Khan who saw Feroz Shah in Battle. He narrated that whichever side of his army Feroz Shah went it stirred the army of the enemy (Englishmen) and he together with his horse used to get shrouded in blood and dust so much that except for the shining sword nothing else can be seen.
With their advice, Marray Khan, Shafi Ullah Khan , Nathu Khan, Qadir Khan and Maulvi Inayat Ali made bunkers in the gardens of Nagina. But finding refuge a shame, General Mahmud Khan surrendered himself to Englishmen and what else he could do. The whole country was gripped in the bloody paws of the East India Company.
The Painful Fate
The punishment of the exile to Andaman and Nicobar Islands was determined as a crime of patriotism. But it was not executed as he left for eternal abode and passed away in the jail cell. It is written, in a letter of Freedom Struggle UP dated 16, 17th May 1858, that rebels attacked the whole battlefront of the royal army of General Jones. All rebel leaders for example Khan Bahadur Khan, Mahmud Khan of Najibabad, Prince Feroz Shah etc remained gathered there (page 494). On page 580 of the same book , with reference of Bengal Harkara and Indian Gazette dated 28th July 1859, it was told in a correspondence dated 19th July 1859 that brother of Bala Rao, Nana Rao , Aherdat Singh, Taluqdar Bhawani near Bahraich, Awadh and Nawab Najibabad passed away due to inclement weather. This place in Nepal was near a basin in the area of Dhokar which is in Butwal. Deputy Collector Nawab Irshad Ullah Khan who was deputed in this area during the colonial era. He died in Karachi at the age of 100 years. He was taken to the grave of Mahmud Khan by some person. Mr Nasr Ullah Khan wrote about this event in a paper published in Daily Hurmat. There was another version of the story which states that General Mahmud Khan left for Rampur and due to spying he was arrested while coming out of the Main Mosque and passed away in Meerut.
A dedication to all the fighters and their brave leaders here is the poetry of Hazrat Mian Muhammad Buksh.


دشمن مرے تے خوشی نہ کرئیے سجناں وی مر جاناں
اول حمد ثنا الہٰی جو مالک ہر ہر دا
اس دا نام چتارن والاکسے وی میدان نہ ہر دا
ڈیگر تے دن گیا محمد اوڑک نوں ڈوب جاناں
کام تما م میسر ہوندے نام اوہدا چت دہریاں
رحموں سکھے ساوے کر دا قہروں ساڑے ہریاں
بادشاہاں تھیں بھیک منگاوے تے تخت بھاوے کایئ
کجھ پروا نہیں گھر اس دے دائم بے پروائی
آپ مکانوں خالی اُس تھیں کوئی مکان نہ خالی
ہر ویلے ہر چیز محمد رکھدا نت سنھبالی
ہر در توں دُھتکارن ہوندا ،جو اس در تھیں مڑیا
اوسے دا اُس شان ودھایا جو اس پاسے اُڑیا
واہ کریم اُمت دا والی، مہر شفاعت کردا
جبرایئل جیہے جس چاکر ، نبیاں دا سرکردہ
اوہ محبوب حبیب ربانا، حامی روز حشر دا
آپ یتیم ،یتیماں تایئں ہتھ سِرے پر دھردا
حسن بازاراوہدے سو یوسؑف بردے ہووکاندے
ذوالقرنین تے سلیماں جیہے خدمت گا ر کہاندے
موسیؑ خضؑر نقیب انہاندے اگے بھجن راہی
اوہ سلطان محمد والی مرسل ہور سپاہی
جیون جیون جھوٹا ناواں ، موت کھلی سر اُتے
لکھ کڑور تیرے تھیں سوہنے تے خاک اندر رَل ستّے
بن آئی جند نکلے ناہیں کوئی جہان نہ چلدا
ڈھاڈے دے ہتھ قلم محمد وس نہیں کجھ چلدا
کیتی بے فرمانی تیری بھلا پھرے اُس راہوں
نام اللہ دے بخش بے ادبی نا کر پکڑ گناہوں
چل چل پار نہ ہاریں ہمت ہک دن پھر سی پاسا
بھکا منگن چڑے محمد اوڑک بھر دا کاسہ
جس دل اندر عشق نہ رچیا ،کتے اس تھیں چنگے
خاوند دے در راکھی کر دے صابر ،بھکھے، ننگے
جناں دکھاں وچ دلبر راضی اوہناںتو سکھ وارے
دکھ قبول محمد بخشا راضی رہن پیارے
راتیں زاری کر کر روون نیند اکھیں دی دھوندے
فجر ےاوگنہار کہاون، ہر تھیں نیویں ہوندے
Pour the rain of mercy, O Allah! turn the shriveled garden green,
Firstly all praise to Allah, who is the owner of everything,
Whoever remembers His name is never a loser in any field.
Make the plant my hopes and longings full of fruit.
In this wonderful garden He planted the plant of Adam,
With the fruits of His recognition, adorned it with wonderful fruits.
Free of any dwelling Himself, no dwelling is free of Him,
All the time, all the things, Muhammad, He keeps in good order.
Whoever provisions He has decided for anybody, that written He never cancels,
Even seeing tens of millions of faults, He nourishes as before.
What a kind guardian (PBUH) of the Muslim Umma, he loves and intercedes,
The likes of Gabriel are in whose service, the leader of the Prophets.
He (PBUH) is the beloved of Allah, a helper on the day of judgment,
Himself an orphan, he consoles and protects the orphans.
I, a sinner, ashamed, a liar, filled with sins,
Have only a single hope, that from your doorstep; have no other protection.
I am blind, and the path is slippery, how can I be keep myself steady?
There are many to push, only you to hold my hand.
Listen to my urging, O guide of guides, please dont push me,
You are a guardian of the weak, God has given you honor.
Who don't carry any money with them, they return empty handed from bazar,
All is in destiny, O Muhammad Bakhsh, what can be the remedy without fate?
Repeatedly taking the blows of defeats, don't lose heart, one day tide will turn,
When a hungry man turns to begging, Muhammad, Ultimately he fills the bowl.
The talk of the sad ones, Muhammad, bears witness to their condition,
Whoever has wrapped flowers, his handkerchief emits fragrance.
In the world my life is indeed useless,
My heart had sought you; you did not remain friend.
I have taken what I had to, from what was written in my fate,
With the ones who don't care, Muhammad, what power do we poor have?
I have spent my life in love, let me see one more time,
These eyes have seen you, may they be useless to see anything else.
Enough I am powerless to do anything; what else can I say about losing you?
What power does a weak have, Muhammad? either running away or crying.
In the house of beloved, aloofness helps the needy,
On whosoever He places his sight, he wins the game.
Remembering the beloved again again, they eat, frying pieces of their liver,
Like a fruit drink, from the hands of the beloved, they drink the cups of poison.
During the night they cry continuously, washing off sleep from their eyes,
In the morning, they are called the humble ones, and consider themselves lower then everybody
End note of Acknowledgement
This is a translation series of Urdu account by Sayyada Anees Fatima titled "Jang-e- Azadi (Awwal)'57 kay Hero" (Trans. Heroes of the First War of Independence). It was first published in 1949 at Aligarh under the aegis of All India Muslim Educational Conference (A movement founded by Sir Syed Ahmed Khan) by Late Sayyada Anees Fatima. The author captured the melancholy, conflicts of Indian states with East India company & struggle of 1857 in a vivid story telling style integrated with contextual Persian & Urdu Poetry. In the days when there was no access to google & online archives, the task of compiling such a rich treatise on Indian Freedom struggle of 1857 by a house wife reflected its rigor. Again when the author was a Muslim female who belonged to middle class family with responsibilities of kids & husband in decade of 1940s, the compilation of this text was super human feat by Sayyada Anees Fatima. The book included a detailed background of the revolution of 1857 that was integrated with biographical chapters on Begum Hazrat Mahal, General Bakht Khan & General Mahmud Khan. Each of the chapters provided the rich historical context, micro-history & shedding light on the lesser known figures of the India's first war of Independence. some of the rare Urdu accounts of preceding dates has been used as a references in the book. The foreword on the first edition written by Late Prof. Rasheed Ahmad Siddiqui, (an academician & literary giant of Urdu ) gave us an idea about the rich narratives brought by the author in a lucid writing style blended with Urdu & Persian Poetry. Our forum of Tawarikh Khwani is highly indebted to Sayyad Asad Ali (Late author's grandson) who bring to the readers English translation of the account. The translation in English is divided in eleven section. The titles & the contextual poetry is an addition by Syed Asad Ali. We are also thankful to Saba Saif for her edits, Mr. Khalid Bin Umar & Sayyid Danyal for the valuable inputs in translating Persian verses. We hope that the translation of this valuable treatise will offer the chance to English readers among the circle of History lovers to explore the historical contributions of Awadh & Rohilkhand in India's first freedom struggle thats aka Mutiny of 1857 in Colonial accounts.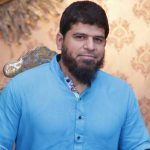 Syed Asad Ali is Lahore based branch head for a Japanese company that develop large scale Industrial Projects. Reading & writing are his favorite hobbies. His fathers family hails from Bareilly, UP & maternal side was from Kishangarh, Rajasthan. He is an avid follower of pre-partition history of India.