Hero of the Lost War
Translation series of "Heroes of 1857", by Sayyada Anees Fatima, Episode VIII (First Ed., 1949)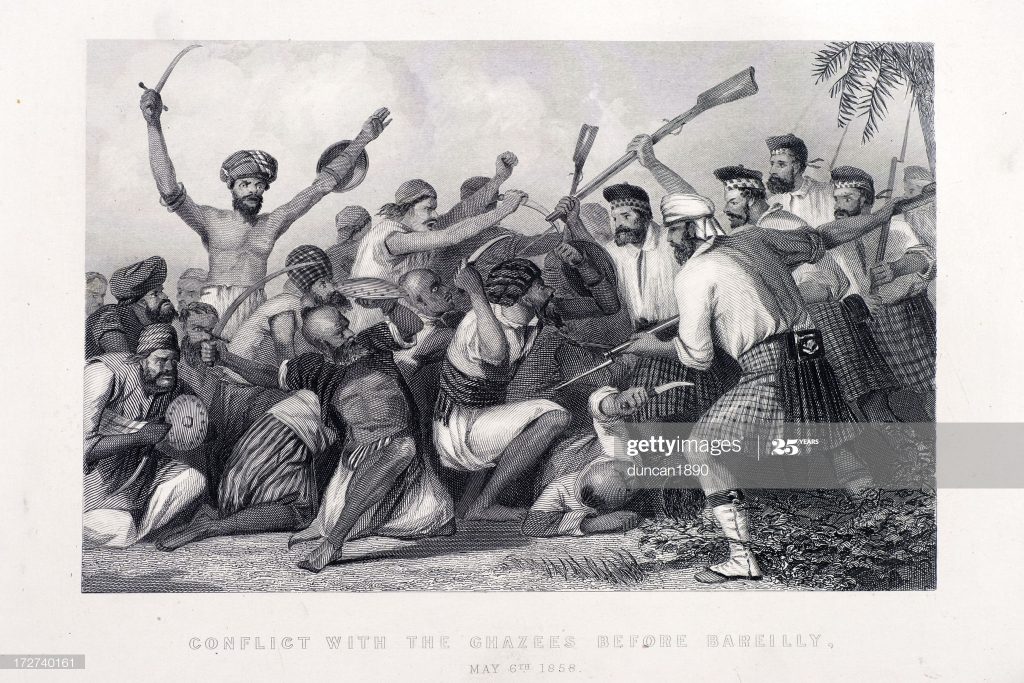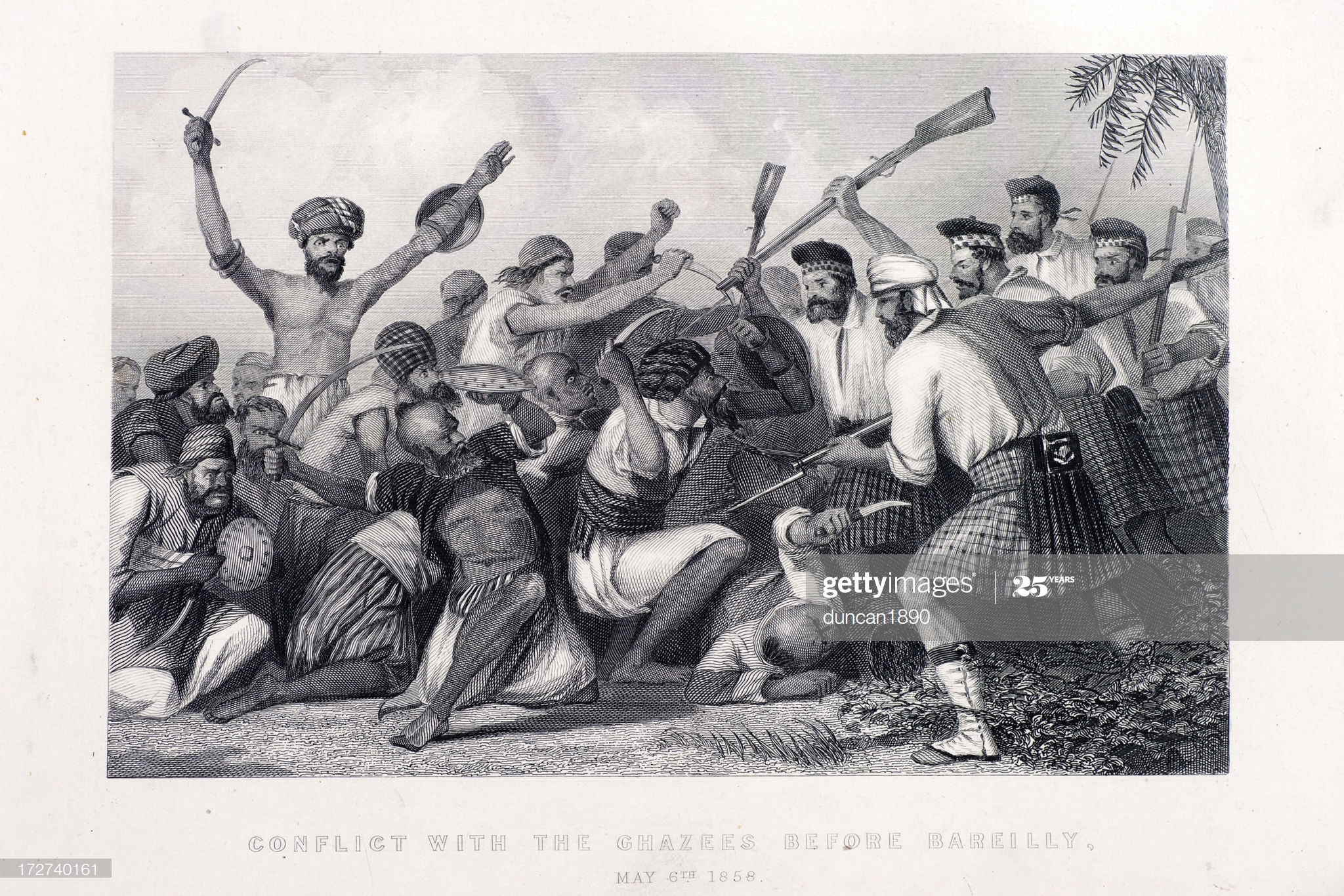 The French philosopher Voltaire wrote: "Injustice in the end produces independence". Bakht Khan Rohilla died to prove this truth.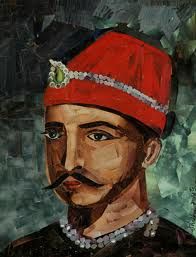 Early Education, Grooming and Employment
The people of Nawab families in the ancient times besides being highly educated also had absolute expertise in the military arts. Bakht Khan was also not exempted from this. The estate of Sultanpur was given to him by Nawab of Awadh. First, it was insufficient for the needs of his family. Second his high ambition and mercurial nature was not a best-fit for this peaceful life. So in order to make up he joined British army and soon was promoted to a prominent position. Under Mr. Seal he performed such acts of valour during the Afghanistan war that he was appointed as the senior most officer of the artillery battery. All Hindustani artillery men were under his command. This battery was quite famous owing to its performance. As a show of honor an arch like Crown of Flowers was also mounted on these Canons. General Bakht had worked with this Battery in Jalalabad as well. After returning from Afghanistan he was sent to Neemuch garrison and was posted as a Subedar. Hence Bakht Khan was a senior officer of Artillery and in the camp of British Battalion many people considered him very vigilant and wise.
Leadership of General Bakht Khan
Maulvi Azeem Ullah Khan was an employee at the Missionary school in Kanpur Garrison. Due to his aptitude he was expert in English, French and Persian. In those days he was appointed as an English tutor to Nana Saheb by the Englishmen. Nature had gifted this man with a strange heart and mind. As the matter of learning and teaching was wrecked. The foresight of the teacher and his disciples started to prepare a scheme to wage war against the Britishers. According to the pre-decided plan, Azeem Ullah Khan and Baba Saheb started on a journey to Europe to gain external sympathies. Azeem Ullah came back to Hindustan via Russia. Both of them sat down in the hotels of Europe to suggest a date of the rebellion and the map of War. Therefore, the first man who started the rebellion was Mangal Pandey who was convicted to be hanged on April 8th 1857. The movement started with the sacrifice of Mangal Pandey.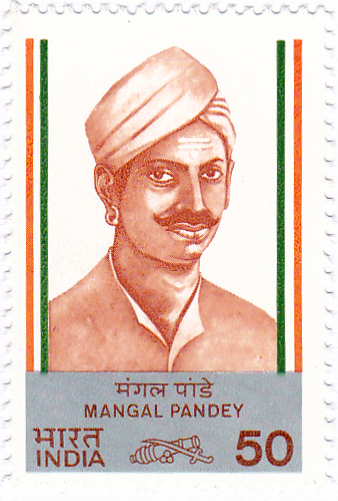 The distribution of the Chapatis (local baked loaf of bread) played a prominent role in initiating the Rebellion at several places in parallel. There was no village, district or city where these Chapatis had not reached. All English writers had a unanimous opinion that distribution of these Chapatis greatly aided the spread and the progress of rebellion. The account "History of Hindustan's Rebellion'' wrote: "It is obvious that no other act seems appropriate than this, to gather and unite all the Muslims for a special deed, enabling them to contribute as much as their hearts wished." The same author explained in his lecture, "Maulvi Ahmad Ullah sahib himself used to distribute pieces of bread and lotus flowers."
Nawab era in Rohilkhand
When the fire of turbulence flared, Bakht Khan, who later became famous with the nom de guerre of General, left for his ancestral home in Bareilly. After reaching there he elevated Khan Bahadur who was grandson of Hafiz Rahmat Khan and was very brave and influential within his family as ruler. The Rohilla nation had a special distinction or vantage in Rohilkhand owing to their extraordinary acts of valour. Wealth and rule had ended but remaining bravery and valour of Afghan lineage were put into use at that time. Therefore Maulvi Zaka Ullah penned, "In those districts where rebellion erupted was lesser than the rebellion of Rohilkhand ''. Bareilly which remained the capital city of Hafiz Rahmat Khan for some time was declared the epicenter of the struggle of General Bakht Khan. Zaheer Dehlvi wrote that', "Across Bareilly there is a gathering of fugitives and all Chieftains for example Nana Rao, Feroz Shah etc are there. 30,000 men of Rampur were employed in Bareilly and people of Rampur 's attire is like one who has a piece or roll of cloth turban tied on the head which has lace stitched on it. Half of the turban is tied to the head and the other half is hanging below the saddle of the horse and four pistols are clipped on the back also sporting two edged swords. Riding horses and they gallop around the city. About 50,000 strong contingent was in Bareilly. Till the time General Sahib stayed in Bareilly, Khan Bahadur Khan remained his right hand man. Therefore some credit goes to Bakht Khan because of the peace and prosperity which was available to masses during the Nawab era. Anees Fatima, the author heard from a female elder of family whose mother told her eye witness events that during this era there were innumerable number of weddings and other events took place and there was no disruption. Everything was available cheap and in abundance. There was no mention of shortage. Except Rohilkhand, there was intense hysteria across the country. The travails of General Bakht 's journey from Bareilly to Delhi was shrouded in secrecy''.
Departure to seek an audience with the King and custodianship of Delhi
But the King in Delhi, for whose revival this bluster was arranged, was idling away in peace. King reached to a phase in life where a person's energy and nerve dwindles hence he had became increasingly weak and incapacitated. From the times of Shah Alam, the kind of life Royals of Mughal family were spending under the sovereign of the Company (EIC), it was anticipated that this "Token'' rule may end with him. Fort's importance was that of a mausoleum and King was the grave's custodian covered under a shade of poetic and Sufism. Whenever he got free from greetings, duties, sainthood and disciples, he indulged in poetic recitals. A little bit of idling, Company's soft view was sufficient. Interpretation of King's royal hobbies can be surmised in following two couplets of Mughal Emperor, Shah Alam II.
صبح اُٹھ جام سے گزرتی ہے
شب دل آرام سے گزرتی ہے
عاقبت کی خبر خُدا جانے
اب تورات آرام سے گزرتی ہے
Trans: Morning raises with glass of wine
While heart rests away in peace
Only God knows about the fate
For now it whiles away in peace
As for the princes, among them Mirza Mughal was a bit energetic and emotional person. But the conspiracies hatched by Zeenat Mahal and the entrapment's laid down to install Prince Jawan Bakht on the throne and everyone's eyes were fixated on this. Therefore Mirza Mughal also could not save himself from this and he got so stuck that unbeknownst to all the enemy was standing at the doorstep and nobody knew what was happening. This precarious condition of Delhi prompted General Bakht Khan to depart from Bareilly to Delhi. Nana Rao's (Nana Sahib) brother accompanied him. On route he went past Budaun and came to Farrukhabad. He elicited consent for assistance from Raja's and Landholders of all the places in their route to Delhi. Zaheer Dehlvi wrote that, "General Bakht Khan entered Delhi on July 2nd along with 14,000 irregular recruits, few Canons, three regiments of riders and several hundred thousands of rupees of cash in hand. Handkerchief tied on head, bilbo hanging by the neck, later it was revealed that this was General from Bareilly. He was sporting a pumpkin dress and I took him as just another of the native soldiers''. In his book , "Red Year'' Mitchell Edwards included a precious memoir of Sayyid Mubarak Shah, the warden of Delhi (during Rebellion) in which the arrival of General Bakht Khan in Delhi and details of his extraordinary struggle was recorded. This daily register (of Mubarak Shah) gives out solid evidence of the treacherous ways of Hakeem Ahsan Ullah Khan and Begum Zeenat Mahal. But the diligence with which General Bakht Khan fulfilled his mission even the adversaries applauded him ! The King granted him the title of "Farzand'' (Son). Besides this he gifted an expensive shield and sword. He issued a proclamation across the city that all Platoon officers shall visit the General for seeking instructions. Khairat Ali was appointed as Secretary. Due to his maintenance of discipline there was a constant increase in the numbers of the Rebel army.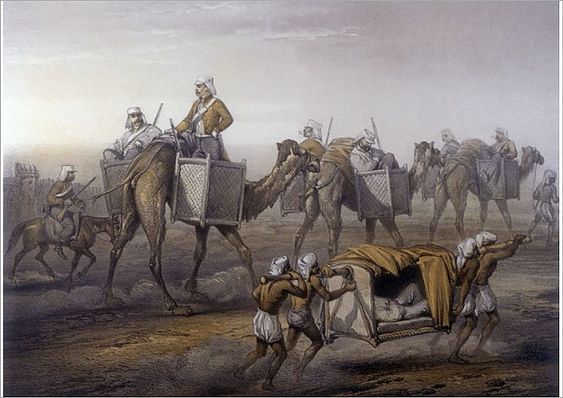 Fight with Englishmen
On 9th July 1857, Bakht Khan attacked the British Army with a battalion of 10,000 men and snatched "Tees Hazari'' ground. Horses,Weapons and a lot of goods were salvaged from the battleground. Maulvi Zaka Ullah penned, "In the court on 29th July , General Bakht came as the caretaker in place of the King. The King made him de-facto head of all the Army and City. General mimicked the Commander-in-Chief. Saw today's magazine, instructed to stack the goods in the proper manner. Between Lal Duggi and Jamia Masjid (Grand Mosque Delhi) he inspected the parade of thousands of soldiers. The tax of Salt and sugar was waived so that poor people do not suffer. Moreover, he stated that if any Prince tried to rob the city then he would have his nose cut off''.
Maulvi sahib further added, until Bakht Khan didn't come to Delhi the news of religious decree to fight was little known. But when Bakht Khan came to Delhi he made a decree written that fight is mandatory on Muslims because if infidels succeeded then they will murder their wives and children. In Jamia Mosque clerics were gathered and their signatures were taken on this decree. Besides this decree to fight an undertaking was also distributed and oaths from 70-80 soldiers were taken. Mirza Mughal read out this undertaking who pledged that they will fight until the last breath. General Bakht had the liberty to seek an audience with the king whether he was in public or private, there was no restriction. Once on the occasion of Eid ul Azha (sacrificial festival) King sent following couplet to Bakht Khan,
لشکر اعداء الہی آج سارا قتل ہو
گورکھا ، گوجر سے لیکر تا نصاری قتل ہو
Enemy's horde gets killed today Oh Lord
Gorkha,Gujar to Crusader may get killed
Bakht Khan ordered the movement of two platoons of infantry, five hundred soldiers of battalion along with six canons and arsenal under for Baghpat in order to prevent Englishmen in constructing a bridge. Moreover, a large number of soldiers with ordnance left for Alipur. By early evening there was a rumour that rebels had a major success which caused a lot of zeal and zest among masses. From Delhi to Ajmeri gate there were parades of soldiers. General (Bakht Khan) talked to the soldiers with a lot of affection and conveyed King's message that whosoever performed well in the battlefield will be given almost one acre of land and an honorary title will be accorded as well. In front of the War Council General Bakht gave a statement that he is making a bunker opposite Kashmiri Gate. In Hindustan wherever there was rebellion the King has given him the responsibility of patronizing and guiding it. Those rebels used to directly get instructions which were accordingly executed. A letter which was sent by General sahib to General Sudhari Singh and Ghaus Muhammad Khan spoke of the greater cause which he led him to rise. He wrote, "Muhammad Bakht Khan Governor Bahadur and the army in the capital Delhi , its soldiers and officers present their salutations and congratulate you. We are proud your acts of valour. Your King and the men among us who are trying day and night out to destroy a handful of crusaders. If God 's willing the country of Delhi will be cleansed of the invaders''.
Sudhari Singh answered, " With God's grace the kingdom which came into being in Delhi is infancy. God has sent you to raise this Child. Under you there are 5 divisions and every kind of power is in your hands''.
یہ نغمہ فصل گل ولالہ کا نہیں پابند
بہار ہو کہ خزاں ، لا الہ الا اللہ
These melodious songs are not confined
To time when rose and tulip bloom
Whatever the season of year be
"No God but He'' must ring till doom
For video stories subscribe to our YouTube
This is a translation series of Urdu account by Sayyada Anees Fatima titled "Jang-e- Azadi (Awwal)'57 kay Hero" (Trans. Heroes of the First War of Independence). It was first published in 1949 at Aligarh under the aegis of All India Muslim Educational Conference (A movement founded by Sir Syed Ahmed Khan). The author captured the melancholy, conflicts of Indian states with East India company & struggle of 1857 in a vivid story telling style integrated with contextual Persian & Urdu Poetry. The translation & contextualization is done by Sayyad Asad Ali (her grandson) & edited by Saba Saif.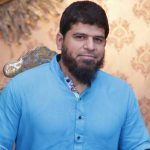 Syed Asad Ali is Lahore based branch head for a Japanese company that develop large scale Industrial Projects. Reading & writing are his favorite hobbies. His fathers family hails from Bareilly, UP & maternal side was from Kishangarh, Rajasthan. He is an avid follower of pre-partition history of India.