Translation series from Heroes of 1857, by Sayyada Anees Fatima, Episode IV (First Ed., 1949)
Hazrat Mahal (1820 – 1879)
Oh, passionate heart, if I wish everything could be possible,
I need to walk but a few steps, and there my destination will be!
Behzad Lakhnawi
(Trans. of Couplet in the above picture)
After Wazir Ali Khan, no audacious personality prevailed Awadh's throne…
It is a strange fact, as much as most of his ancestors, other than "Nawab Saadat Ali Khan", were carefree, weak and gutless related to state's political affairs, on the contrary, Royal Ladies of Awadh proved themselves to be much braver, daring and resolute to such an extent that their endeavors surpassed the palaces walls and influenced the matters of State. Two Royal ladies rendered their services to safeguard the symbol of their dominion, which seemed to be getting erased like an erroneous word after the decline of power. One was "Hazrat Aalia aka Malika Kishwar" mother of "Wajid Ali Shah" and the other was "Hazrat Mahal". One of them struggled to salvage the Kingdom within the confines of the law. And the second one, not only participated in the fiery revolution of 1857 but also fought to save the State of Awadh. Only if "Hazrat Mahal's" struggle was successful; her name would also be included in the same league as the praiseworthy Warrior Princesses like Razia Sultan and Chand Bibi. It is common practice that the world pays homage and immortalize those who meet success in their mission. The ones who fall victim to the hardships of the path and meet failure in achieving their objectives are never heralded like a hero.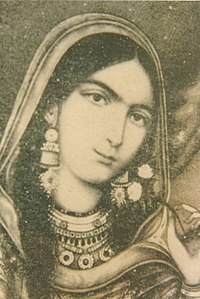 During the reign of Wajid Ali Shah, with hedonism at its peak, an innocuous young girl named Umrao Jan entered his Harem. Nature has blessed her equally with immense beauty of both countenance and character. Wajid Ali Shah's insight appraised her to be worthy of a serious title of "Hazrat Mahal''. Mirza Birjis Qadr was her Son. The British tried hard to hurt the status of Birjis Qadr by spewing negative propaganda but were unsuccessful in their conspiracies. Russel wrote in his memoirs that "We were hesitant in calling him King's son but those nobles and chieftains of Awadh, who were privy to the background situation didn't have any qualms about the legitimacy of Birjis Qadr and they had sworn allegiance to him with their lives."
Seems like this resolute plan was the chief reason why Hazrat Mahal didn't accompany the deposed King (Wajid Ali Shah) to Calcutta. Staying back in Lucknow gave her an opportunity to partake in the War of Independence against the East India Company (EIC).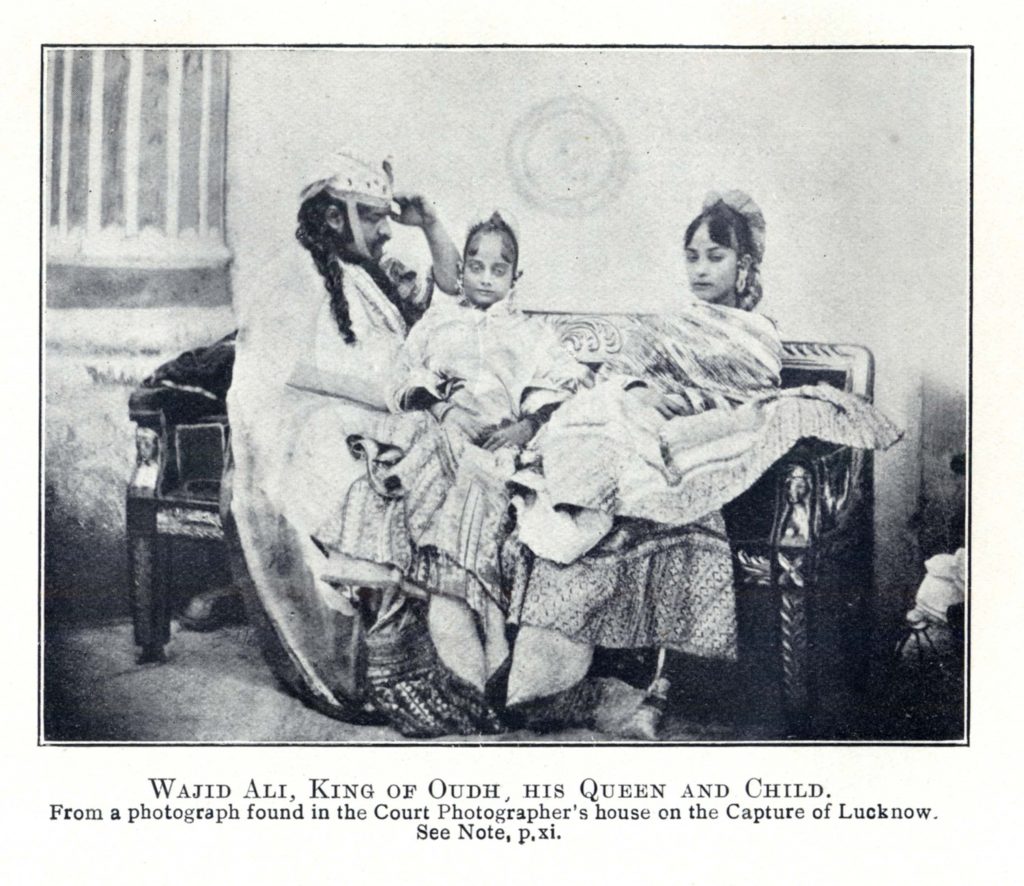 1857 War of Independence

On 2nd May the fire of rebellion ignited, particularly in the capital. To support Hazrat Mahal, a united assembly of fighters and scholars were already present in Awadh. First, a Sardar named "Agha Mirza alias Kambalposh" (Blanket wearer) raised Muhammadi Flag with just 200 fighters. But they all were arrested on the orders of the Resident. In a book named "Qaiser ul Tawarikh" it is written that, those people saw that valiant man and instigated him to fight. Kotwal (Precinct In charge) Saadat Ganj got them all arrested. The courtesan compound was turned into gallows where Agha Mirza with his 14 fighters were hanged to death achieving martyrdom. When the British sensed the imminent danger in Lucknow – Awadh, they took some prominent figures in the royal family in their protective custody as a caution so that rebels won't be able to nominate any one of them as their leader. Among them, there were few members who already had differences within their family. Wazeer Mirza who was a nephew of Mumtaz-ud-Daula also was imprisoned during this time, he was later released and participated in the War of Independence. Other prominent personalities in this list were Mustafa Ali Khan brother of former King Wajid Ali Shah, Prince Rukn-ud-Daula son of Saadat Ali Khan Nawab of Awadh, Nawab Muhammad Humayoun Khan, Mirza Mehmood Shikoh, nephew of Prince Suleman Shikoh of Delhi and Raja Tulsipur. Afterwards the Company (EIC) and its lackeys circulated public notices of amnesty in all the districts of Awadh proclaiming forgiveness to those who had rebelled and committed war crimes. At the same time, they issued a policy to seize weapons from the Royal family and all the subjects. This raised great apprehension and anxiety among the people and specifically among the clergy. The sacrifice of "Kambal posh" and his group didn't go in vain. The whole of Awadh, just volcanic mountain erupted like a fireball. The masses under the patronage of clerics, despite the lack of resources and empty handedness, fearlessly positioned themselves against the mighty and forceful power of the Company. Emotions of patriotic fervor and unity made them indifferent towards all other self-interests. There was just one objective:
مجاہد کو خدا کی راہ میں قربان ہونا ہے
[Trans. "A fighter seeks sacrifice In God's path" …]

Anointment of Birjis Qadr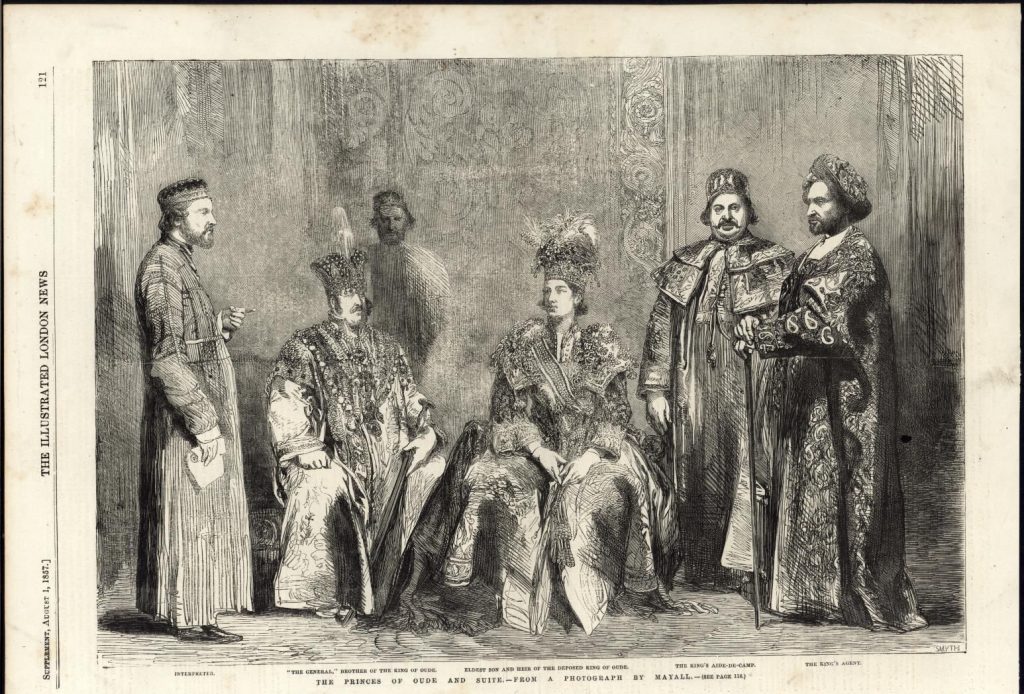 The next day all former pensioned officials of past and present appeared at the Court and were reinstated on their positions. A coin was issued with the name of Birjis Qadr with the following couplet embossed,
نصاری پر قہر, خدائ ہو
جواں سال سُلطان لکھنؤ کا ہوا
Trans. May God's wrath heap upon the crusaders
As a young spirited became Ruler of Lucknow
On another coin of Birjis Qadr there was a Persian couplet,
سکہ زد برسم و زر چوں مہر بدر
نیرؔ دیں میرزا بر جیس قدر
Trans. Coin is struck in Gold and Silver like Sun and Moon
For the New Patron Mirza Birjis Qadr
Sharf Uddin and Maharaja Bal Kishan who held the positions of the Prime Minister and Finance Minister in the former government were reinstated. Nawab Mammu Khan was appointed as position of a Vice Ruler and Chief Justice. All royal ladies gathered. They all agreed with Hazrat Mahal's opinion and endorsed the anointment of Birjis Qadr. Because he was just 10 years of age, Hazrat Mahal took the position of his "Guardian" (Power of Attorney). Some of the other wives of Wajid Ali Shah, who had resentment and jealousy against Hazrat Mahal such as Akhtar Mahal, wrote to the King, ''I never conceived Hazrat Mahal to be such a daredevil, how she herself fights the foreigners, along with the ruffians, sitting on an elephant. She has no apprehension nor restraint''. Unlike Lady Akhtar Mahal, Nawab Fakhar Mahal and Bandi Jan etc., there were few Royal ladies who had sympathies with Hazrat Mahal. Therefore, in an account Rasheeda Begum wrote to Wajid Ali Shah: "After a year of your departure, there were mass riots such was the nature of the calamities which descended upon us, that not even our enemies deserve to be inflicted with such fate. Hazrat Mahal turned the enemy away with display of extreme bravery. She has proved to be such a courageous woman and truly kept the honor of your name. For how brave and valiant he himself must be, whose woman has the capability to fight with equal ferocity as any man."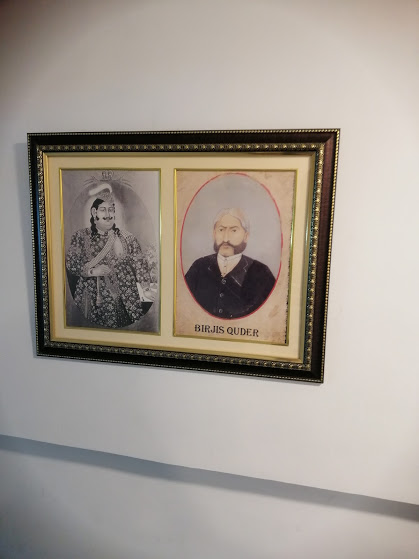 Battle preparation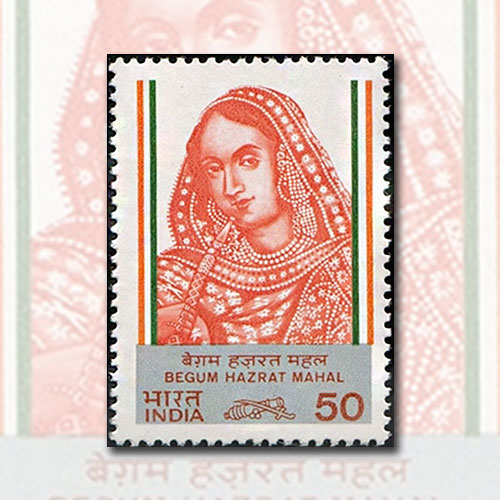 Honorable Aaliya (Mother of Wajid Ali Shah) was in London and Wajid Ali Shah was under the custody of the Company in Calcutta. In such turbulent time as the rebellion of 1857, Hazrat Mahal keeping all these facts in the background took the sole burden of this leadership on her shoulders displaying extraordinary valor. Reforms were announced, and the orders were issued addressing all the trusted nobles and landowners that, now this blessed country has been bestowed to us by God. It's essential to eliminate the foreign infidels. Come together to kill those who remain (Company's Guards) at the Bailey Guard. Whoever will help in doing this will be given half of the area (of Bailey Guard). Therefore, in compliance of this order nobles and associates of Awadh State reached Lucknow and immortalized their names by joining the Rebel movement of Hazrat Mahal along with their large battalions.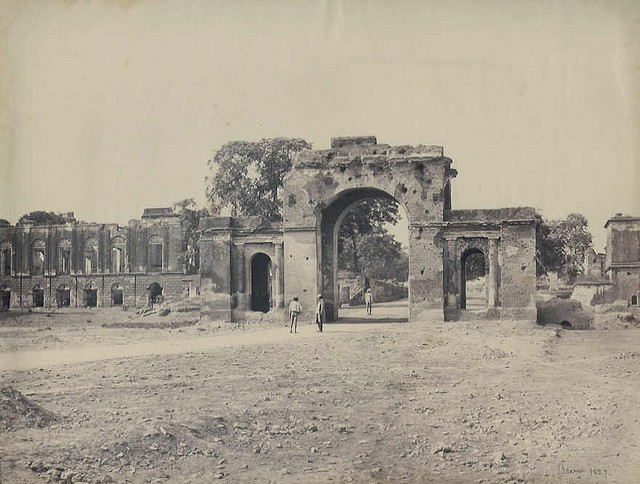 Activities of the Traitors:
The conspiracies of the royal courtiers persisted alongside while the military command was sanctioned to Raja Jaylaal Singh, Meer Mehdi Muzzafar Ali and Risaldar (Rassaidar) Qasim Khan instead of the Military Commander Barkaat Ahmad and other fighters. For the sake of national spirit, the fighters tolerated this injustice meted out at such an early stage, but it started to badly affect the military discipline. Kamand Lal wrote about the besieged of Lucknow Residency in his "Risala e Tareekh e Baghawat e Hind" (Trans: A Magazine of Indian Rebellion History) Edition 1, Magazine 135 (Trans: From chapters 2 till 10)
Mirza Haider, who was an offspring of Bahu Begum, and had some relatives living in Faizabad, used to write a detailed account of the goings-on of everyday and send it to Mr. Gibbons. A land lord, Gauri Shankar who was a trusted aide of Rawal, did not hold back from efficiently dispatching all the speculations in the newspapers. Moreover, regular written accounts were also sent out by many strategically placed under-cover Government officers in various departments. Some of the Awadh's most influential figures, who aggressively participated in the national movement are listed below: Nawab Ali Khan Raees Mehmudabad, Dargej Singh, Munshi Muhammad Hussain Qidwai, Aulad Hussain Syed Pur, Hashmat Ali Sandela, Mansab Ali Rasulabad and Kallo Khan Nanpara. The scholarly Hazrat Mahal used to organize all the empire's affairs by the council of Nawab Mammo Khan and Molvi Ahmad Ullah Shah Sahib. She stayed and held her court at a building named "Chulakhi" during the time of rebellion. Such was the success of this movement led by Hazrat Mahal's prudence, comprehension and integrity, along with Mammo Khan and Maulvi Ahmad Ullah Shah's advanced strategy, that the predominant feeling of numbness and stagnation in the nation due to the separation from the military life, disappeared at once. The weapons that were rusting away uselessly were polished till they shone and their clamour was heard through the expanse of the sky, reverberating and melting the frigid hearts.
کچھ ہورہےگاعشق و ہوس میں بھی امتیاز
آیا ہے اب مزاج تیرا امتحان پر
Trans:
There will now be a distinction between love and lust
This is now a test of your temperament
The Battles at "Bailey Guard",were led by the landholders and their supporters at the front. McLeod Innes wrote, that among the rebels, there was a huge proportion of the landholders and their courtiers, recruited in abundance to fight at the front line and subsequently they suffered the maximum loss of lives during these battles. Sir Hope Grant Wrote, I have seen many fights in Hindustan with numerous personalities upholding the rule of "Do or Die" during a fight, which means they have no option but to win, either they will win or die fighting. But till now no such example has come under my observation, which is as superior as the passion and determination demonstrated by the Landholders of Awadh. The united army of all the Landholders of Awadh congregated under the command of Raja Mehmodabad's lieutenant Khan Ali Khan. (See the book, "Lucknow Baghawat Key Doran" (Trans: Lucknow, during Rebellion) by McLeod Innes, Published in 1897 in London.)
The brave and passionate Hazrat Mahal, despite observing veil, used to come out riding a horse. She held her ground against the British for almost 10 months. As an expression of the love and reverence for her, the people used to call Birjis Qadr and hug him saying that you are innocent, don't become indifferent like your father. Beware of the pandemonium, it will end in your ruin. The intense emotions of hatred and contempt were quickly accelerating against the company. Maulvi Zaka Ullah writes, only in 11 days, no one from the British government was left to rule in any district of Awadh, and English jurisdiction started to feel like an illusion. Sir Henry Lawrence wrote in one of his letters he sent to lieutenant Governor. "We have lost governance of all districts; everyday situation is turning worse. All the landowners are taking up arms, and few have taken over the control of villages." Even the capital was no exception to the condition of the villages and townships, where a small village near the town of Unnao with an area of mere three quarter of a mile was full of people volunteering to fight. All houses in the village had been converted into battlefronts. Mr. L.E Retneress, was among the besieged of Bailey Guard. He presented the initial account of his memory of the Awadh's rebellion in the following words: "Other than Lucknow we have lost the whole area of Awadh. The adjacent cities in the local suburbs namely, Faizabad, Sultanpur and Daryabad are supporting the rebellion just like Salon. Either they are doing this out of hatred for us or because of the fear of rebels." Russel further expressed his concerns in his diary with these words, Begum Hazrat Mahal has started a never-ending war with us. Based on all previous grievances against Awadh's Empire, including the prompt monetary donations which the royal family had been arranging for the British in the past, also, the act of ignoring all the previous contracts during Awadh's affiliation, has added to her enmity against us.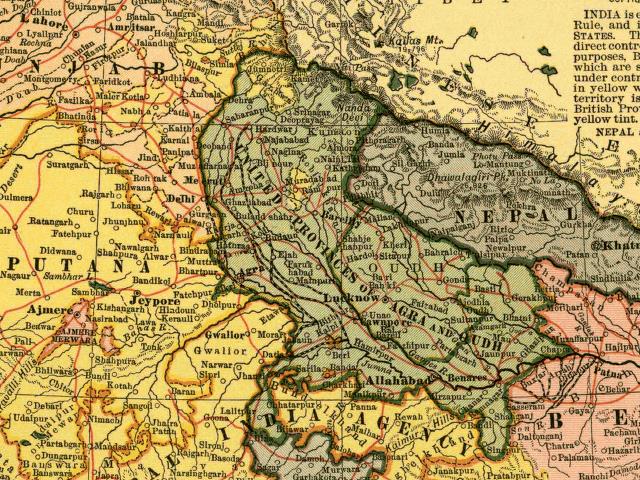 The call to Fight
An announcement was made to attack the Bailey Guard the day after tomorrow. Muslims and Hindus made their vows over the Quran and Ganga Jal respectively. They were not to eat, sleep or do any personal chores, until all the besieged are put to the sword and Bailey Guard is to be reduced to the ground. Tomorrow, either the British will survive, or they will.
Hustle Bustle of the War
The first attack on Bailey Guard was made on the 31st of July under the command of Maulvi Ahmad Ullah Sahab. He proclaimed to the whole army, "You are going to fight on Begum's orders, she will be the one to compensate too". Begum could not sleep the whole night before the attack. People used to praise her efficiency and goodness of heart, she honored or the soldiers, rewarding them with much more than just encouragement. Once in a Battle of Alam Bagh, Raja Maan Singh, displayed a rare act of commitment, and was bestowed by her with a handkerchief and a double folded shawl. She also graced him with a title of "Farzand e Khaas" (Trans: Special Son) and he was given a Dupatta (Trans: Scarf) from her personal dress. He was promised more money and land after winning. The fight intensified in the month of August. Owing to the addition of an army regiment defeated at Kanpur, who along with their artillery, came to Lucknow under the command of officer Fida Hussain. General Syed Barkaat Ahmad and Captain Suba Singh with their respective regiments, attacked Bailey Guard with tremendous intensity. Despite being hungry and thirsty they invaded the British Garrison, commencing in hand to hand sword fight. One Maulvi Sahab, who advanced with the spear and standard, perished in the Garrison's trench. Each Garrison witnessed a fight unlike any other. Maulvi Zaka Ullah writes, Bailey Guard was attacked with such intensity that one of its biggest trenches were destroyed. The rebels advanced with ladders and stuck them to the walls and entered in the periphery of the cannons. Today they came to attack with valour. To make the British soldiers anxious they kept hollering late into the night. General Nickelson writes, "The rebels did not let go of a single opportunity of engaging in any activity useful in intimidating our soldiers". One day Ali Muhammad Khan raised the standard, tied the Quran just like in the "Battle of Safeen", and kept on reciting the words of despair. There was an old man of ascetic countenance whom people used call Shah Jee. Such was the state of his passion that he attacked the Bailey Guard unaided and alone, with just the sword in hand, while reciting the following verses,
درمیان ایں واں گردوبے جنگِ عظیم
قومِ عیسیٰ را شکست بے گماں پیدا شود
Trans: Amidst all this, here and there, a great battle will be fought,
It is certain that the wicked will fall
In the end of this installment here is dedication in the honor of Rebel Queen – Hazrat Mahal.
This is a translation series of Urdu account by Sayyada Anees Fatima titled "Jang-e- Azadi (Awwal)'57 kay Hero" (Trans. Heroes of the First War of Independence). It was first published in 1949 at Aligarh under the aegis of All India Muslim Educational Conference (A movement founded by Sir Syed Ahmed Khan). The author captured the melancholy, conflicts of Indian states with East India company & struggle of 1857 in a vivid story telling style integrated with contextual Persian & Urdu Poetry. The translation & contextualization is done by Sayyad Asad Ali (her grandson) & edited by Saba Saif.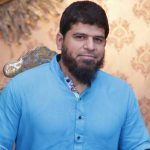 Syed Asad Ali is Lahore based branch head for a Japanese company that develop large scale Industrial Projects. Reading & writing are his favorite hobbies. His fathers family hails from Bareilly, UP & maternal side was from Kishangarh, Rajasthan. He is an avid follower of pre-partition history of India.