Translation series of "Heroes of 1857", by Sayyada Anees Fatima, Episode VI (First Ed., 1949)
Notes selected from Russel's Diary titled "The last moments of Lucknow''
"The city of Lucknow is larger than Paris, with a residing populace of around 1 million citizens. The besieged loyalist emotions are strengthening owing to the perseverance, bravery and wisdom of Begum Hazrat Mahal. Begum is exhibiting intrepidity with distinction''. During the battle at the Begum's mansion as reported in the previous episode, around 500 rebel fighters were martyred. Sir Colin (Commander-in-Chief) did anticipate a grueling fight at Qaiser Bagh but the local sub commanders were afraid of Urban warfare as there was house to house fight. Inside the rooms of Begum's mansion, the rebel fighters dueled till the last moment till they got killed and they also killed enemy troops. This very gruesome, hand to hand combat continued in the state of extreme agitation. Sir Evelyn Wood penned that, The capture of Begum's mansion was the toughest skirmish of this war. (Ref. Rebellion in Hindustan by Evelyn Wood published 1908). Mitchell Edwardes also wrote that it was the fiercest battle of this War. Some 600 to 700 rebels were killed. Although fatalities on our side were less but William Hudson, leader of the cavalry who slayed the Princes in Delhi got killed. Despite the pertinacity of Begum Hazrat Mahal, the bravery of the troops and Maulvi Ahmad Ullah Shah's adherence, the Englishmen were successful in the siege of Lucknow with Nepalese support. Although there were pitched battles at every step, traitors within the country and the city played an instrumental role in strengthening the stance of Englishmen.
Hazrat Mahal's Retreat
After the defeat Hazrat Mahal was nervous and worried. As the fear of her impending arrest increased day by day. Therefore, she was left with no option but to leave her country for good. The spectacle of her departure from Chaulakhi was extremely painful. Author of Qaiser ul Tawrikh wrote, "When the distraught Hazrat Mahal accompanied by the other noble Ladies, womenfolk of the outhouses and servants came out of the gate. In a way that she was leading the procession and at the rear rest of the women were aligned. Birjees Qadr (her son) was sitting in the lap of a noble Sayyad. She stumbled, entangling at every other step while walking on foot reached Maulviganj Bridge via Shah Peer Jalil hill. Ruffians were constantly on a look out for her entourage – She Stayed at Ghulam Raza's place for a night, then went to resident of Sharf Ud Daula and from there continued to Mahal Sirai Hussainabad. By the evening, all outhouses staff gathered, and a security cordon was arranged for them. A message from General Outram was conveyed to the Host Ali Raza that she (Hazrat Mahal) will be given back the country as it was during the era of Wajid Ali Shah if she withdrew from the War. She need not to accompany the defeated rebel troops. The passengers of Calcutta (Wajid Ali Shah) and London (Mother of Wajid Ali Shah) will also be brought back here. Hazrat Mahal scorned at the offer of Outram with contempt and refused to sign the peace treaty''.
وہ اپنی خُو نہ چھوڑیں گے ہم اپنی وضع کیوں بدلیں
سُبک سر بن کے کیا پوچھیں کہ ہم سے سرگراں کیوں ہو
They will not change their nature so why we change our manner
After becoming wanderer thyself, Why question us how we turned intoxicated.
The heart was in no condition willing to leave the land where from childhood till now, the best days of life were spent
عجب ہے مسلک راہ وفا بھی
قدم محدود ہو کر رہ گیا ہے
Weird is the cultish path of loyalty
Footstep has got restricted
In response to the letter of Begum Hazrat Mahal Maharaja Nepal wrote, "Over there Englishmen and here (in Nepal) we will hunt you down so better leave''. In the History of Freedom Struggle – UP State there was a letter with reference of T.H. Chamberlain – Assistant General Superintendent dated Feb 2nd, 1860. In which it was reported that there are several exchange of letters between Begum Hazrat Mahal with Nawab Khan Bahadur Khan – Ruler of Rohilkhand and the other Rebel chieftains which contained in numerous mentions of letters sent to Jang Bahadur of Nepal in which he was urged, albeit failure , to support against the joint enemy (i.e., East India Co.). However, as a result of the above correspondences only Hazrat Mahal , Birjis Qadr , women and children were allowed to stay in Nepal officially. But many rebel fighters were abandoned to become meals of wild animals in the mountains of Nepal. In the meanwhile, Jang Bahadur returned to Nepal after assisting Englishmen in capturing Awadh. There were daily skirmishes between Nawab Mammu Khan and Nepalese. Jang Bahadur was under the impression that he had buried the fire of the rebellion forever in Hindustan.So some extinguished spark from that fire does not have the capacity to devastate Nepal's peace asylum.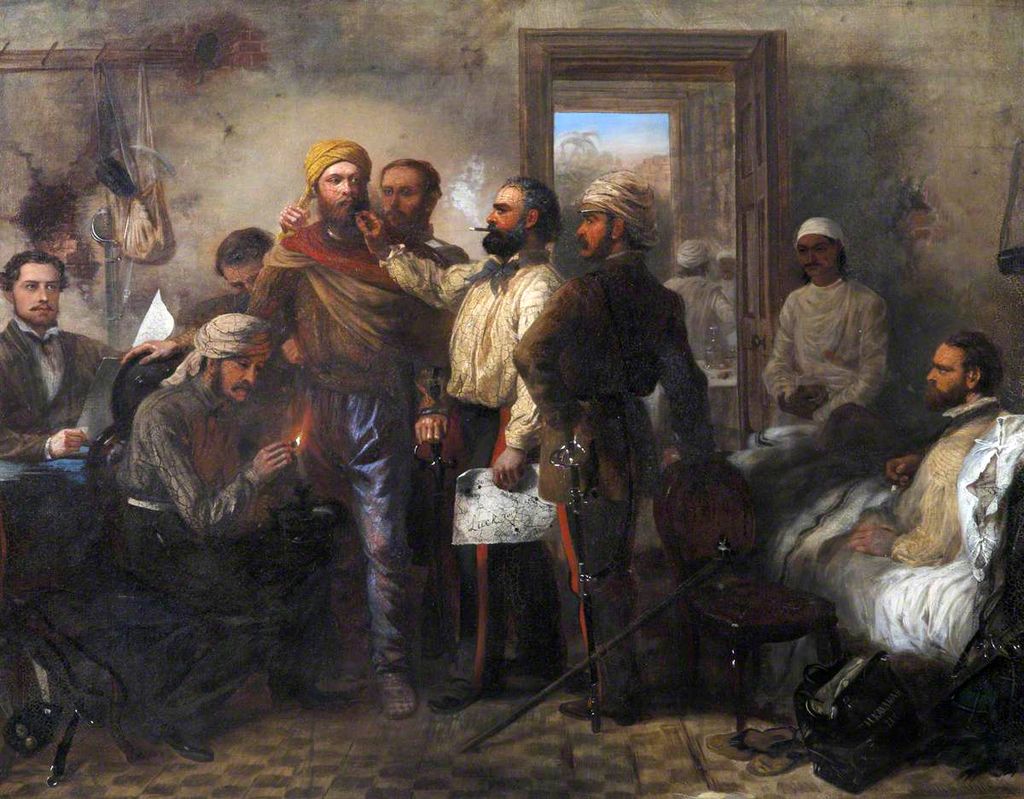 The Despicable Role of Jang Bahadur
When no trick worked Jang Bahadur thought of a dubious way with which Nawab Mammu Khan and his troops were wiped off. This mountainous lion disguised in a sheep's clothing started nurturing personal relations with Nawab Mammo Khan and they met several times. So much so that the military skirmishes also ceased. One day as per usual Jang Bahadur accompanied Nawab Mammu Khan for a walk and while talking took him to a hill where one Englishman Mr Bell sporting Arabic dress was hiding with some men. Mammu Khan was oblivious of this sudden calamity thus was caught unaware, was arrested and brought to Lucknow. He was condemned to be hanged but for a big ''Criminal'' like him it was considered insufficient so for he was banished for the rest of his life to Nicobar at Andaman Islands (so called Kala Pani) and he passed away over there. (Ref. Tawarikh-e- Ajeeb by Maulvi Jafar Thanseri ). The documents pertaining to arrest of Nawab Mammu Khan and Khan Bahadur Khan (Ruler of Rohilkhand) in "Freedom Struggle'' Edition 5 do not completely endorse the story but at least it proves that Jang Bahadur using fake rhyme or reason and strong cordon arrested both gentlemen and informed Englishmen (EIC). After the arrest of Nawab Mammu Khan his group dispersed. Jang Bahadur had no objection against the stay of Hazrat Mahal and Birjees Qadr probably due to two reasons. One that despite being a woman she proved herself to be extraordinarily brave and determined which might have impressed him. Secondly, she handed over all the diamonds and jewelry which were in abundance to the Govt of Nepal. It's God's will! Whither were those Royal Palaces giving an illusion of paradise on earth and whither these deserted and abandoned mountains of a strange land. Seeking and searching for a few straw to make a resting place in this foreign land all under the hell-like gaze of the antagonistic host.
لیکن پاۓ ثبات میں لغزش ہو – ناممکن
Improbable that steps of perpetuity may blemish
Until the last moments there could be no better display of the unblemished faith. For quite some time, Englishmen kept wishing Hazrat Mahal's return to Hindustan through one English artist who went to paint Birjis Qadr's portrait, Englishmen conveyed a message that as per Govt Order she can live in Faizabad, Lucknow or wherever she pleases. Besides salary they will also be accorded Royal protocol.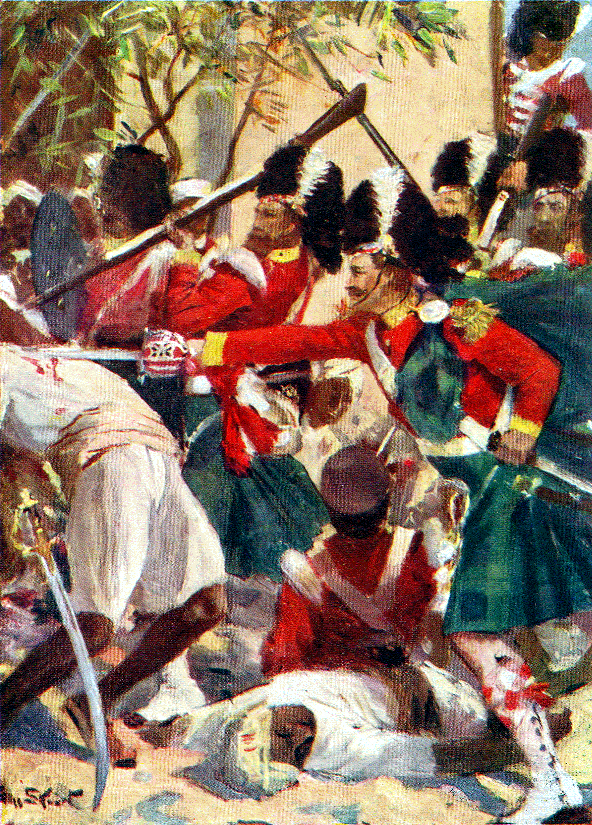 Martyrdom of Ahmad Ullah Shah
Along with Hazrat Mahal all the leading rebels either left Awadh or got killed. But as mentioned earlier. Maulvi Ahmad Ullah Shah sahib didn't retreat from the battle ground and kept the struggle going. After the departure of Hazrat Mahal he set up a barricade at Saadatganj and installed a Canon on the tri-way. But his fate was already sealed. He was badly defeated; admirers and disciples forcefully removed him from the battle ground. Afterwards they all gathered at Raja 's place (Gadhi), but not only the Raja closed the gate but also fired from above and he (Maulvi Ahmad Ullah) was martyred. The Raja decapitated him and sent his head to the East India Co. who rewarded him with a cash amount of Rs 50,000/- and land was also given¹.
______________________________________________________________________
Mr R.C. Majumdar wrote in his famous book ''Soldiers Rebellion''. It is unfortunate that a brave and strong son of Hindustan was not killed by the enemy but by his own countrymen for whom he (Maulvi Ahmad Ullah) rendered greatest service (of safeguarding motherland).
In the battle for God the faithful's ultimate wish is to either get martyred or become victorious, achieving either of the two is the pinnacle.
سر کُشتہ بر نیزہ میز و نفس
کہ معراج مردان ہمیں است و بس
Decapitated head of mine still breathes
Guess it is the epitome of valor
Begum Hazrat Mahal Stay at Nepal
The details of the events leading to Hazrat Mahal 's departure to Nepal have been explained earlier. Following are some Additional details: Begum sahiba left for Nepal on March 16th 1858. Maulvi Abdul Haleem Sharrar penned, A crowd of one hundred thousand was accompanying her. Maulvi Ahmad Ullah Shah continued the fight to let Hazrat Mahal and Birjees Qadr leave freely. After retreating from Lucknow Maulvi Ahmad Ullah Shah reached Shahjahanpur. After the Englishmen took back the city from his small bunch of fighters, Maulvi sahib regrouped his forces outside the city, where the army of Begum Awadh also joined him. Maulvi, Begum and Prince Feroz Shah jointly fought a very fierce battle which continued all day but they were forced to retreat. But they rebounded.So it is a matter of prestige for Maulvi Ahmad Ullah that with the help of Begum's troops he defeated Sir Colin Campbell – Commander of British Govt twice. After entering the boundaries of Nepal, Begum had to face all kinds of troubles and calamities. In the beginning she stayed at Batol-top at a pavilion of Asaf Ud Daula. Here she received a dispatch from Maharaja Nepal with a following subject, "Either You reconcile with the British or go somewhere else. Don't expect any assistance or charity from us, we cannot fight the British''. On behalf of Hazrat Mahal, Nawab Mammu responded to this disdainful lamentation with extremely harsh words. "We will not go anywhere, will remain here and fight with the Englishmen. We didn't depend on you when we rebelled''. Beni Madhav, Devi Baksh Muhammad Hasan, Mehdi Hasan,Amar Singh,Khan Bahadur Khan, Mammu Khan, Nana Saheb, Bala sahib, Jawala Parshad were all besieged in the narrow valleys of Nepal only Prince Feroz Shah crossed River Ganges alongwith his 2000 riders and reached Atawa but British Army didnt get the wind of him. Later he joined Tantia Tope. In 1859 after their absolute success the British abandoned the efforts to bring back Hazrat Mahal to Hindustan.On their behest Govt of Nepal permitted them to reside in an honorable way. Begum sahiba , lived near the Palace of Maharaja Jang Bahadur. She used to get Rs 5,000/- allowance per month. A piece of land was also given to her where she built an Imam Bara (Shiite 's place of worship). She passed away in 1879. Mirza Birjees Qadr stayed in Nepal until 1891 and then he moved to Calcutta where his step brother Mirza Qamar Muhammad Ali Bahadur poisoned him to death in the guise of inviting him for a feast. Thus a memorial of the Independence War was martyred. In this connection, Mirza Ali Azhar Barlas wrote, "During author's childhood, it was a common knowledge and the author (Mirza Ali Azhar) himself heard from some gentleman in person that on behest of Englishmen (EIC) , Prince Qamar Qadr Muhammad Ali invited Mirza Birjees Qadr to his mansion in Khizarpur for a meal and poisoned him. After the death of Birjees Qadr , Englishmen accepted Mirza Qamar Qadr as the eldest son of Wajid Ali Shah and Rs 3000/month pension was accorded for life''. Another member of this family Nawabzada Murtaza Ali Khan wrote a letter to Sayyad Altaf Ali Barelvi (husband of author Sayyada Anees Fatima), "The passing away of Birjis Qadr has made a special effect on our family. Due to the old relation and camaraderie Prince Mirza Jahan (Late) who was nephew of Wajid Ali Shah, solemnized engagement of my two elder brothers with the two daughters of Late Birjees Qadr. The engagement ritual of tying Imam Zamin was already performed (Lucky charm to have blessings of Holy Imam).that seven bodies were taken out from the house. Yet another conspiracy of Englishmen met success and the last beacon of Awadh was also silenced.'' A few years back there was a short publication by Irfan Ali Mirza from Calcutta about the final resting place of Mirza Birjis Qadr and about his family members. This memoir by Irfan Ali Mirza is presented below as it is as a matter of record, "On the 14th day of August 1893 , three more people , Honorable Birjis Qadr, his elder son and daughter were also killed due to poisoning. Birjees Qadr was buried by Sarjahan Qadr by using imperial military force in a desolate place in Imambara, but the adversaries buried his children same day in a corner adjacent to a drain in the vast Royal graveyard. But today by God's grace that the same area which was adjacent to the drain is at a safer height while the yesteryears' better portions have steeped in the ground. Today this same are is prominent and popular, and the Grandmother is also buried here.''
It is stated that today in Kathmandu – Nepal near the mausoleum of Hazrat Mahal, who was the Hero of 1857 and mother of Birjees Qadr, one toilet, six motor workshops and 2 Fuel Stations have been constructed. For the repair of Hazrat Mahal 's mausoleum, Prince Nayyar Qadr, grandson of Prince Birjis Qadr contacted Mr Koirala – Former Prime Minister of Nepal and Ambassador of India to Nepal, but the result is not known. In Kathmandu the mausoleum of Begum Hazrat Mahal is on the land of Hindustani Masjid. All these land holdings were under the ownership of Begum. Maharaja Jang Bahadur gave Hazrat Mahal large tracts of land near Bell Tower where she built Imam Bara to keep organizing lamentation or mourning for Sayyad Ul Shuhada (Martyrs of Karbala). A royal decree of Maharaja Jang Bahadur written in bronze is kept in Pagat Pahar office for record to prove that the ownership of this land was given to Begum Hazrat Mahal. She was buried in the same piece of land when she passed away in 1879. Prince Birjis Qadr was in Kathmandu at that time. He returned to Calcutta in 1891 and two years later he was poisoned to death. Afterwards upon seeing no heirs in sight some people encroached upon and the same place is now known as Hindustani mosque. In order to meet the repair expenses of the mosque fuel stations and workshops were built on the adjacent land. But the custodians say that still not enough income is generated therefore difficulties are faced to build the mausoleum. Two decades ago when Nawab Nayyar Qadr came to Kathmandu, the people attached with the mosque and others offered to aid in construction of the mausoleum. A merchant from Lucknow who was based in Kathmandu committed to providing Rs 25,000/- but the heirs of Begum Hazrat wanted this work to be carried at State level. Local newspapers including a semi-Govt daily ''Gorkha Punch'' published pictures of Mausoleum and the current situation. There are still some people alive who saw Prince Birjees Qadr in person. They still have 70 to 75 year old diary which can greatly benefit those who intend to record Hindustan's history.''
Company's Atrocities during Awadh's Conquest
According to Dr Hunter, "Rebellion and the emotions of prejudice are the obvious outcomes of foreign invasion [1]." But the bitter memory of the insults and hardships which Muslims have endured over having this essential sentiment, can never be erased. General Havelock had written to Neill, "The moment you will arrive, I intend to distress them so much that the whole Hindustan gets crossed [2]."
After the conquest of Lucknow, an unrelenting series of murder and mayhem ensued. Every Hindustani was put to sword regardless of them being soldiers or peasants. No questions were asked, having dark complexion was considered sufficient excuse to be condemned [3]. W.H Russel, special correspondent of "The Times" has written in his 29th February's diary entry about Neill's barbarism. Before Neill departed from Allahabad, he carried out a spate of Mass killings of common people without hesitation, that an officer belonging to his column interjected with this reason, how will the army be able acquire provisions if he intends to ruin and depopulate the country like this[4]. As it is described Commander Neill was famous for his cruelty, he besieged whole villages, setting them on fire burning the remaining survivors. According to his order those who were captured should be made to lick the bloodied earth with their tongue, if they refuse strike them with sticks and then hang them. The punishments of such nature were carried out savagely. And his punishment by the power of almighty, was also to die during the war. Later his son was killed by a soldier Mazhar Ali, who was acting on the will of his deceased father on 14th March 1858 in a place called "Agar" in CP, killing him during a parade [5]. Qaisar-ul-Tawarikh's author writes, After Lucknow's conquest no place was safe from Nepalese for 15 days. The soldiers were also active in this pillage. In Hazrat Abbas's Dargah 300 veiled women were dishonored by the British. Mirza Nasiruddin Barlas, being a British subordinate, wrote about the events of the European's atrocities in Lucknow in his memorandum with extreme caution, however the truth is always revealed. Presenting the brief excerpts as follows, Because the citizens of Lucknow were unarmed, lots of dead bodies were found in houses, neighborhoods and roofs. Many veiled women holding their infants to their chests, killed themselves by jumping in the wells adjacent to their homes. In Front of the house in which Outram was residing, huge pieces of timber were installed like doors, with ropes hanging for execution and also in the surrounding trees, dead bodies of few people were seen hanging. We saw a huge pile of hundreds of books and documents dumped near "Cha Kankar" near Roshan Ud Daula's mansion. During its cleaning several dead bodies were recovered from the roof, rooms and from the adjacent wells. The dead bodies of women were taken out from the well along with bodies of their children. Swords and daggers were retrieved. The mansion under discussion was very delightful and exquisite [6].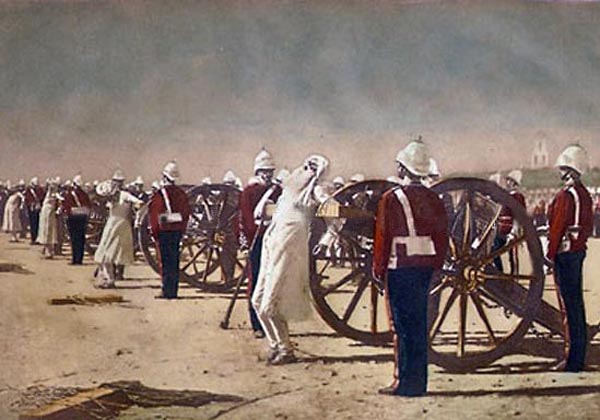 Me and my brother arrived at Alam Bagh enduring much difficulty and problems, but when we finally reached, Alam Bagh was no more. I saw all the trees of Alam Bagh were cut down along with the ones lining the sides of the road. Obstructions were made in front of all doors. Hundreds of dead bodies of various men, elephants and horses were seen scattered throughout the area of Alam Bagh. The fire of combat was ablaze. The British used to live underground like desert animals or insects. They had made such houses underground which had proper floors and contained all the essentials including table and chair, lamps etc. The impact of the Cannons which were fired from Lucknow was felt in the underground rooms. We were very scared, Colonel Barrow told me and my brother to not worry, and "Sahib Bahadur" said "This battlefield is dust, and you are an author with a pen, till the Lucknow is captured, stay with Narinder in Bansi Banthra he is a subordinate of the government." There is going to be an attack on Lucknow on 8th April 1858, and we are anticipating victory that day, come to Lucknow on that day. Therefore, us two brothers and Mirza Muhammad Hassan along with a servant Muhammad Khan reached Bansi Banthra. Narinder was already informed. We were facilitated and since we had skipped some two or three meals on the way, we ate to our heart's content. 8th, 9th, 10th of April we stayed there.
Inhuman atrocities of the British After Lucknow's capture
In in one of those days the messenger informed, that around 01:00 hours in the night the British army commenced an intense attack on Lucknow from the three directions of Camp Bagh Alam, Camp Musa Bagh and Camp Kothi Dilkusha leaving the path adjacent to Goshainganj for the enemy to escape. The official army entered the city carrying the cannons and rifles, that night was the doom of the city. Those citizens which were armed ran in whichever direction they found. There was a lot of commotion and sound of military slogans, rifles and cannons. In this intense conflict Begum (Birjis Qadr's mother) Lucknow escaped from the path of Goshainganj and went in the direction ofMurshadi while fighting along with her son. And after this event, the city's devastated civilians also ran fearing for their lives taking along their women and children. It is said, other than the dead bodies of soldiers, 26,000 bodies were found of the man, women and children. Because the civilians were not armed, lots of bodies were found in the houses, neighbourhoods and roofs. Many veiled women with infants holding to their chests killed themselves by jumping in the wells of the city or houses.
The scene of Hangings in Lucknow
When me (Mirza Naseer Uddin) and my brother (Nazim Uddin) reached Lucknow, it was 3 days since Lucknow was captured. Since I am writing all these events after 42 years, so it won't be unlikely to have a conflict of one or two days in the sequence of original events. We reached Lucknow on 11th or 13th of April 1858 and appeared in front of the Master. At that time Colonel Barrow Sahib was a special commissioner and Marshal law officer and was working as a subordinate of General Outram Sahib. In Hazratganj the house where General Outram was residing, had large boulders erected like doors in the front and in each door, there were ropes hanging for execution. Few bodies were also hanging on the trees in the adjacent area.
An account of a destroyed Mansion
Barrow Sahib gave 200 rupees to my brother and said, "Soon you will be going on a mission, buy necessities and luggage for travel with this money. Two swords and one double barrel rifle was presented to him, and he was also told to take as many rifles and swords and as much ammunition as he needed from the stockpile of the weapons. Me and my brother took 35 swords and the same numbers of guns and other high-quality articles and took them back to the place of our resident which was near Cha Kankar meaning Roshan Ud Daula 's mansion. In that house we saw hundreds of books and documents dumped up in a pile, and during the cleaning of the house few dead bodies were found from the roof, rooms, and well which was situated in the enclosure. From the well the bodies of women with children were retrieved. Swords and daggers were also recovered. The bodies were collected by the municipal officer. The mansion under discussion was extremely superior, delightful and exquisite. After that, according to the order of Colonel Sahib, a stay in Hazratganj was advised, which would facilitate a quick way to consult Sahib Bahadur.
Russel wrote in his account which he had seen with his own eyes, it's impossible to describe the circumstances around loot. The door of whichever house was broken revealed piles of gold and silver. The sight of plundering was strange and weird. Still the fruit of the absolute victory was to be tasted [7]. After this he writes [8], The respectable women and girls, upon seeing the British jumped in the wells and gave their lives. It was a great ordeal for the inhabitants. Every corner was manifesting terror, reeking of unjust blood spill [9]. Reynard Coneill wrote, few villages are specially selected for random massacre due to their "Criminal" activities. Their whole male population will have to be exterminated [10].
Awadh's Brave Men and Women
The accounts of "bravado and attributes of valour of Awadh's Muslims are not given much value today other than just fictional stories for the current generation because today, the attributes of weakness, fragility and delicacy are considered special traits in Awadh's residents". Yet only 150 years earlier, Shabab Lucknow wrote the following account of their ancestors, I happened to pass by a strange country where all the highborn and commoners are born wrestlers, whose flesh and blood is brimming with militancy. Those Muslims with Intimidating faces sporting black beards, are seen armed with sword and shield. Fighting is a child's play for Awadh's residents [11]. Then he writes, The Pathans wielding swords, with angry countenance, rubbing shoulders with shoulders, passed by us, fixing us with an angry stare [12]. After that he Author Shabab Lucknow writes [13], When they go out on a stroll, no matter how humble their attire is, they would always be armed with a couple of swords and shields. The shield with cowhide stretched over, is usually kept on the left shoulder. Other than Lucknow such armed men would not be seen in any other city [14]. Trivial matters ending in contention and murder has therefore become a desirable instinct. Well at least their weapons are prevented from getting rusted as an incentive [15] . Other than the scholars, soldiers and common population, the high ranked women and the common women, have also carried our prominent endeavours. The pages of history are filled with their accounts. The Author Shabab Lucknow writes, I have seen them doing military drills with my own eyes. These women are perfectly capable of wielding a gun, advancing, retreating, loading the gun and aiming, the act of mounting the stone and doing all this in such a sequence, as it is done in barracks. They also have Sargent's in their groups [16]. Moreover, he further wrote, these two companies of female soldiers. Ghaziudin Haider did not want to pass down the throne to Nasiruddin Haider after him. Against this the mother of Naseerudin Haider fought with much bravery and persistence. She armed her soldiers, and with intrinsic bravery which left a very good example, at last she succeeded, and the King was defeated [17]. When Naseeruddin was poisoned, she again raised a commotion, she sent her female Army taking residency under siege and putting Naseeruddin's son on the throne. If Begum was born in some other era, her prominent endeavours would have been written in world's history. On her bravery she deserves plaudits [18] . After Nawab Mammo Khan's arrest, the Nepalese government stopped provisions for his army. They lurked in every gorge, their countenance was like gorillas, with no clothes on the body. They were left with only sword, gun and stone throwing. Still they did not surrender. After the exile, murder and looting, the policy of unarming the remaining population was quickly carried out. For one year all kinds of weapons were dumped in carts to be entered in the official state's repository [19]. There can be no other plan as effective to unarm a brave nation and turn them into cowards. That's why after some time such was the condition of cowardice and low esteem that people used to hesitate while introducing themselves as the descendants of warriors. When Maulvi Abdul Haleem Sharar Sahib was compiling his book, he tried to compile a chapter on the expertise of the art of war, he wrote with extreme grief and dejection, The current generation is completely oblivious to the brave deeds and military finesse. And today when we have raised our pen to write about these skills, we find no such person who would enrich us on this matter except for only Masood Qadr and one elderly Suleman Khan Sahib. Theirs are the only accounts and the only source helping us to write about the war techniques. In the time of rule, those faults and defects, which now are also rephrased as fine arts and Arts, were not manifested in the general population but rather were the acquired hobbies exclusively of the kings. It's not hard to correct them but sadly no one is concerned with the former glory [20]. The horrendous atrocities of British, how they have led the nation to a dreadful end. But I wonder why even after the elimination of everything Dr Hunter has warned the British about poor us quoting, "In their matter, trivial complaints are turned into political mistakes of tremendous great magnitude[21]." Begum Hazrat Mahal's offspring and related people are still residing in Pakistan and India. In this matter according to the material which could be acquired following is the detail of the descendants of Begum's family.

دل ہی تو ہے نہ سنگ و خشت درد سے بھر نہ آۓ کیوں
روئیں گے ہم ہزار بار کوئ ہمیں ستاۓ کیوں
Only when the heart is not made of brick and stone, why won't it overcome with pain
We would cry a thousand times, Why anyone should distress us to begin with
References:
[1] Humaray Hindustani Musalman (Our Hindustani Muslims) By Dr Hunter, Page 209
[2] Arooj Ehad Englishia (The rise of the English Era), Page 86
[3] Ulema ka Shandaar Maazi (Glorious past of the scholars)
[4] Yaadashtain Ammaria Azeem William Force Mitchell Published London 1968 page 22
[5] Diary Forbes Mitchell page 222 Published London 1860
[6] Raad Qaya AbdulQadir Khani volume 2 includes Waqaya Naseer Khani; these events are written on page 3 to 61 and published from the All Pakistan Educational Conference Karachi.
[7] Arooj Ehad e Englishia Page 61
[8] Russel writes further, "Stitching Muslims in Pig's skin, rubbing Pig's fat on the dead bodies and burning all these were of extreme vengeance and shameful activities." Reference "The Rebellion of the soldiers" from R.C. Muhammad Page 113.
[9] Qaisar-ut-tawarikh page 232
[10] Ulema Ka Sahndaar Mazi Page 23
[11] Shabab Lucknow page 3
[12] Shabab Lucknow page 100
[13] 12 November 87 Mitchell states while writing his eye witness accounts, there was a huge Peepal tree (Ficus Religiosa) in the courtyard. There were few dead bodies lying under and around it. Captain Dawson said to a faithful soldier, "Look at the top of the tree, to make sure there is no soldier there. The soldier looked loaded, his rifle took aim and pulled the trigger. A person fell down dead. Wearing a smart Red baized waistcoat and a smart pink silk trouser. A fountain of blood was oozing out from the chest. There were a couple of vintage pistols at the waist, one was empty and one loaded. By the impact of the gunfire and the fall, the buttons of the waistcoat broke revealing that she was in fact a young woman. Very beautiful and strong but she had till then killed 8 men . Havelock's biographer wrote that, "When our army was moving from the streets and lanes of Lucknow towards the residency, we were encountered with another heart wrenching event. A Muslim woman, carrying her child was throwing stones on us from a tall building. Unluckily she caught a bullet and fell with a bloodcurdling scream. With this her innocent child also fell in the army and was caught by a Sikh on his Bayonet.
[14] Sahbab Lucknow page 12, 13
[15] Sahbab Lucknow page 110
[16] Sahbab Lucknow page 103
[17] Sahbab Lucknow page 104
[18] Sahbab Lucknow page 105
[19] Qaisar-ut-tawarikh page 772
[20] At that time generally in the whole Hindustan and specifically in Awadh and Rohilkhand, the Muslims were of soldierly demeanour and exuding splendour. In 1823 Calcutta's Lord Padre Hebar came to Lucknow. Incidentally while passing through the market he saw an old royal elephant fell because of weakness. To witness this, a crowd of people gathered around. The Padri states, in this crowd he saw such glorious, dignified and beautiful and armed people which he had never seen in Europe or the rest of Hindustan. (This travelogue is in Liaquat Library Karachi—)
[21] Humaray Hindustani Musalmaan page 305
[22] In Calcutta on death of an extremely old woman of Birjis's Family with an imitation from a memoir. The titles of the Children of Prince Mehar Qadr and real names have been taken from Risala e Nazara Begum Hazrat Mahal number related to Lucknow August 1962.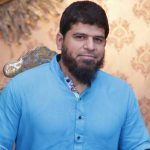 Syed Asad Ali is Lahore based branch head for a Japanese company that develop large scale Industrial Projects. Reading & writing are his favorite hobbies. His fathers family hails from Bareilly, UP & maternal side was from Kishangarh, Rajasthan. He is an avid follower of pre-partition history of India.